Results of surgical treatment of ulnar nerve schwannomas arising from upper extremity: Presentation of 15 cases with review of literature
Keywords:
Ulnar nerve, Schwannoma, Magnetic resonance imaging
Abstract
Aim: Schwannomas are the most common benign tumors of upper extremities. The diagnosis of peripheral nerve lesions on clinical history, physical examination, and radiologic tests. Magnetic resonance imaging (MRI) is one of the best to use on schwannomas radiologic test. The aim of this study is to evaluate patients who are diagnosed with schwannomas on the ulnar nerve by mutual agreement between pathology and MRI.
Methods: Retrospective cohort study was designed. From January 2011 – December 2016, 15 patients who had surgery ulnar nerve mass and had been diagnosed schwannomas were included in the study. The anatomical classification was at 6 arms, 4 elbows and 5 forearms. Before surgery, all patients were diagnosed with nerve mass through by MRI. Patients were operated under regional anesthesia and microscope. 
Results: All patients have diagnosed with histopathological schwannomas. All tumors were observed isointense in T1-weighted images and hyperintense in T2-weighted ones. Nerve injuries and motor deficit were not observed after surgery. All tumors were enucleated without harming any nerve fibers. The postoperative mean follow-up period was 12.4 months (9 – 29). In the early postoperative period, paresthesia, pain, and hypoesthesia were noted in 10 patients. Neurological symptoms were recovered in postoperative 5 months.
Conclusions: Schwannomas are solitary and benign tumors that are shown on the median and ulnar nerve. MRI and high-resolution ultrasonography are the big help to plan the treatment before the surgery. They are removed as intracapsular with acceptable complication ratio. Removing schwannomas can cause some sensational deficit such as pain and paresthesia but these complications are spontaneously decreased.
Downloads
Download data is not yet available.
References
Komurcu E, Kaymaz B, Adam G, Gokmen F, Murath A. A hybrid schwannoma of median nerve. J Coll Physicians Surg Pak. 2014 Mar;24 Suppl 1:S32-3.
Ozdemir O, Ozsoy MH, Kurt C, Coskunol E, Calli I. Schwannomas of the hand and wrist: long-term results and review of the literature. J Orthop Surg (Hong Kong). 2005 Dec;13(3):267-72. Review. Erratum in: J Orthop Surg (Hong Kong). 2006 Aug;14(2):following 229.
Tang CY, Fung B, Fok M, Zhu J. Schwannoma in the Upper Limbs. Biomed Res Int. 2013;2013:167196.
Pant A, Julfiqar, Huda N, Aslam M. Benign solitary schwannoma of right ulnar nerve – A case report. Acta Medica International 2015; 2(1):164-7.
Thawait SK, Chaudhry V, Thawait GK, et al. Highresolution MR neurography of diffuse peripheral nerve lesions. The American Journal of Neuroradiology, vol. 32,no. 8, pp. 1365–1372, 2011.
Trăistaru R, Enăchescu V, Manuc D, Gruia C, Ghiluşi M. Multiple right schwannoma. Rom J Morphol Embryol. 2008;49(2):235-9.
Adani R, Baccarani A, Guidi E, Tarallo L, Schwannomas of the upper extremity: diagnosis and treatment. Chir Organi Mov. 2008 Sep;92(2):85-8.
Rockwell GM, Thoma A, Salama S. Schwannoma of the hand and wrist. Plast Reconstr Surg. 2003 Mar;111(3):1227-3.
Adani R, Tarallo L, Mugnai R, Colopi S. Schwannomas of the upper extremity: analysis of 34 cases. Acta Neurochir (Wien). 2014 Dec;156(12):2325-30.
Bhatti AM, Alo GO, Power DM, Masood A, Thuse HG. Lobulated schwannoma of the median nerve: pitfalls in diagnostic imaging. J Comput Assist Tomogr. 2005;29:330–2.
Nishio J, Mori S, Nabeshima K, Naito M. Successful enucleation of large multinodular/plexiform schwannoma of the foot and ankle. Springerplus. 2015 Jun 17;4:260.
Senol N, Yilmaz O. A rare type of peripheral nerve sheath tumor: radial nerve schwannoma. Turk Neurosurg. 2015;25(1):137-40.
Di Lorenzo S, Corradino B, Cordova A, Moschella F. Unexpected Ulnar nerve schwannoma. The reasonable risk of misdiagnosis. Acta Chir Plast. 2007;49(3):77-9.
Lee FC, Singh H, Nazarian LN, Ratliff JK. High-resolution ultrasonography in the diagnosis and intraoperative management of peripheral nerve lesions. J Neurosurg. 2011 Jan;114(1):206-11.
Gosk J, Gutkowska O, Urban M, Wnukiewicz W, Reichert P, Ziółkowski P. Results of surgical treatment of schwannomas arising from extremities. Biomed Res Int. 2015;2015:547926.
D. M. Knight, R. Birch, and J. Pringl. Benign solitary schwannomas: a review of 234 cases. J Bone Joint Surg Br. 2007 Mar;89(3):382-7.
Ogose A, Hotta T, Morita T, Yamamura S, Hosaka N, Kobayashi H, Hirata Y. Tumors of peripheral nerves: correlation of symptoms, clinical signs, imaging features, and histologic diagnosis. Skeletal Radiol. 1999 Apr;28(4):183-8.
Forthman CL, Blazar PE. Nerve tumors of the hand and upper extremity. Hand Clinics. 2004;20(3):233–42.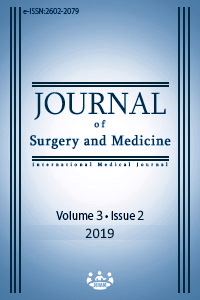 How to Cite
1.
Aksoy A, Sır E. Results of surgical treatment of ulnar nerve schwannomas arising from upper extremity: Presentation of 15 cases with review of literature. J Surg Med [Internet]. 2019 Feb. 25 [cited 2023 Nov. 29];3(2):159-62. Available from: https://jsurgmed.com/article/view/519922
License
Copyright (c) 2019 Alper Aksoy, Emin Sır
This work is licensed under a Creative Commons Attribution-NonCommercial-NoDerivatives 4.0 International License.
#6348