Inguinal bladder hernia, a rare cause of inguinal herniation: Report of two cases
Keywords:
Bladder, Hernia, Inguinal
Abstract
Hernia surgery is the most frequent in visceral surgery. The bladder is rarely involved in groin hernia. This is when a diverticulum or a part of the bladder wall is incarcerated within the hernia. This affection is often asymptomatic. The diagnosis is made per-or post-operatively following complications. We report 2 cases of inguinal hernia involving the bladder in which the first case was diagnosed preoperatively whereas the second was diagnosed intraoperatively.

Downloads
Download data is not yet available.
References
Kim KH, Kim MU, Jeong WJ, Lee YS, Park KK, Chung MS, Chung BH, et al. Incidentally detected inguinoscrotal bladder hernia. Korean J Urol. 2011; 52(1):71-3.
Oruc MT, Akbulut Z, Ozozan O, Coskun F. Urological findings in inguinal hernias: a case report and review of the literature. Hernia. 2004;8(1):76-9.
Ansari K, Keramati MR, Rezaei Kalantari K, Jafari M, Godazandeh G, Pakzad M. Gross hematuria as the presentation of an inguinoscrotal hernia: a case report. J Med Case Rep. 2011;5:561.
Bisharat M, O'Donnell ME, Thompson T, MacKenzie N, Kirkpatrick D, Spence RA, Lee J. Complications of inguinoscrotal bladder hernias: a case series. Hernia. 2009;13(1):81-4.
Gomella LG, Spires SM, Burton JM, Ram MD, Flanigan RC. The surgical implications of Herniation of the urinary bladder. Arch Surg. 1985;120(8):964-7.
Fisher PC, Hollenbeck BK, Montgomery JS, Underwood W, 3rd. Inguinal bladder hernia masking bowel ischemia. Urology. 2004;63(1):175-6.
Laniewski PJ, Watters GR, Tomlinson P. Herniation of the bladder trigone into an inguinal hernia causing acute urinary obstruction and acute renal failure. J Urol. 1996;156(4):1438-9.
Vindlacheruvu RR, Zayyan K, Burgess NA, Wharton SB, Dunn DC. Extensive bladder infarction in a strangulated inguinal hernia. Br J Urol. 1996;77(6):926-7.
Wagner AA, Arcand P, Bamberger MH. Acute renal failure resulting from huge inguinal bladder hernia. Urology. 2004;64(1):156-7.
Shelef I, Farber B, Hertzanu Y. Massive bladder hernia: ultrasonographic imaging in two cases. Br J Urol. 1998;81(3):492-3.
Catalano O. US evaluation of inguinoscrotal bladder hernias: report of three cases. Clin Imaging. 1997;21(2):126-8.
Casas JD, Mariscal A, Barluenga E. Scrotal cystocele: US and CT findings in two cases. Comput Med Imaging Graph. 1998;22(1):53-6.
Izes BA, Larsen CR, Izes JK, Malone MJ. Computerized tomographic appearance of hernias of the bladder. J Urol. 1993;149(5):1002-5.
Bacigalupo LE, Bertolotto M, Barbiera F, Pavlica P, Lagalla R, Mucelli RS, et al. Imaging of urinary bladder hernias. AJR Am J Roentgenol. 2005;184(2):546-51.
Karatzas A, Christodoulidis G, Spyridakis M. A giant inguinoscrotal bladder hernia as a cause of chronic renal failure: a rare case. International Journal of Surgery Case Reports. 2013; 4(3):345-7.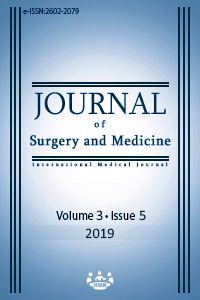 How to Cite
1.
Aliou ZO, Somuah T, Anas B, Alae Eddine A, Tarek S, Moulay Hassan F, Karim İbn M, Imane T, Khalid M. Inguinal bladder hernia, a rare cause of inguinal herniation: Report of two cases. J Surg Med [Internet]. 2019 May 28 [cited 2023 Nov. 29];3(5):414-6. Available from: https://jsurgmed.com/article/view/518960
License
Copyright (c) 2019 Zabeirou Oudou Aliou, Tenkorang Somuah, Belhaj Anas, Aissaoui Alae Eddine, Souiki Tarek, Farih Moulay Hassan, İbn Majdoub Karim, Toughrai Imane, Mazaz Khalid
This work is licensed under a Creative Commons Attribution-NonCommercial-NoDerivatives 4.0 International License.
#6411