Bilateral endoscopic thoracic sympathectomy via single incision for the treatment of palmar and axillar hyperhidrosis
Keywords:
Hyperhidrosis, Quality of life, Uniportal thoracoscopic surgery, Sympathectomy
Abstract
Aim: Video-assisted thoracoscopic sympathectomy (VATS) is a safe, minimally invasive and effective procedure for primer hyperhidrosis. In this research, we aimed to present the advantages of uniportal endoscopic thoracic sympathectomy (ETS) surgery on patients who had palmar and axillary hyperhidrosis and did not respond to medical treatment.
Methods: Between February 2012 and November 2018, 46 ETS surgeries were performed on 23 patients (12 female patients and 11 male patients; the average age was 21 [16-27]) and the outcomes were evaluated in this retrospective cohort study. Uniport (Richard Wolf) sympathicotripsy and Kuntz nerve ablation were performed. We presented all the data about surgical techniques, perioperative-postoperative complications and patient satisfaction with their long-term results.
Results: During the long term follow-ups of our patients, compensatory hyperhidrosis was the most frequently observed finding. Hyperhidrosis occurred in multiple areas of the body in 11 of the patients (47%). 22 patients were completely satisfied with ETS surgery, and one of our patient with compensatory back sweats reported partial satisfaction. Recurrent hyperhidrosis was observed on the left side of one of our patients at 33 months post-operative examination. Minimal pneumothorax was observed in one of the patients, and it was regressed with medical treatment. The average operation duration was recorded as 21 minutes (15-31) per each hemithorax. 
Conclusion: In conclusion, endoscopic thoracic sympathectomy is a treatment option with low mortality and morbidity. This approach should be considered for patients with palmar and axillar hyperhidrosis that medical treatment was not effective.
Downloads
Download data is not yet available.
References
Claes G, Drott C, Göthberg G. Thoracoscopy for autonomic disorders. Ann Thorac Surg. 1993;56:715–6. doi: 10.1016/0003-4975(93)90961-G
Cerfolio RJ, De Campos JR, Bryant AS, Connery CP, Miller DL, DeCamp MM, et al. The society of thoracic surgeons expert consensus for the surgical treatment of hyperhidrosis. Ann Thorac Surg. 2011;91:1642-8. doi: 10.1016/j.athoracsur.2011.01.105
Kaplan T, Ekmekçi P, Koçer B, et al. Tek akciğer ventilasyonu kullanmadan hiperhidroz için bilateral sempatikotomi . Turk J Med Sci. 2015;45:771–4.
Yano M, Kiriyama M, Fukai I, Sasaki H, Kobayashi Y, Mizuno K, et al. Endoscopic thoracic sympathectomy for palmar hyperhidrosis: efficacy of T2 and T3 ganglion resection. Surgery. 2005;138:40–5. doi: 10.1016/j.surg.2005.03.026
Libson S, Kirshtein B, Mizrahi S, Lantsberg L. Evaluation of compensatory sweating after bilateral thoracoscopic sympathectomy for palmar hyperhidrosis. Surg Laparosc Endose Percutan Tech. 2007;17:511-3. doi: 10.1097/SLE.0b013e318136e3a1
Connolly M, de Berker D. Management of primary hyperhidrosis: a summary of the different treatment modalities. Am J Clin Dermatol. 2003;4:681-97. doi: 10.2165/00128071-200304100-00003.
Miller JL, Hurley HJ. Diseases of the eccrine and apocrine sweat glands. Dermatology. Ed. Bolognia JL, Jorizzo JL, Rapini RP. Second edition. Spain, Mosby Elsevier, 2008;531-48.
Hornberger J, Grimes K, Naumann M, et al. Multi-specialty working group on the recognition, diagnosis, and treatment of primary focal hyperhidrosis. J Am Acad Dermatol. 2004;51:274–86. doi: 10.1016/j.jaad.2003.12.029
Garcia Franco CE, Perez-Cajaraville J, Guillen-Grima F, España A. Prospective study of percutaneousradiofrequencysympathicolysis in severe hyperhidrosis and facial blushing: Efficacy and safety findings. Eur J Cardiothorac Surg. 2011;40:e146-51. doi: 10.1016/j.ejcts.2011.05.010
Macía I, Moya J, Ramos R, Rivas F,Urena A,Rosado G,et al. Primary hyperhidrosis. Current status of surgical treatment. Cir Esp. 2010;88:146-51. doi: 10.1016/S2173-5077(10)70018-1
Lee DY, Yoon YH, Shin HK, Kim HK, Hong YJ. Needle thoracic sympathectomy for essential hyperhidrosis: intermediate-term follow-up. Ann Thorac Surg. 2000;69:251–3. doi: 10.1016/S0003-4975(99)01191-1
Yim AP, Liu HP, Lee TW, Wan S, Arifi AA.'Needlescopic' video-assisted thoracic surgery for palmar hyperhidrosis.Eur J Cardiothorac Surg. 2000;17:697–701. doi: 10.1016/S1010-7940(00)00378-X
Gossot D, Kabiri H, Caliandro R, Debrosse D, Girard P, Grunenwlad D. Early complications of thoracic endoscopic sympathectomy: a prospective study of 940 procedures. Ann Thorac Surg. 2001;71:1116–9. doi: 10.1016/S0003-4975(01)02422-5
Chen YB, Ye W, Yang WT, Shi L, Guo XF, Xu ZH, et al. Uniportal versus biportal video-assisted thoracoscopic sympatectomy for palmar hyperhidrosis. Chin Med J (Engl). 2009;122:1525-8. doi: 10.3760/cma.j.issn.0366-6999.2009.13.010
Montessi J, Almeida EP, Vieira JP, AbreuMda M, Souza RL, Montessi OV. Videoassisted thoracic sympathectomy in thetreatment of primary hyperhidrosis: a retrospectivestudy of 521 cases comparing different levels of ablation. Bras Pneumol. 2007;33:248-54. doi: 10.1590/S1806-37132007000300004
Miller DL, Force SD. Temporary thoracoscopic sympathetic block for hyperhidrosis. Ann Thorac Surg. 2008;85:1211-4. doi: 10.1016/j.athoracsur.2007.11.020
Lyra Rde M, Campos JR, Kang DW, Loureiro MP, Furian MB, Costa MG, et al. Guidelines for the prevention, diagnosis and treatment of compensatory hyperhidrosis. J Bras Pneumol. 2008;34:967–77. doi: 10.1590/S1806-37132008001100013
Rajesh YS, Pratap CP, Woodyer AB. Thoracoscopic sympathectomy for palmar hyperhidrosis and Raynaud's phenomenon of the upper limb and excessive facial blushing: a five year experience. Postgrad Med J. 2002;78:682-4. doi: 10.1136/pmj.78.925.682
Yücel O, Sapmaz E, Güler A, Alper G, Çaylak H, Gürkök S, et al. The effects of bilateral thoracic sympathectomy on cardiovascular system (An experimental study). Turk Klin J Med Sci. 2009;29:632-6.
Apiliogullari B, Esme H, Yoldas B, Duran M, Duzgun N, Calik M. Early and midterm results of single-port video-assisted thoracoscopic sympathectomy. Thorac Cardiovasc Surg. 2012;60:285-9. doi: 10.1055/s-0032-1304541
Gossot D, Galetta D, Pascal A, Debrosse D, Caliandro R, Girard P, et al. Long-term results of endoscopic thoracic sympathectomy for upper limb hyperhidrosis. Ann Thorac Surg. 2003;75:1075–9. doi: 10.1016/S0003-4975(02)04657-X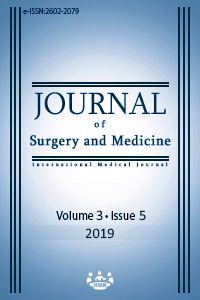 How to Cite
1.
Kapıcıbaşı HO. Bilateral endoscopic thoracic sympathectomy via single incision for the treatment of palmar and axillar hyperhidrosis. J Surg Med [Internet]. 2019 May 28 [cited 2023 Dec. 2];3(5):393-6. Available from: https://jsurgmed.com/article/view/518325
License
Copyright (c) 2019 Hasan Oğuz Kapıcıbaşı
This work is licensed under a Creative Commons Attribution-NonCommercial-NoDerivatives 4.0 International License.
#6402