Magnetic resonance imaging findings of elastofibroma dorsi: A case report
Keywords:
Magnetic resonance imaging, Thorax, Surgery, Elastofibroma dorsi
Abstract
Elastofibroma dorsi is a rare soft tissue tumor. In people who work with arm power, excessive rubbing of the scapula to the chest wall or genetic factors is held responsible for its formation. Thoracic computed tomography (CT) and magnetic resonance imaging (MRI) are the most commonly used imaging modalities for diagnose of elastofibroma dorsi. MRI and CT imaging can distinguish elastofibroma dorsi with the support of clinical findings. It is necessary to avoid unnecessary interventional procedures in asymptomatic elderly patients who are thought to be elastofibroma dorsi and only follow-up is sufficient in these cases. This article aimed to present MRI findings of a 61-year-old male patient suffering from elastofibroma dorsi with literature review.

Downloads
Download data is not yet available.
References
Guha AR, Raja RC, Devadoss VG. Elastofibroma dorsi a-case report and review of literature. Int J Clin Pract. 2004;58:218-20.
Chang CC, Wu MM, Chao C, Lin SS, Liu JT, Lee JK, et al. Prevalance study of elastofibroma dorsi with retrospective evaluation of computer tomography. Chin J Radiol. 2003;28:367-71.
Kara M, Dikmen E, Kara SA, Atasoy P. Bilateral elastofibroma dorsi; proper positioning for an accurate diagnosis. Eur J cardiothorac Surg. 2002;22:839-41.
Tsutsumi A, Kawabata K, Taguchi K, Doi K. Elastofibroma of the greater omentum. Acta Pathol Jpn. 1985;35:233-41.
Hsu JK, Canavagh HD, Green WR. An unusual case of elastofibroma aculi. Cornea. 1997;16:112-9.
Enjoji M, Sumiyoshi K, Sueyoshi K. Elastofibromatous lesion of the stomach in a patient with elastofibroma dorsi. Am J Surg Pathol. 1985;9:233-7.
Geddy PM, Campbell P, Gouldesbrough DR. Elastofibroma of the forefoot. J Foot Ankle Surg. 1994;33:472-4.
Greenberg JA, Lockwood RC. Elastofibroma dorsi. A case report and review of the literature. Orthop Rev. 1989;18: 329-33.
Turna A, Yilmaz MA, Urer N, Bedirhan MA, Gurses A. Bilateral elastofibroma dorsi. Ann Thorac Surg. 2002;73:630-2.
Bennett KG, Organ CH Jr, Cook S, Pitha J. Bilateral elastofibroma dorsi. Surgery. 1988;103:605-7.
Nakamura Y, Ohta Y, Itoh S, Haratake A, Nakano Y, Umeda A, et al. Elastofibroma dorsi. Cytologic, histologic, immunohistochemical and ultrastructural studies. Acta Cytol. 1992;36:559-62.
Hoffman JK, Klein MH, McInerney VK. Bilateral elastofibroma:a case report and review of the literature. Clin Orthop Relat Res. 1996;325:245-50.
Brandser EA, Goree JC, El-Khoury GY. Elastofibroma dorsi: prevalence in an elderly patient population as revealed by CT. AJR Am J Roentgenol. 1998;171:977-80.
Enzinger FM, Weiss SW, editors. Benign lipomatouos tumors. In: Soft tissue tumors. 3rd ed. St. Louis: Mosby, 1995, p: 187-91.
Nagamine N, Nohara Y, Ito E. Elastofibroma in Okinawa. A clinicopathologic study of 170 cases. Cancer. 1982;50:1794-805.
Dalal A, Miller TT, Kenan S. Sonographic detection of elastofibroma dorsi. J Clin Ultrasound. 2003;31:375-8.
Yu JS, Weis LD, Vaughan LM, Resnick D. MRI of elastofibroma dorsi. J Comput Assist Tomogr. 1995;19:601-3.
Marin ML, Perzin KH, Markowitz AM. Elastofibroma dorsi:benign chest wall tumor. J Thorac Cardiovasc Surg. 1989;98:234-8.
Charissoux JL, Mabit C, Fiorenza F, Gougam T, Leboutet MJ. Elastofibroma in the scapular region. A case report and review of the literature. Rev Chir Orthop Reparatrice Appar Mot. 2000;86:98-103.
Koksel O, Ozdulger A, Ozer C, Yıldırım Ç, Karabacak T. Elastofibroma dorsi: a case report. Turkish J Thorac Cardiovasc Surg. 2005;13(3):279-82.
Attafi Sehli S, Bel Haj Salah M, Smichi I, Khayat O, Koubaa W, Chadli Debbiche A. Adventitious discovery of elastofibroma dorsi on skin biopsy. Our Dermatol Online. 2015;6(2):170-2.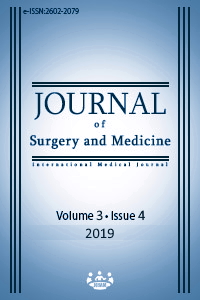 How to Cite
1.
Ateş F, Kara T, Şara H İbrahim, Çoban MS, Durmaz MS, Saraçoğlu M. Magnetic resonance imaging findings of elastofibroma dorsi: A case report. J Surg Med [Internet]. 2019 Apr. 28 [cited 2023 Dec. 11];3(4):341-2. Available from: https://jsurgmed.com/article/view/513827
License
Copyright (c) 2019 Fatih Ateş, Turgay Kara, Halil İbrahim Şara, Muhammed Sami Çoban, Mehmet Sedat Durmaz, Mustafa Saraçoğlu
This work is licensed under a Creative Commons Attribution-NonCommercial-NoDerivatives 4.0 International License.
#6397