Infarction of Percheron artery: A rare case report
Keywords:
Percheron artery, Infarct, Magnetic resonance imaging
Abstract
The thalamus has strategic cores, which are divided into different functional classes and manage important cortical functions in harmony with each other. The mechanism proposed in the bilateral paramedian thalamic infarction is an occlusion of a single undifferentiated thalamo-perforating artery which is an anatomic variant. This artery, called the Percheron artery, appears from the first segment of the posterior cerebral artery and gives bilateral medial thalamic perforating branches. Bilateral paramedian thalamic infarction causes specific clinical signs and symptoms such as changes in consciousness ranging from letarj to coma, vertical gaze paralysis, ocular congestion loss and amnesia. In this case we aimed to present clinical and radiological features of a rare condition with infarction of percheron artery.

Downloads
Download data is not yet available.
References
Schmahmann JD. Vascular syndromes of the thalamus. Stroke. 2003;34:2264–78.
Lamot U, Ribaric I, Popovic KS. Artery of Percheron infarction: review of literature with a case report. Radiol Oncol. 2015;49(2):141-6.
Amin OSM, Shwani SS, Zangana HM, et al. Bilateral infarction of paramedian thalami: a report of two cases of artery of Percheron occlusion and review of the literature. BMJ Case Reports. 2011;2011:bcr0920103304.
Slamia LB, Jemaa HB, Benammou S, Tlili-Graiess K. Occlusion of the artery of Percheron: Clinical and neuroimaging correlation. Journal of Neuroradiology. 2008;35:244-5.
Lazzaro NA, Wright B, Castillo M, et al. Artery of Percheron Infarction: Imaging Patterns and Clinical Spectrum. American Journal of Neuroradiology August. 2010;31(7):1283-9.
Sandvig A, Lundberg S, Neuwirth J. Artery of Percheron infarction: a case report. J Med Case Rep. 2017;11(1):221.
Matheus MG, Castillo M. İmaging of Acute Bilateral Paramedian Thalamic and Mesencephalic Infarcts. AJNR Am J Neuroradiol. 2003 Nov-Dec;24(10):2005-8.
Smith AB, Smirniotopoulos JG, Rushing EJ, Goldstein SJ. Bilateral thalamic lesions. AJR Am J Roentgenol. 2009 Feb;192(2):W53-62. doi: 10.2214/AJR.08.1585.
Masuhr F, Mehraein S, Einhaupl K. Cerebral Venous and Sinus Thrombosis. J Neurol. 2004 Jan;251(1):11-23.
Yoshikava T, Abe O, Tsuchiya K, Okubo T, Tobe K, Masumoto T, et al. Diffusion-weighted magnetic resonance imaging of dural sinus thrombosis. Neuroradiology. 2002 Jun;44(6):481-8.
Zappella N, Merceron S, Nifle C, et al. Artery of Percheron Infarction as an Unusual Cause of Coma:Three Cases and Literature Review. Neurocrit Care. 2014 Jun;20(3):494-501.
Jiménez Caballero PE. Bilateral paramedian thalamic artery infarcts: report of 10 cases. J Stroke Cerebrovasc Dis. 2010 Jul-Aug;19(4):283-9. doi: 10.1016/j.jstrokecerebrovasdis.2009.07.003.
Nalbantoglu M, Ozturk-Tan O, Bayazıt N, Tayfun F. Percheron artery infarction in the differential diagnosis of acute confusional state with normal initial brain MRI. Acta Neurol Belg. 2016 Mar;116(1):73-5. doi: 10.1007/s13760-015-0505-1.
Cassourret G, Prunet B, Sbardella F, Bordes J, Maurin O, Boret H. Ischemic Stroke of the Artery of Percheron with Normal Initial MRI: A Case Report. Case Rep Med. 2010;2010:425734.
Arauz A, Patiño-Rodríguez HM, Vargas-González JC, Arguelles-Morales N, Silos H, Ruiz-Franco A, et al. Clinical Spectrum of Artery of Percheron Infarct: Clinical–Radiological Correlations. J Stroke Cerebrovasc Dis. 2014 May-Jun;23(5):1083-8.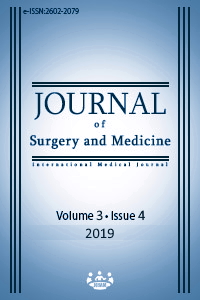 How to Cite
1.
Ateş F, Kara T, Şara H İbrahim, Çoban MS, Durmaz MS, Durmaz FG. Infarction of Percheron artery: A rare case report. J Surg Med [Internet]. 2019 Apr. 28 [cited 2023 Jun. 6];3(4):338-40. Available from: https://jsurgmed.com/article/view/511623
License
Copyright (c) 2019 Fatih Ateş, Turgay Kara, Halil İbrahim Şara, Muhammed Sami Çoban, Mehmet Sedat Durmaz, Funda Gökgöz Durmaz
This work is licensed under a Creative Commons Attribution-NonCommercial-NoDerivatives 4.0 International License.
#6383