Thymolipoma with massive pleural effusion: A case report
Keywords:
Thymus, Thymolipoma, Mediastinum
Abstract
Thymolipoma is a rare and benign lesion originating from the anterior mediastinum. Thymolipoma is mostly diagnosed incidentally. However, cough, dyspnea and chest pain can be seen. A 35-year-old male patient presented to our hospital with the complaint of shortness of breath lasting for one month. The physical examination revealed a massive pleural effusion on the right. In computed tomography (CT) imaging of the thorax, a soft tissue density of 7.5x5x5 cm in size, containing calcifications were observed in the anterior mediastinum. A right thoracotomy was performed for the treatment and to make a definite diagnosis. The histopathological examination resulted in the diagnosis of a thymolipoma. We presented our case with its differential diagnosis because of its rarity.

Downloads
Download data is not yet available.
References
Travis WD, Brambilla E, Burke AP, Marx A, Nicholson AG. Introduction to the 2015 World Health Organization classification of tumors of the lung, pleura, thymus, and heart. Journal of Thoracic Oncology. 2015;1240-2.
Husain A. Thoracic Pathology E-Book: A Volume in the High Yield Pathology Series. Elsevier Health Sciences; 2012.
Haynes BF. Human thymic epithelium and T cell development: current issues and future directions. Thymus. 1990;16(3-4):143-57.
Hall GFM. A case of thymolipoma. With observations on a possible relationship to intrathoracic lipomata. British Journal of Surgery. 1949;36(143):321-4.
Moran CA, Rosado-de-Christenson M, Suster S. Thymolipoma: clinicopathologic review of 33 cases. Modern Pathology. 1995;8(7):741-4.
Roque C, Rodríguez P, Quintero C, Santana N, Hussein M, Freixinet J. Timolipoma gigante. Archivos de Bronconeumología. 2005;41(7):402-3.
Carillo GAO, Fontán EMG, Carretero MÁC. Timolipoma gigante: presentación de un caso de tumor mediastínico inusual. Archivos de Bronconeumología. 2014;50(12):557-9.
Alban T, Tekin M, Yurttaş M. Asemptomatik dev timolipoma (Olgu sunumu). Tüberküloz ve Toraks Dergisi. 2000;48(1):70-2.
Ramos Filho J, Melo RF, Macedo MD, Fiorelli LA, Costa A, Isolatto RB. Chest pain due to right atrial compression caused by a thymolipoma. Arquivos brasileiros de cardiologia. 2004;82(5):481-3.
Halkos ME, Symbas JD, Symbas PN. Acute respiratory distress caused by massive thymolipoma. Southern medical journal. 2004;97(11):1123-6.
Rosado-de-Christenson ML, Pugatch RD, Moran CA, Galobardes J. Thymolipoma: analysis of 27 cases. Radiology. 1994;193(1):121-6.
Hayashı A, Takamorı S, Tayama K, Mıtsuoka M, Ohtsuka S, Aoyama Y, Shırouzu K. Thymolipoma: Clinical an Pathological Features. Kurume Med J. 1997;44(2):141-6.
Maki, H. Imaging findings of fat containing mediastinal lesions. European Congress of Radiology 2016.
Miranda A, Marques J, Ferreira J, Cunha F, Ribeiro M, Ruivo R. Persistent radiologic thoracic hypotransparency: A case report and review of the literature. Archives de Pédiatrie. 2018;25(8):489-92.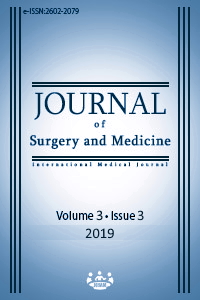 How to Cite
1.
Bayramoğlu Z, Ömeroğlu E, Ünlü Y. Thymolipoma with massive pleural effusion: A case report. J Surg Med [Internet]. 2019 Mar. 15 [cited 2023 Sep. 25];3(3):276-7. Available from: https://jsurgmed.com/article/view/507306
License
Copyright (c) 2019 Zeynep Bayramoğlu, Ethem Ömeroğlu, Yaşar Ünlü
This work is licensed under a Creative Commons Attribution-NonCommercial-NoDerivatives 4.0 International License.
#6364