Postoperative radiotherapy in the treatment of endometrial cancer: Review of 158 patients
Keywords:
Endometrium, Cancer, Surgery, Radiotherapy
Abstract
Aim: Endometrial cancer is the most common gynecological cancer in the West. It is the third cancer of women after that of the breast and intestine. It mainly concerns menopausal women. Our aim is to highlight, through a retrospective study and in light of literature data, the role of radiotherapy in the management of this cancer.
Methods: This is a retrospective cohort study concerning patients' records for endometrial in the radiotherapy department at university hospital center of FEZ for a period of 5 years from January 2012 to December 2016.
Results: We collected 158 patients of mean age 64 years (36 to 92 years), all patients had a total hysterectomy with (76% of cases) or without (24% of cases) ganglion dissection. Type 1 was the most common histological type (96% of cases). The myometrial invasion was greater than 50% in 51% of cases, histological grade III in 36% of cases, and cervical invasion was observed in 16% of cases. Therapeutically, 18% of patients received exclusive external radiotherapy at a dose of 50 Gy in conventional fractionation and spreading, a TEN at a dose of 46 Gy followed by a brachytherapy dam in 58% of cases, and 24% of patients received brachytherapy alone.
After an average follow-up of 25 months, 91% of the patients are in good locoregional control, 9% of the patients had distant metastases.
Conclusion: Radiotherapy retains an important place in the therapeutic strategy of high endometrial cancers, or with unfavorable histological characters, and thus allows the reduction of locoregional recurrence rates.
Downloads
Download data is not yet available.
References
Haie-Medera C, Paumiera A, Lessarda N, et al. Traitements adjuvants et rôle de la radiothérapie dans les formes évoluées de cancer de l'endomètre. Cancer Radiother. 2008;12(67):630–2.
Collinet P, Poncelet E, Vinatiera D. Cancer de l'endomètre. J Gynecol Obstet Biol Reprod. 2008;37(2): F5763.
Amant F, Moerman P, Neven P, Timmerman D, Van Limbergen E, Vergote I. Endometrial cancer. Lancet. 2005; 366 (9484):491–505.
Narducci F, Lambaudie E, Sonoda Y, et al. Endometrial cancer: what's new? Gynecol Obstet Fertil. 2003;31(7-8):581–96.
Creasman WT, Morrow CP, Bundy BN, et al. Surgical pathologic spread patterns of endometrial cancer: a Gynecological Oncology Group Study. Cancer. 1987 Oct 15;60(8 Suppl):203541.
Kong A, Powell M, Blake P. The Role of Postoperative Radiotherapy in Carcinoma of the Endometrium. Clin Oncol (R Coll Radiol). 2008;20(6):457–62.
Greven K, Winter K, Underhill K, et al. Final analysis of RTOG 9708: adjuvant postoperative irradiation combined with cisplatin/paclitaxel chemotherapy following surgery for patients with high-risk endometrial cancer. Gynecol Oncol. 2006;103(1):155-9.
Anderson JM, Stea B, Hallum AV. High dose rate postoperative vaginal cuff irradiation alone for stage IB and IC endometrial cancer. Int J Radiat Oncol Biol Phys. 2000;46(2):41725.
Moreau-Claeys MV, Brunaud C, Hoffstetter S, et al. High dose rate vaginal brachytherapy in endometrial cancer after surgery. Cancer Radiother. 2011;15(3):169-75.
Mazeron R, Monniera L, Belaida A, et al. Adjuvant radiotherapy in patients with endometrial cancers. Cancer Radiother. 2011;15(4):323-9.
Peignaux K, Truc G, Blanchard N, et al. Cancer de l'endomètre de stade I. Cancer Radiother. 2008;12(6-7):625–9.
Keys HM, Roberts JA, Brunetto VL, et al. A phase III trial of surgery with or without adjunctive external pelvic radiation therapy in intermediate risk endometrial adenocarcinoma: a Gynecologic Oncology Group study. Gynecol Oncol. 2004;92(3):744–51.
Alvarez Secord A, Havrilesky LJ, Bae-Jump V, et al. The role of multimodality adjuvant chemotherapy and radiation in women with advanced stage endometrial cancer. Gynecol Oncol. 2007;107(2):285–91.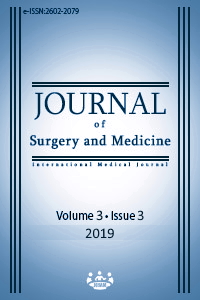 How to Cite
1.
Allouche F, Terrab FZ, Ghammad S, Ennouichi R, Alami Z, Bouhafa T, Hassouni K. Postoperative radiotherapy in the treatment of endometrial cancer: Review of 158 patients. J Surg Med [Internet]. 2019 Mar. 15 [cited 2023 Jun. 7];3(3):210-3. Available from: https://jsurgmed.com/article/view/474012
License
Copyright (c) 2019 Fadwa Allouche, Fatima Zahra Terrab, Sanae Ghammad, Rajae Ennouichi, Zineb Alami, Touria Bouhafa, Khalid Hassouni
This work is licensed under a Creative Commons Attribution-NonCommercial-NoDerivatives 4.0 International License.
#6370