A case of parathyroid carcinoma mimicking parathyroid adenoma
Keywords:
Hypercalcemia, Primary hyperparathyroidism, Parathyroid adenoma, Parathyroid carcinoma
Abstract
Parathyroid carcinoma is one of the rare endocrine tumors and constitutes 1% of the cases with primary hyperparathyroidism. Because of similar imaging modalities and similar clinical findings, it is difficult to distinguish between preoperative parathyroid adenomas and parathyroid carcinoma. A 70-year-old female patient presented with fatigue and generalized bone pain. Her laboratory tests, neck and parathyroid scintigraphy were compatible with primary hyperparathyroidism with a significantly elevated level of parathormone. With the imaging methods which supported parathyroid adenoma, the patient was operated with a presumptive diagnosis of primary hyperparathyroidism due to parathyroid adenoma. The postoperative course was unremarkable and she was discharged on the postoperative fifth day. Postoperative pathology was reported as parathyroid carcinoma developed in a parathyroid adenoma. Parathyroid carcinoma and parathyroid adenoma have similar clinically and imaging methods, it is difficult to diagnose preoperatively.

Downloads
Download data is not yet available.
References
Shane E. Clinical review 122: Parathyroid carcinoma. J Clin Endocrinol Metab. 2001 Feb;86(2),:485-93.
Haven CJ, van Puijenbroek M, Tan MH, Teh BT, Fleuren GJ, van Wezel T, et al. Identification of MEN1 and HRPT2 somatic mutations in paraffin-embedded (sporadic) parathyroidcarcinomas. Clin Endocrinol. 2007;67:370-6.
Wassif WS, Moniz CF, Friedman E, Wong S, Weber G, Nordenskjöld M, Peters TJ, Larsson C. Familial isolated hyperparathyroidism: a distinct genetic entity with an increased risk of parathyroid cancer. J Clin Endocrinol Metab. 1993 Dec;77(6):1485-9.
Tamler R, Lewis MS, LiVolsi VA, Genden EM. Parathyroid carcinoma: ultrasonographic and histologic features. Thyroid. 2005 Jul;15(7):744-5.
Fernandes JMP, Paiva C, Correia R, Polónia J, Moreira da Costa A. Parathyroid carcinoma: From a case report to a review of the literature. Int J Surg Case Rep. 2018;42:214-217. doi: 10.1016/j.ijscr.2017.11.030.
Marcocci C, Cetani F, Rubin MR, Silverberg SJ, Pinchera A, Bilezikian JP. Parathyroidcarcinoma. J Bone MinerRes. 2008;23:1869-80.
Spinelli C, Bonadio AG, Berti P, Materazzi G, Miccoli P. Cutaneous spreading of parathyroid carcinoma after fine needle aspiration cytology. J Endocrinol Invest. 2000 Apr;23(4):255-7.
Chiofalo MG, Scognamiglio F, Losito S, Lastoria S, Marone U, Pezzullo L. Huge parathyroid carcinoma: clinical considerations and literature review. World J Surg Oncol. 2005 Jun 23;3:39.
Koea JB, Shaw JH. Parathyroid cancer: biology and management. Surg Oncol. 1999 Nov;8(3):155-65.
Sandelin K, Auer G, Bondeson L, Grimelius L, Farnebo LO. Prognostic factors in parathyroid cancer: a review of 95 cases. World J Surg. 1992 Jul-Aug;16(4):724-31.
Givi B, Shah JP. Parathyroid carcinoma. Clin Oncol (R Coll Radiol). 2010 Aug;22(6):498-507.
Munson ND, Foote RL, Northcutt RC, Tiegs RD, Fitzpatrick LA, Grant CS, et al. Parathyroid carcinoma: is there a role for adjuvant radiation therapy? Cancer. 2003;98(11):2378–84.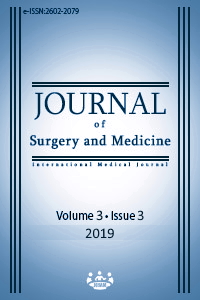 How to Cite
1.
Demirli Atıcı S, Yeşilyurt D, Solakoğlu Kahraman D, Dikmeer E, Öğücü H, Demir HB, Akbulut G. A case of parathyroid carcinoma mimicking parathyroid adenoma. J Surg Med [Internet]. 2019 Mar. 15 [cited 2023 May 28];3(3):265-7. Available from: https://jsurgmed.com/article/view/473603
License
Copyright (c) 2019 Semra Demirli Atıcı, Değercan Yeşilyurt, Dudu Solakoğlu Kahraman, Emre Dikmeer, Hakan Öğücü, Halit Batuhan Demir, Gökhan Akbulut
This work is licensed under a Creative Commons Attribution-NonCommercial-NoDerivatives 4.0 International License.
#6368