Computed tomography findings of mesenteric ischemia related to acute superior mesenteric vein thrombosis: A case report
Keywords:
Mesenteric ischemia, Venous infarct, Mesenteric venous thrombosis
Abstract
Acute mesenteric ischemia (AMI) is a condition caused by a decrease in blood flow due to occlusion of the mesenteric vessels, vasospasm or hypoperfusion. Approximately 5-15% of all AMI are related to mesenteric venous thrombosis (MVT). MVT has high mortality rate despite of advanced medical technologies. Thus, early diagnosis is crucial in the prognosis of the disease. Contrast-enhanced computed tomography (CT) and CT angiography are the most helpful radiological examinations for early diagnosis. We present the case of 55 years old patient with AMI accompanied by radiological images. Our patient was admitted to hospital with severe abdominal pain persistent since a week. The patient had upper gastro-intestinal system (GIS) bleeding history due to peptic ulcer a month ago. In the CT imaging, we found thrombosis along superior mesenteric vein up to distal portal junction. There was pneumatosis intestinalis as a consequence of necrosis, ileal walls were concentric, thick and hypodense because of edema. Total intestinal segments were dilated with air-fluid levels. Ileus was present without obstruction. The findings support the diagnosis of AMI due to MVT.

Downloads
Download data is not yet available.
References
Herbert GS, Steele SR. Acute and chronic mesenteric ischemia. Surg Clin North Am. 2007;87:1115-34.
Brunaud L, Antunes L, Adler SC, Marchal F, Ayav A, Bresler L, et al. Acute mesenteric venous thrombosis: Case for nonoperative management. J Vas Surg. 2001;34:673-9.
Al Salamah S, Mirza SM. Acute Mesenteric Venous Thrombosis: Management Controversies. 2004;11:242-7.
Rhee RY, Gloviczki P. Mesenteric venous thrombosis. Surg Clin North Am. 1997;77:327-39.
Adaba F, Askari A, Dastur J, et al. Mortality after acute primary mesenteric infarction: a systematic review and meta-analysis of observational studies. Colorectal Dis. 2015;17(7):566-77.
Bala M, Kashuk J, Moore EE, Kluger Y, Biffl W, Gomes CA, et al. Acute mesenteric ischemia: guidelines of the World Society of Emergency Surgery. World J Emerg Surg. 2017 Aug 7;12:38.
Chang RW, Chang JB, Longo WE. Update in management of mesenteric ischemia. World J Gastroenterol. 2006;12:3243-7.
Williams LF. Mesenteric ischemia. Surg Clin North Am. 1988;68:331-53.
Witte CL, Brewer ML, Witte MH, Pond GB. Protean manifestations of Pyelothrombosis. Ann Surg. 1985;202:191-202.
Furukawa A, Kanasaki S, Kono N, Wakamiya M, Tanaka T, Takahashi M, Murata K. CT diagnosis of acute mesenteric ischemia from various causes. AJR Am J Roentgenol. 2009 Feb;192(2):408-16.
Hmoud B, Ashwani K, Kamathz PS. Mesenteric Venous Thrombosis. Journal of Clinical and Experimental Hepatology. 2014;4(3):257–63.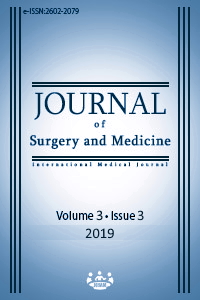 How to Cite
1.
Doğan E, Mouline Doğan M, Gül S, Güney B. Computed tomography findings of mesenteric ischemia related to acute superior mesenteric vein thrombosis: A case report. J Surg Med [Internet]. 2019 Mar. 15 [cited 2023 Dec. 11];3(3):262-4. Available from: https://jsurgmed.com/article/view/470446
License
Copyright (c) 2019 Emrah Doğan, Marwa Mouline Doğan, Süha Gül, Bünyamin Güney
This work is licensed under a Creative Commons Attribution-NonCommercial-NoDerivatives 4.0 International License.
#6365