Left persistent superior vena cava with large coronary sinus: A case report
Keywords:
Superior vena cava, Left persistent vena cava, Thorax radiology
Abstract
Persistent left superior vena cava (LPSVC) is a rare and important congenital venous anomaly. It is caused by a defect in the closure of the left anterior cardinal vein during cardiac development. The LPSVC drains into the right atrium via the coronary sinus (CS) in 90% of cases, connects to the left atrium in 10 % of them. When cardiac anomalies are present, LPSVC is usually linked directly to left atrium. Thus, LPSVC which drains in the CS is generally isolated and asymptomatic. In our case, patient presented a heavy respiratory symptomatology without any diagnosis since all of the respiratory tests were normal. After realization of a computed tomography (CT), LPSVC had been discovered inducing a huge dilatation of CS, which its diameter was three times more than reported in literature and without any associated congenital heart disease. 
LPSVC seems to be a complex anatomic variation with different clinic and anatomic shapes. CS dilatation can be found in association with LPSVC in CT. As a result, it is important to use non-invasive cardiovascular examinations to make an optimal diagnosis of congenital cardiovascular variations and in order to avoid further interventional complications.
Downloads
Download data is not yet available.
References
Altunkas A, Altunkas F. A very rare subgroup of persistent left superior vena cava in an adult: Isolated persistent left superior vena cava with absence of the congenital heart diseases. Acta Medica Anatolia. 2014;2(1):32-3.
Chen SH, Cheng JL. Duplication of the superior vena cava in an elderly patient on hemodialysis. International Journal of Gerontology. 2017;11:267-9.
Bolognesi M. Dilated coronary sinus due to persistent left superior vena cava in a healthy athlete: A case report with brief review. J Integr Cardiol. 2015;1(5):115-7.
Albay S, Cankal F, Kocabıyık N, Yalcın B, Ozan H. Double superior vena cava. Morphologie. 2006;90:39-42.
Gris P, Wilmet B, Benchillal A, Tack D, Wery D, De Jonghe M, et all. Persistent left superior vena cava: Apropos of 2 cases. Rev Pneumol Clin. 1995;51:33-5.
Shah SS, Teague SD, Lu JC, Dorfman AL, Kazerooni AE, Agarwal PP. RadioGraphics. 2012;32:991-1008.
Burney K, Young H, Barnard SA, Mc Coubrie P, Darby M. CT appearances of congenital and acquired abnormalities of the superior vena cava. Clinical Radiology. 2007;62:837-42.
Nathani S, Parakh N, Chaturvedi V, Tyagi S. Giant coronary sinus. Tex Heart Inst J. 2011;38(3):310-1.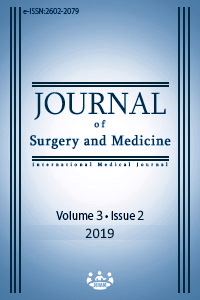 How to Cite
1.
Doğan E, Mouline Doğan M, Gül S, Çullu N. Left persistent superior vena cava with large coronary sinus: A case report. J Surg Med [Internet]. 2019 Feb. 25 [cited 2023 Sep. 25];3(2):194-6. Available from: https://jsurgmed.com/article/view/470445
License
Copyright (c) 2019 Emrah Doğan, Marwa Mouline Doğan, Süha Gül, Neşat Çullu
This work is licensed under a Creative Commons Attribution-NonCommercial-NoDerivatives 4.0 International License.
#6352