A rare cause of acute abdominal pain in a child: Giant sigmoid volvulus
Keywords:
Sigmoid volvulus, Child, Abdominal pain
Abstract
Sigmoid volvulus (SV) is a rare, but also life-threatening disease if not diagnosed earlier. SV appears as torsion of the sigmoid colon around its mesentery and causes necrosis, perforation, peritonitis and sepsis when obstruction and ischemia progresses in the colon segment. The important issue in SV to keep in mind is consideration of this rare condition during detailed examination of the history, physical examination and laboratory findings in the patient who refers because of some complaints such as abdominal pain, constipation and distention. This would allow planning the advanced radiological examinations and adequate treatment protocols to confirm the diagnosis.

Downloads
Download data is not yet available.
References
Oren D, Atamanalp SS, Aydinli B, Yildirgan MI, Başoğlu M, Polat KY, et al. An algorithm for the management of sigmoid colon volvulus and the safety of primary resection: experience with 827 cases. Dis Colon Rectum. 2007;50(4):489–97. DOI: 10.1007/s10350-006-0821-x
Salas S, Angel CA, Salas N, Murillo C, Swischuk L. Sigmoid volvulus in children and adolescents. J Am Coll Surg. 2000;190(6):717–23.
Weingrow D, McCague A, Shah R, Lalezarzadeh F. Delayed presentation of sigmoid volvulus in a young woman. West J Emerg Med. 2012;13(1):100-2. doi: 10.5811/westjem.2011.4.6720.
Chang CJ, Hsieh TH, Tsai KC, Fan CM. Sigmoid Volvulus in a Young Woman Nearly Misdiagnosed as Fecal Impaction. J Emerg Med. 2013;44(3):611-3. doi: 10.1016/j.jemermed.2012.02.084.
Raveenthiran V. Emptiness of the left iliac fossa: a new clinical sign of sigmoid volvulus. Postgrad Med J. 2000;76(900):638-4.
Chiang LL, Lai HS, Ni YH, Hsu WM. Management of sigmoid volvulus based on Ladd's procedure: a case report. Pediatr Neonatol. 2009;50(3):129−31. doi: 10.1016/S1875-9572(09)60049-8.
Parolini F, Orizio P, Bulotta AL, Garcia Magne M, Boroni G, Cengia G, et al. Endoscopic management of sigmoid volvulus in children. Gastrointest Endosc. 2016;8(12):439–43. doi: 10.4253/wjge.v8.i12.439.
Colinet S, Rebeuh J, Gottrand F, Kalach N, Paquot I, Djeddi D, et al. Presentation and endoscopic management of sigmoid volvulus in children. European Journal of Pediatrics. 2015;174(7):965–9. doi: 10.1007/s00431-015-2489-5.
Weeratunga ND, Samarakoon LB, Lamahewage AK. Sigmoid Volvulus Causing Intestinal Obstruction in a Child – A Case Report and Review of Literature. J Pediatr Neonatal Care. 2015;2:67. doi: 10.15406/jpnc.2015.02.00067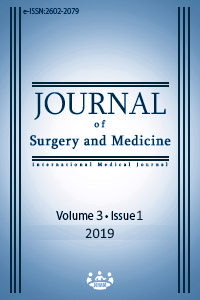 How to Cite
1.
Koç AS, Özçelik Z. A rare cause of acute abdominal pain in a child: Giant sigmoid volvulus. J Surg Med [Internet]. 2019 Jan. 27 [cited 2023 Sep. 26];3(1):97-9. Available from: https://jsurgmed.com/article/view/464087
License
Copyright (c) 2019 Ayşe Selcan Koç, Zerrin Özçelik
This work is licensed under a Creative Commons Attribution-NonCommercial-NoDerivatives 4.0 International License.
#6332