Assessment of patients presented to the emergency department with dermatological complaints: Retrospective cohort study
Keywords:
Emergency department, Dermatological emergency, Urticaria, Drug-related rash
Abstract
Aim: Although dermatology is an area of expertise based largely on outpatient treatment, about 5-10% of emergency department patients are dermatological diseases. In this study, it was aimed to draw attention to management of dermatologic diseases which are frequently encountered in emergency services.
Methods: Over 18 years old 96 patients who presented with a dermatologic problem to the emergency department of Kahramanmaras Sutcu Imam University Hospital between January and June 2018 were evaluated.
Results: The mean age of the patients was 43.9 ± 17.1 years. When the gender distribution was examined, 39.6% (n=38) of the cases were male and 60.4% (n=58) were female.  Pruritus and rash were the most common dermatological complaints and the most common diagnoses were urticaria (38.5%), urticaria-angioedema (13.5%), cellulitis (8.3%) and anaphylaxis (8.3%) in this study. The rate of cases without known dermatological disease was 77.1%. In 52 (54.2%) cases, there was a new drug use which may be associated with the current dermatosis, and antibiotics (22.9%) were the most frequently detected from these drugs.
Conclusion: It was seen that most of the patients who admitted with a dermatological problem had no known dermatological disease, and some adult patients with chronic dermatosis might apply to emergency services. It has been determined that not all cases are real dermatologic emergencies and most of them are relieved and discharged by intervention made at the emergency department without need of examination. The presence of a new drug use in about half of the cases revealed that drugs are an important etiologic factor in emergency dermatological diseases.
Downloads
Download data is not yet available.
References
Wallett A, Sidhu S. Management pathway of skin conditions presenting to an Australian tertiary hospital emergency department. Australas J Dermatol. 2012;53(4):307-10. doi: 10.1111/j.1440-0960.2012.00900.x.
Dertlioğlu SB, Çiçek D, Bozdemir MN, Kandi B. Fırat Üniversitesi Tıp Fakültesi acil servisine başvuran dermatoloji hastalarının değerlendirilmesi. J Kartal. 2010;21(2):84-8.
Tan ES, Tang MB, Peng LL. Dermatological disorders at the emergency department of a tertiary hospital in Singapore. Ann Acad Med Singapore. 2013;42(3):155-6.
Türsen B, Türsen Ü. Dermatological Emergencies. http://www.dermatoz.org/makaleler/dox/Dermatolojikacildurumlar.pdf
Abedini R, Matinfar A, Sasani P, Salehi A, Daneshpazhooh M. Evaluation of Patients Visiting the Dermatology Emergency Unit of a University Dermatology Hospital in Tehran, Iran. Acta Med Iran. 2017;55(11):705-711.
Alegre-Sánchez A, de Perosanz-Lobo D, Pascual-Sánchez A, Pindado-Ortega C, Fonda-Pascual P, Moreno-Arrones ÓM, et al. Impact on Quality of Life in Dermatology Patients Attending an Emergency Department. Actas Dermosifiliogr. 2017;108(10):918-23. doi: 10.1016/j.ad.2017.07.001.
Kaptanoğlu AF, Özgöl Y, Tınazlı M. Kuzey Kıbrıs'ta Üniversite Acil servisine dermatoloji başvuruları. JAEM. 2012;11:137-40.
Wang E, Lim BL, Than KY. Dermatological conditions presenting at an emergency department in Singapure. Sigapure Med J. 2009;50:881-4.
Chen CL, Fitzpatrick L, Kamel H. Who uses the emergency department for dermatologic care? A statewide analysis. J Am Acad Dermatol. 2014;71(2):308-13. doi: 10.1016/j.jaad.2014.03.013.
Grillo S, Vano-Galvan N, Jiménez-Gómez A, Ballester A, Muñoz-Zato E, Jaén P. Dermatologic Emergencies: Descriptive Analysis of 861 Patients in a Tertiary Care Teaching Hospital. Actas Dermosifiliogr. 2013;104:316-24.
Jack AR, Spence AA, Nichols BJ, Chong S, Williams DT, Swadron SP, et al. Cutaneous Conditions Leading to Dermatology Consultations in the Emergency Department. West J Emerg Med. 2011;12:551-5.
Zanocchi M, Tibaldi V, Amati D, Francisetti F, Martinelli E, Gonella M, et al. Adverse drug reactions as cause of visit to the emergency department: incidence, features and outcomes. Recenti Prog Med. 2006;97(7-8):381-8.
Goh SH, Soh JY, Loh W, Lee KP, Tan SC, Heng WJK, et al. Cause and Clinical Presentation of Anaphylaxis in Singapore: From Infancy to Old Age. Int Arch Allergy Immunol. 2018;175(1-2):91-8. doi: 10.1159/000485127.
Antic M, Conen D, Itin PH. Teaching effects of dermatological consultations on nondermatologists in the field of internal medicine. A study of 1290 inpatients. Dermatology. 2004;208(1):32-7.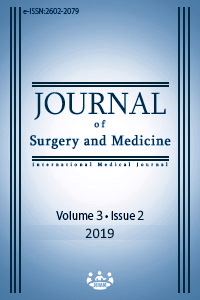 How to Cite
1.
Nazik H, Hakkoymaz H. Assessment of patients presented to the emergency department with dermatological complaints: Retrospective cohort study. J Surg Med [Internet]. 2019 Feb. 25 [cited 2023 Sep. 25];3(2):139-42. Available from: https://jsurgmed.com/article/view/458063
License
Copyright (c) 2019 Hülya Nazik, Hakan Hakkoymaz
This work is licensed under a Creative Commons Attribution-NonCommercial-NoDerivatives 4.0 International License.
#6346