Case of an atypical located leiomyoma arising from rectus sheath
Keywords:
Abdominal wall, Fibroids, Leiomyoma, Rectus sheath
Abstract
Fibroids or leiomyomas are the commonest benign tumor of the female reproductive tract, occurring most commonly in the uterus. Abdominal wall fibroids are uncommon; we present a rare case of an isolated leiomyoma of the anterior abdominal wall in a patient with no previous history of any abdominal surgeries. We present a case of a 54-year-old female. She was first admitted to the general surgery clinic with a complaint of vague abdominal pain. Abdominal ultrasound and computed tomography revealed the mass, measuring 10x9x7cm, located at the left adnexal area, reported as complex ovarian cyst. She had no history of an abdominal surgery. Laparoscopic surgery was planned. We located the mass, with the help of abdominal palpation and laparoscopic observation at the same time that located anterior to the abdominal parietal peritoneum, beneath the rectus muscle. We extracted the mass, which was capsulated, fine bordered, tender, slightly mobile; with sharp and blunt dissection without any complication. Leiomyomas are the commonest benign tumor of the reproductive tract and found in 20-40% of women of reproductive age. Abdominal wall fibroids are really rare, thought to follow seeding following surgical resection of uterine fibroids. There are very few reported cases of isolated abdominal wall fibroids in the literature, without having previous abdominal surgeries or presence of uterine fibroids as reported in our case.

Downloads
Download data is not yet available.
References
Stewart EA. Uterine fibroids. Review Lancet. 2001;357(9252):293–8. doi: 10.1016/S0140-6736(00)03622-9.
Moon HS, Koo JS, Park SH, Park GS, Choi JG, Kim SG. Parasitic leiomyoma in the abdominal wall after laparoscopic myomectomy. Fertil Steril. 2008 Oct;90(4):1201.e1-2. doi: 10.1016/j.fertnstert.2007.08.068..
Muffly T, Vadlamani I, Weed JC. Massive leiomyma of the broad ligament. Obstet Gynecol. 2007;109(2 pt 2):563–5.
Igberase GO, Mabiaku TO, Ebeigbe PN, Abedi HO. Solitary anterior abdominal wall leiomyoma in a 31-year-old multipara woman: a case report. Cases Journal. 2009;2:113. doi:10.1186/1757-1626-2-113.
Andersen J. Growth factors and cytokines in uterine leiomyomas. Semin Reprod Endocrinol. 1996;14(3):269–82.
Lambroza A, Tighe MK, DeCosse JJ, Dannenberg AJ. Disorders of the rectus abdominis muscle and sheath: a 22-year experience. Am J Gastroenterol. 1995;90(8):1313-7.
Ryan GL, Syrop CH, Van Voorhis BJ. Role, epidemiology, and natural history of benign uterine mass lesions. Clin Obstet Gynecol. 2005;48(2):312–24.
Wallach EE, Vlahos NF. Uterine myomas: an overview of development, clinical features, and management. Obstet Gynecol. 2004;104(2):393–406.
D'souza C, Bhat S, Purushothaman, Dhanej. De novo growth of leiomyoma from rectus sheath: A rare presentation. Ann Trop Med Public Health 2012;5(4):390-2.
Khan AT, Shehmar M, Gupta JK. Uterine fibroids: current perspectives. International Journal of Women's Health. 2014;(6):95-114. doi:10.2147/IJWH.S51083.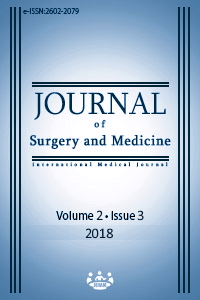 How to Cite
1.
Sel G. Case of an atypical located leiomyoma arising from rectus sheath. J Surg Med [Internet]. 2018 Sep. 1 [cited 2023 Sep. 25];2(3):408-9. Available from: https://jsurgmed.com/article/view/442268
License
Copyright (c) 2018 Görker Sel
This work is licensed under a Creative Commons Attribution-NonCommercial-NoDerivatives 4.0 International License.
#6295