Achromobacter xylosoxidans infection in urinary tract in a secondary kidney stone patient: Case Report
Keywords:
Achromobacter xylosoxidans, Urinary tract
Abstract
Achromobacter xylosoxidans formerly named as Alcaligenes xylosoxidans is an aerobic, non-fermenting, oxidase positive, catalase positive gram negative bacillus. It is seen especially in immunosuppressed patients, patients with tumors, hypogamaglobulinemia or transplant patients. A. xylosoxidans infection in urinary system is very rare. 56 year old male patient was presented to our clinic with bilateral flank pain. He had not immunodeficiency and tumor history. He had diabetes mellitus. He had shock wave lithotripsy history for bilateral kidney stone. He had previous open surgery for right kidney stone and retrograde intrarenal surgery for left kidney stone. In the urine culture, Achromobacter xylosoxidans infection was detected. Ciprofloxacin, ceftriaxone and methenamine hippurate treatment were firstly applied to the patient. Patient was followed and 15 days later he admitted our clinic. 38 white blood cells and 8 red blood cells were present in urinalysis and the control urine culture was sterile. In conclusion, A. xylosoxidans infection is rarely seen and it has high resistance to antibiotics. Clinicians must be careful about the infection and treatment of A. xylosoxidans infection.

Downloads
Download data is not yet available.
References
Yabuuchi E, Oyama A. Achromobacter xylosoxidans n sp. From human ear discharge. Jpn J Microbiol. 1971;15:477-81.
Mandell WF, Garvey GJ, Neu HC. Achromobacter xylosoxidans bacteremia. Rev Infect Dis. 1987;9:1001-5.
Eshwara VK, Mukhopadhyay C, Mohan S, Prakash R, Pai G. Two unique presentations of Achromobacter xylosoxidans infections in clinical settings. J Infect Dev Ctries. 2011;5:138-41.
Duggan JM, Goldstein SJ,Chenoweth CE, Kauffman CA, Bradley SF. Achromobacter xylosoxidans bacteraemia:report of 4 cases and review of the literature. Clin Infect Dis. 1996;23:569-76.
Tena D, Gonzales- Praetorius A, Perez-Balsalobre M, Sancho O, Bisquert J. Urinary tract infection due to Achromobacter xylosoxidans: report of 9 case. Scand J Infect Dis. 2008;40:84-7.
Lee JH, Lee SY, Park IY, et al. A Case of Septic Shock caused by Achromobacter xylosoxidans in an Immunocompetent Female Patient after Extracorporeal Shock Wave Lithotripsy for a Ureteral Stone. Infect Chemother. 2016 Mar;48(1):47-50. https://doi.org/10.3947/ic.2016.48.1.47
Aisenberg G, Rolston KV, Safdar A. Bacteraemia caused by Achromobacter and Alcaligenes species in 46 patients with cancer (1989–2003). Cancer. 2004;101:2134–40.
Shie SS, Huang CT, Leu HS. Characteristics of Achromobacter xylosoxidans bacteraemia in northern Taiwan. J Microbiol Immunol Infect. 2005;38:277–82.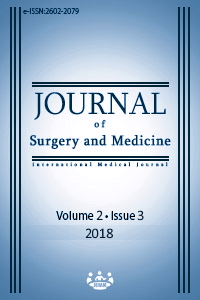 How to Cite
1.
Sarı S, Yeşilyurt E, Yılmaz N, Gürel A, Gürtan E, Şanal L. Achromobacter xylosoxidans infection in urinary tract in a secondary kidney stone patient: Case Report. J Surg Med [Internet]. 2018 Sep. 1 [cited 2023 Oct. 4];2(3):406-7. Available from: https://jsurgmed.com/article/view/437945
License
Copyright (c) 2018 Sercan Sarı, Emine Yeşilyurt, Neziha Yılmaz, Abdullah Gürel, Emin Gürtan, Laser Şanal
This work is licensed under a Creative Commons Attribution-NonCommercial-NoDerivatives 4.0 International License.
#6266