Clinical and demographic characteristics of influenza B outbreak in Erzincan province of Turkey
Keywords:
Influenza, Influenza B, Epidemics, Seasonal epidemics, PCR
Abstract
Aim: Seasonal epidemics of influenza are responsible for significant morbidity and mortality worldwide. We aimed to investigate distribution of seasonal influenza viruses, and clinical and demographic characteristics of influenza B epidemics in Erzincan province of Turkey. 
Methods: A total of 103 patients who presented to our hospital in spring the season in accordance with influenza case management schema in line with the recommendations by the World Health Organization and Ministry of Health were included in this study. Cepheid SmartCycler system, which is an integrated RNA replication and detection device based on microprocessor controlled I-CORE® (Intelligent Cooling / Heating Optical Reaction) module was used in order to detect Influenza A / Influenza B viruses. 
Results: Influenza was positive in 28 (27.1%) of all patients who presented with suspected Influenza, with 23 (22.3%) being Influenza B and 5 (4.9%) Influenza A. Of patients with positive Influenza B, 18 (78%) had one or more chronic diseases. Of the patients, 15 (65%) were diagnosed with one of the chronic pulmonary disease, 8 (35%) one of the chronic cardiac diseases, and 3 (13%) diabetes mellitus. Leukopenia and thrombocytopenia were more common than leucocytosis. Seven patients were followed-up as inpatients. At the follow-up period, three of the patients were taken to the intensive care unit and 2 of them died. Whereas the remaining patients were discharged with recovery.
Conclusion: We observed that, Influenza B progressed more seriously than we expected. For this reason, we think that immunity level of the community against Influenza B should be raised with vaccination campaigns involving different subtypes of Influenza B.
Downloads
Download data is not yet available.
References
Gu M, Xu L, Wang X, Liu X. Current situation of H9N2 subtype avian influenza in China. Vet Res. 2017;48(1):49.
Resa-Infante P, Jorba N, Coloma R, Ortin J. The influenza virus RNA synthesis machine: advances in its structure and function. RNA Biol. 2011;8(2):207-15.
Paules C, Subbarao K. Influenza. Lancet. 2017;390(10095):697-708.
White SK, Ma W, McDaniel CJ, Gray GC, Lednicky JA. Serologic evidence of exposure to influenza D virus among persons with occupational contact with cattle. J Clin Virol. 2016;81:31-33.
Shao W, Li X, Goraya MU, Wang S, Chen JL. Evolution of Influenza A Virus by Mutation and Re-Assortment. Int J Mol Sci. 2017;18(8). pii: E1650.
Choi SH, Chung JW, Kim T, Park KH, Lee MS, Kwak YG. Late diagnosis of influenza in adult patients during a seasonal outbreak. Korean J Intern Med. 2018;33(2):391-6.
Saunders-Hastings PR, Krewski D. Reviewing the History of Pandemic Influenza: Understanding Patterns of Emergence and Transmission. Pathogens. 2016;5(4). pii: E66.
Nulens EF, Bourgeois MJ, Reynders MB. Post-influenza aspergillosis, do not underestimate influenza B. Infect Drug Resist. 2017;10:61-7.
Ambrose CS, Levin MJ. The rationale for quadrivalent influenza vaccines. Hum Vaccin Immunother. 2012; 8:81-8.
World Health Organization Recommended composition of influenza virus vaccines for use in the 2012–2013 northern hemisphere influenza season. 2012; Available from: http://www.who.int/influenza/vaccines/virus/recommendations/201202_recommendation.pdf [Accessed 19October2017]
van de Sandt CE, Bodewes R, Rimmelzwaan GF, de Vries RD. Influenza B viruses: not to be discounted. Future Microbiol. 2015;10(9):1447-65.
Chan PK, Tam WW, Lee TC, et al. Hospitalization Incidence, Mortality, and Seasonality of Common Respiratory Viruses Over a Period of 15 Years in a Developed Subtropical City. Medicine (Baltimore). 2015;94(46):e2024.
http://www.who.int/influenza/en/ [Accessed 20 January2017]
Ganz HH, Doroud L, Firl AJ, Hird SM, Eisen JA, Boyce WM. Community-Level Differences in the Microbiome of Healthy Wild Mallards and Those Infected by Influenza A Viruses. mSystems. 2017;2(1). pii: e00188-16.
Caini S, Huang QS, Ciblak MA, et al; Global Influenza B Study. Epidemiological and virological characteristics of influenza B: results of the Global Influenza B Study. Influenza Other Respir Viruses. 2015;9 Suppl 1:3-12.
Paul Glezen W, Schmier JK, Kuehn CM, Ryan KJ, Oxford J. The burden of influenza B: a structured literature review. Am J Public Health. 2013;103(3):e43-51.
Chiarella FC, Daoud Z, Fuentes-Ferrer ME, Ramos Amador JT, Picazo JJ, Culebras E. Characterization and circulation of seasonal influenza viruses in Madrid, 2010-2016. J Med Virol. 2017;89(10):1726-33.
Barr IG, Vijaykrishna D, Sullivan SG. Differential age susceptibility to influenza B/Victoria lineage viruses in the 2015 Australian influenza season. Euro Surveill. 2016;21(4). doi: 10.2807/1560-7917.ES.2016.21.4.30118.
Radovanov J, Milošević V, Cvjetković IH, et al. Influenza B Viruses in the Population of Province of Vojvodina during the 2012/2013 Season: Differentiation of B/Yamagata and B/Victoria Lineages by Real-time RT-PCR, Antigenic and Phylogenetic Characterization. Srp Arh Celok Lek. 2015;143(7-8):429-37.
http://www.who.int/influenza/surveillance_monitoring/updates/GIP_surveillance_2017_archives/en/ [Accessed 15 June2017]
http://www.thsk.gov.tr/arama.html?q=influenza [Accessed 15 June2017]
Zhong PP, Zhang HL, Chen XF, et al. Lower respiratory tract infection caused by influenza virus A and influenza virus B in Wenzhou, China: a clinical analysis of 366 children. Zhongguo Dang Dai Er Ke Za Zhi. 2016;18(2):117-22.
Moghadami M. A Narrative Review of Influenza: A Seasonal and Pandemic Disease. Iran J Med Sci. 2017;42(1):2-13.
Cordova-Villalobos JA, Macias AE, Hernandez-Avila M, et al. The 2009 pandemic in Mexico: Experience and lessons regarding national preparedness policies for seasonal and epidemic influenza. Gac Med Mex. 2017;153(1):102-10.
Sunagawa S, Iha Y, Taira K, et al. An Epidemiological Analysis of Summer Influenza Epidemics in Okinawa. Intern Med. 2016;55(24):3579-84.
Blanton L, Wentworth DE, Alabi N, et al. Update: Influenza Activity - United States and Worldwide, May 21-September 23, 2017. MMWR Morb Mortal Wkly Rep. 2017;66(39):1043-51.
Muscatello DJ, Barr M, Thackway SV, Macintyre CR. Epidemiology of influenza-like illness during Pandemic (H1N1) 2009, New South Wales, Australia. Emerg Infect Dis. 2011;17(7):1240-7.
Machablishvili A, Tsereteli D, Zakhashvili K, Karseladze I, Imnadze P. Clinical And Epidemiological Characterization of Influenza A/H1N1pdm and B among Hospitalized Children, Georgia, Season 2010-2011. Georgian Med News. 2017;(265):71-8.
Kumar V. Influenza in Children. Indian J Pediatr. 2017;84(2):139-43.
Tran D, Vaudry W, Moore D, Bettinger JA, Halperin SA, Scheifele DW, Jadvji T, Lee L, Mersereau T; members of the Canadian Immunization Monitoring Program Active. Hospitalization for Influenza A Versus B. Pediatrics. 2016;138(3). pii: e20154643.
Acar M, Sütçü M, Aktürk H, et al. Clinical differences of influenza subspecies among hospitalized children. Turk Pediatri Ars. 2017;52(1):15-22.
Lennon DR, Cherry JD, Morgenstein A, Champion JG, Bryson YJ. Longitudinal study of influenza B symptomatology and interferon production in children and college students. Pediatr Infect Dis. 1983;2(3):212-5.
Casalino E, Antoniol S, Fidouh N, et al. Influenza virus infections among patients attending emergency department according to main reason to presenting to ED: A 3-year prospective observational study during seasonal epidemic periods. PLoS One. 2017;12(8):e0182191. doi: 10.1371/journal.pone.0182191. eCollection 2017.
Hui DSC, Lee N, Chan PKS. A clinical approach to the threat of emerging influenza viruses in the Asia-Pacific region. Respirology. 2017;22(7):1300-12.
McCullers JA, Hayden FG. Fatal influenza B infections: time to reexamine influenza research priorities. J Infect Dis. 2012;205(6):870–2.
Thommes EW, Kruse M, Kohli M, Sharma R, Noorduyn SG. Review of seasonal influenza in Canada: Burden of disease and the cost-effectiveness of quadrivalent inactivated influenza vaccines. Hum Vaccin Immunother. 2017;13(4):867-76.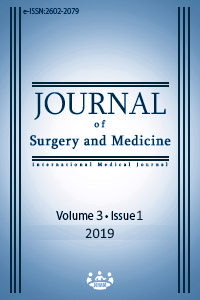 How to Cite
1.
Ünver E, Çıkman A, Karakeçili F. Clinical and demographic characteristics of influenza B outbreak in Erzincan province of Turkey. J Surg Med [Internet]. 2019 Jan. 27 [cited 2023 Dec. 11];3(1):8-12. Available from: https://jsurgmed.com/article/view/437319
License
Copyright (c) 2019 Edhem Ünver, Aytekin Çıkman, Faruk Karakeçili
This work is licensed under a Creative Commons Attribution-NonCommercial-NoDerivatives 4.0 International License.
#6311