Rectus sheath hematoma after abdominal trauma with snowball: A case report
Keywords:
Computer tomography, Rectus sheath hematoma, Snowball
Abstract
The rectus sheath hematoma (RSH) is the most common benign disease of the rectus abdominis muscle (RAM), but is one of the rare causes of acute abdominal pain. Mostly it is misdiagnosed with other causes of acute abdomen. A 65-year-old man admitted to our emergency service with complaints of localized abdominal pain and swelling after snowball playing and he had no anticoagulant drug history. He was diagnosed as RSH by computed tomography (CT) imaging. In elderly patient population, the clinician should be awake about RSH if the patient presented with local abdominal pain and infra abdominal mass. Early diagnosis by CT imaging is very important for exact diagnosis for prevention from unnecessary surgical procedures.

Downloads
Download data is not yet available.
References
Lambroza A, Tighe MK, DeCosse JJ, Dannenberg AJ. Disorders of the rectus abdominis muscle and sheath: a 22-year experience. Am J Gastroenterol. 1995;90:1313e7.
Fitzgerald JE, Fitzgerald LA, Anderson FE, Acheson AG. The changing nature of rectus sheath haematoma: case series and literature review. Int J Surg. 2009 Apr;7(2):150-4.
Matalon SA, Askari R, Gates JD, Patel K, Sodickson AD, Khurana B. Don't Forget the Abdominal Wall: Imaging Spectrum of Abdominal Wall Injuries after Nonpenetrating Trauma. Radiographics. 2017 Jul-Aug;37(4):1218-35.
Salemis NS, Gourgiotis S, Karalis G. Diagnostic evaluation and management of patients with rectus sheath hematoma. A retrospective study. Int J Surg. 2010;8(4):290-3.
Topaloğlu S, Aras D, Kaya V, Çağlı K, Özcan F, Korkmaz Ş. Enoksaparine Bağlı Rektus Kılıfı Hematomu. Turkiye Klinikleri Cardiovascular Sciences. 2006:94-6.
Berna JD, Garcia-Medina V, Guirao J, Garcia-Medina J. Rectus sheath haematoma: diagnostic classification by CT. Abdom Imaging. 1996;21:62–4.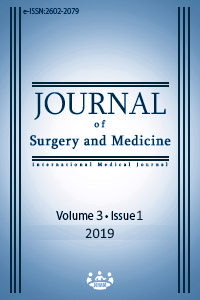 How to Cite
1.
Kayadibi Y, Tekcan Şanlı DE, Esmerer E, Ors S. Rectus sheath hematoma after abdominal trauma with snowball: A case report. J Surg Med [Internet]. 2019 Jan. 27 [cited 2023 Sep. 25];3(1):109-11. Available from: https://jsurgmed.com/article/view/431512
License
Copyright (c) 2019 Yasemin Kayadibi, Deniz Esin Tekcan Şanlı, Emel Esmerer, Suna Ors
This work is licensed under a Creative Commons Attribution-NonCommercial-NoDerivatives 4.0 International License.
#6316