Ocular retinoblastoma and neuroblastoma: A cytological impression
Keywords:
Fine needle aspiration cytology, Immunohistochemistry, Malignant small round cell tumors, Neuroblastoma, Ocular, Retinoblastoma
Abstract
Small-round-blue-cell tumor (SRBCT) or a small-round-cell tumour (SRCT) is a group of malignant neoplasms which are seen more often in children (0-20 years-old) than in adults. They generally include Ewing's sarcoma, peripheral neuroectodermal tumor (PNET), rhabdomyosarcoma, synovial sarcoma, non-Hodgkin's lymphoma, retinoblastoma, neuroblastoma, hepatoblastoma, and nephroblastoma or Wilms' tumor as differential diagnoses of small round cell tumors. They have a characteristic appearance consisting of small round cells that stain blue on Haematoxylin and Eosin stained sections. They typically represent undifferentiated cells which are composed of primitive cells with minimal or no differentiation. Accurate diagnosis of these cancers is essential because the treatment options, responses to therapy and prognoses vary widely depending on the diagnosis. A multimodal approach is employed with fine needle aspiration cytology (FNAC) as an important modality of diagnosis for these tumors. We will discuss ocular retinoblastoma and neuroblastoma in our case series which were diagnosed on fine needle aspiration itself and were later confirmed on histopathological examination.  This study was also undertaken to determine the utility and safety of intraocular FNAC as a supportive diagnostic tool where clinical features and imaging were found to be inconclusive.

Downloads
Download data is not yet available.
References
Odogu V, Udoye E, Azonobi IR. Retinoblastoma in a 12 year old girl: a case report. Int J Med Res Health Sci. 2014;3(2):441-4.
Zhao J, Li S, Shi J, Wang N. Clinical presentation and group classification of newly diagnosed intraocular retinoblastoma in China. Br J Ophthal. 2011;95(10):1372-5.
Ayotunde A, Effiong A and Bolutife O. Retinoblastoma presenting with a cheek mass. J Nat Med Assoc. 2005;97(11):1553-5.
Shields CL, Schoenberg E, Kocher K, Shukla SY, Kaliki S, Shields JA. Lesions simulating retinoblastoma (pseudoretinoblastoma) in 604 cases. Am Acad of Ophthal. 2013;120(2):311-6.
Chawla B, Tomar A, Sen S, Bajaj MS, Kashyap S. Intraocular fine needle aspiration cytology as a diagnostic modality for retinoblastoma. Int J Ophthal. 2016;9(8):1233-5.
Timmerman R. Raccoon eye and neuroblastoma. N Eng J Med. 2003;4:349-50.
Ahmed S, Goel S, Khandwala M, Agrawal A, Simmons IG. Neuroblastoma with orbital metastasis: ophthalmic presentation and role of ophthalmologists. Eye. 2006;20:466-70.
Rakesh K, Binay R, Manjul V. Neuroblastoma with eye involvement. J Paed Oncol. 2013;10(5):25-6.
Aerts I, Lumbroso-Le Rouic L, Gauthier-Villars M, Brisse H, Doz F, Desjardins L. Retinoblastoma. Orphanet J Rare Dis. 2006;1(8):31-2.
Karcioglu ZA, Abboud EB, Al-Mesfer SA, Al-Rashed W, Pilapil DH. Retinoblastoma in older children. J Am Assoc Paed Ophthal and Strabismus. 2002;6(1):26-32.
Zhang Z, Shi JT, Wang NL and Ma JM. Retinoblastoma in a young adult mimicking coat's disease. Int J Ophthal. 2012;5(5):625-9.
Parulekar MV. Retinoblastoma - current treatment and future direction. Early Hum Dev. 2010;86(10):619-25.
Zhang N and Lin LK. Presumed primary orbital neuroblastoma in a 20 month old female. Ophthal Plast Reconstr Surg. 2010;26(5):383-5.
Sofi RA, Khanday SB, Keng MQ, Wani JS, Goel A, Shafi T. A case of primary orbital neuroblastoma. Int J Case Reports and Images. 2012;3(3):16-8.
Talarico F, Iusco D, Negri L, Belinelli D. Combined resection and multi agent adjuvant chemotherapy for intra-abdominal desmoplastic small round cell tumor: case report and review of literature. G Chir. 2007;28(10):367-70.
Lal DR, Su WT, Wolden SL, Loh KC, Modak S, La Quaglia MP. "Results of multimodal treatment for desmoplastic small round cell tumors". J Paed Surg. 2005;40(1):251-5.
Shields CL, Shields JA, Honavar SG, Demirci H.Clinical spectrum of primary ophthalmic rhab-domyosarcoma. Ophthal. 2001;108(12):2284-92.
Zareifar S, Abdolkarimi B, Ashraf MJ, Kamali K. Bilateral intraocular rhabdomyosarcoma: A Case Report. Mid East J Cancer. 2016;7(2):93-5.
Saral SD and Nirmala AJ. Pathology of Ewing's sarcoma/PNET: Current opinion and emerging concepts. Ind J Orthop. 2010;44(4):363-8.
Alessi S, Grignani M, Carone L. Ganglioneuroblastoma: Case report and review of the literature. J Ultrasound. 2011;14(2):84-8.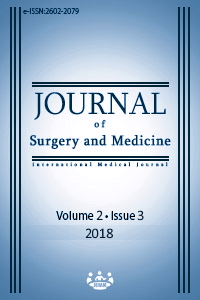 How to Cite
1.
Akhtar K, Juneja B, Haiyat S, Waris A. Ocular retinoblastoma and neuroblastoma: A cytological impression. J Surg Med [Internet]. 2018 Sep. 1 [cited 2023 Oct. 4];2(3):391-5. Available from: https://jsurgmed.com/article/view/430299
License
Copyright (c) 2018 Kafil Akhtar, Binjul Juneja, Sadaf Haiyat, Abdul Waris
This work is licensed under a Creative Commons Attribution-NonCommercial-NoDerivatives 4.0 International License.
#6261