Ileal lipoma: A rare cause of ileo-colic intussusception in adult
Keywords:
Lipoma, Intussusceptions, Adult
Abstract
We report in this publication a case of acute intestinal intussusception on ileal lipoma in a 40-year-old patient that has been diagnosed on an emergency abdominopelvic CT scan for an occlusive syndrome. The treatment consisted of manual disinvagination with resection of the thin portion of the small bowel containing the lipoma and a mechanical anastomosis.

Downloads
Download data is not yet available.
References
Ahn JH, Choi SC, Lee KJ, Jung YS. A clinical overview of a retrospective study about adult intussusceptions: focusing on discrepancies among previous studies. Dig Dis Sci. 2009 Dec; 54(12):2643–9.
Balik AA, Ozturk G, Aydinli B, Alper F, Gumus H, Yildirgan MI, Basoglu M. Intussusception in adults. Acta Chir Belg. 2006;106:409–12.
Oyen TL, Wolthuis AM, Tollens T, Aelvoet C, Vanrijkel JP. Ileo-ileal intussusceptions secondary to a lipoma: a literature review Acta Chir Belg. 2007; 107:60-3.
Amoruso M, D'Abbicco D, Praino S, Conversano A, Margari A. Idiopathic adult colo-colonic intussusception: Case report and review of the literature. Int J Surg Case Rep. 2013; 4(4): 416–418.
Eisen LK, Cunningham JD, Aufses AH. Intussusception in adults: institutional review J Am Coll Surg. 1999;188:390-5.
Yamaguchi S, Fujii S, Ike H, Shimada H. Laparoscopic reduction of appendicocecal intussusception due to mucinous cystadenoma in an adult. JSLS. 2004;8(3):279–82.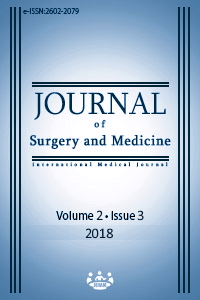 How to Cite
1.
Zerhouni A, Badri M, Belhaj A, Ibn Majdoub K, Toughrai İmane, Mazaz K. Ileal lipoma: A rare cause of ileo-colic intussusception in adult. J Surg Med [Internet]. 2018 Sep. 1 [cited 2023 May 28];2(3):385-6. Available from: https://jsurgmed.com/article/view/428348
License
Copyright (c) 2018 Ahmed Zerhouni, Mourad Badri, Anas Belhaj, Karim Ibn Majdoub, İmane Toughrai, Khalid Mazaz
This work is licensed under a Creative Commons Attribution-NonCommercial-NoDerivatives 4.0 International License.
#6281