A case report of gastrointestinal stromal tumor located in the jejunum
Keywords:
Stromal tumors, Jejunum, Surgery, Chemotherapy
Abstract
Among rare primary mesenchymal tumors in the digestive tract are gastrointestinal stromal tumors which are often located in the stomach. This tumor is rarely found in the jejunum with an incidence of 20 to 30% of cases. We report the case of a gastrointestinal stromal tumor of the jejunum in a 67-year-old diabetic patient undergoing treatment.

Downloads
Download data is not yet available.
References
Gupta P, Tewari M, Shukla HS. Gastrointestinal Stromal Tumor Journal of Surgical Oncology. 2008;17:129-38.
Miettinen M, Monihan JM, Sariomo RM, Kovavitch AJ, Carr NJ, Emory TS, et al. Gastrointestinal Stromal Tumors/Smooth muscle Tumors (GISTs) Primary in the omentum and mesentery: clinicopathologic and immunohistochemical study of 26 cases The American Journal of Surgical Pathology. 1999;23:1109-18.
Landi B. Endoscopicapproach to GIST. Journal of surgery. 2008;145:6S4-6S7.
Zhao X, Yue C. Gastrointestinal stromal tumor. Journal of grastrointestinal oncology. 2012;3:189–208.
Tervahartiala P, Halavaara J. Radiology of GIST Annales chirurgiae et gynaecologiae. 1998;87:291-2.
The ESMO/European Sarcoma Network Working Group. Gastrointestinal stromal tumors: ESMO clinical practice guidelines for diagnosis, treatment and follow-up. Annals of Oncology. 2014;25:iii21-iii26.
Demetri GD, von Mehren M, Antonescu CR, DeMatteo RP, Ganjoo KN, Maki RG, et al. NCCN Task Force report: update on the management of patients with gastrointestinal stromal tumors. Journal of the National Comprehensive Cancer Network. 2010;8:S1-41.
DeMatteo RP, Ballman KV, Antonescu CR, Maki RG, et al. Adjuvant imatinib mesylate after resection of localised, primary gastrointestinal stromal tumour: a randomised, double blind, placebo-controlled trial. Lancet. 2009;373:1097–104.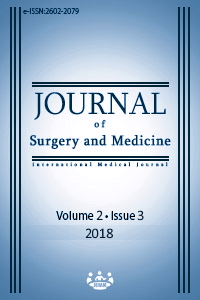 How to Cite
1.
Anas B, Terrab FZ, Tenkorang S, Ibn Majdoub K, Toughrai İmane, Farih MH, Hassouni K, Mazaz K. A case report of gastrointestinal stromal tumor located in the jejunum. J Surg Med [Internet]. 2018 Sep. 1 [cited 2023 Sep. 26];2(3):383-4. Available from: https://jsurgmed.com/article/view/428003
License
Copyright (c) 2018 Belhaj Anas, Fatima Zahrae Terrab, Somuah Tenkorang, Karim Ibn Majdoub, İmane Toughrai, Moulay Hassan Farih, Khalid Hassouni, Khalid Mazaz
This work is licensed under a Creative Commons Attribution-NonCommercial-NoDerivatives 4.0 International License.
#6288