Carcinoid tumor of the small intestine: A case report
Keywords:
Carcinoid tumor, Ileum, Retractile mesenteritis, Surgery
Abstract
Carcinoid tumors are the second most common tumors of the small intestine after adenocarcinoma. These tumors are discovered either incidentally in the event of investigating non-specific digestive disorders notably in patients with Konig's syndrome. Diagnosis is confirmed through histopathology complemented with immunohistochemistry. Surgery is the only curative treatment and it is indicated upon decision by a multidisciplinary treatment team. We report a case of a 65-year-old woman with carcinoid tumor of the ileum.

Downloads
Download data is not yet available.
References
Veyrie N, Pierre-Kahn N, Hugol D, Servajean D, Berger N, Bethoux JP, Bouillot JL. Carcinoid tumor from the small bowel. Annales de chirurgie. 2004 Dec;129(10):607-10.
Modlin IM, Lye KD, Kidd MA. 5-decade analysis of 13,715 carcinoid tumors Cancer. American society of cancer. 2003 Feb 15;97(4):934-59.
Talamonti M, Goetz LH, Rao S, Joehl RJ. Primary cancers of the small bowel. Analysis of prognostic factors and results of surgical management. Archive of Surgery journal. 2002 May;137(5):564-71.
Öberg K. Carcinoid tumors: molecular genetics, tumor biology, and update of diagnosis and treatment. Current Opinion in Oncology Journal. 2002 Jan;14(1):38-45.
Maccioni F. Alberger M, Bruni A, Parlanti S, Marini M. Magnetic resonance imaging of an ileal carcinoid tumor. Correlation with CT and US J. Clinical Imaging. 2003 Dec;27(6):403-7.
Azoulay R, Boudiaf M, Soyer P., Hamzi L., Abitbol M., Najmeh N, et al. Carcinoid tumor of the small bowel: value of hydro-MR imaging for diagnosis. Journal of Radiology. 2003Dec;84(12 Pt 1):1982-5.
Sutton R, Doran HE, Williams EMI, Vora J, Vinjamuri S, Evans J, et al. Surgery of midgut carcinoid. Endocrine-related Cancer journal. 2003 Dec 1;10(10):469-81.
Moreaux J, Martin E, Saliou C. Carcinoid tumors and neuroendocrine carcinomas of the stomach.Prognosis and therapeutic management. Study of six cases. Annales de chirurgie. 1997;51(2):121-9.
Roth T, Marmorale A, Gavelli A, Huguet C. The surgical treatment of liver metastasis of carcinoid tumors. Annales de chirurgie 2002 Dec;127(10):783-5.
CONSEIL scientifique de la ffcd, France. What can be done for patients with cancer of the digestive tract in 2003? Guidelines of the Francophone Federation of digestive tract cancerology-2nd part. Gastro-enterologie clinique et biologique. 2003;27(1):43-58.
Tessier DJ, Harris E, Johnson DJ. Synchronous carcinoid tumors of the small bowel American Journal of Surgery. 2002 Dec;195(6):890-1.
Ito H, Perez A, Brooks DC, Osteen RT, Zinner M, Moore FD, et al. Surgical treatment of small bowel cancer: a 20-year single institution experience. The Journal of Gastrointestinal Surgery 2003 Nov;7(7): 925-30.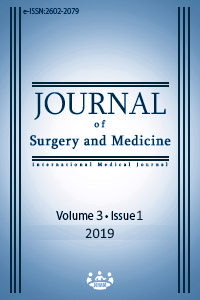 How to Cite
1.
Moussa S, Pierlesky Elion O, Dandakoye S İsmael, Tenkorang S, Tarik S, Toughrai İmane, Hassani K İbn M, Mazaz K. Carcinoid tumor of the small intestine: A case report. J Surg Med [Internet]. 2019 Jan. 27 [cited 2023 Dec. 5];3(1):88-90. Available from: https://jsurgmed.com/article/view/427468
License
Copyright (c) 2019 Sylla Moussa, Ossibi Pierlesky Elion, Soumana İsmael Dandakoye, Somuah Tenkorang, Souiki Tarik, İmane Toughrai, Karim İbn Majdoub Hassani, Khalid Mazaz
This work is licensed under a Creative Commons Attribution-NonCommercial-NoDerivatives 4.0 International License.
#6334