Bilateral giant styloid process: Case report
Keywords:
Giant styloid process, Eagle Syndrome, Bilateral
Abstract
Eagle's Syndrome occurs when an elongated styloid process or calcified stylohyoid ligament causes recurrent foreign body sensation or sore throat, neck pain, swallowing difficulty or facial pain. Also, throat pain may radiate to the ipsilateral ear. The treatment of Eagle's Syndrome is primarily surgical. The elongated styloid process can be excised via intraoral or external cervical approach. A 29-year-old male patient with bilateral, extremely elongated styloid processes, causing the symptoms of Eagle's Syndrome reported with the relevant literature review.

Downloads
Download data is not yet available.
References
Diamond LH, Cottrell DA, Hunter MJ, Papageorge M. J Oral Maxillofac Surg. 2001;59:1420-6.
Eagle WW. Elongated styloid process: Report of 2 cases. Arch Otolaryngol. 1937;25:584.
Beder E, Ozgursoy OB, Karatayli Ozgursoy S, Anado¬lu Y. Three dimensional computed tomography and sur¬gical treatment for Eagle's syndrome. Ear Nose Throat J. 2006;85(7):443-5.
Fini G, Gasparini G, Filippini F, Becelli R, Marcotullio D. The long styloid process syndrome or Eagle's syndrome. J Craniomaxillofac Surg. 2000;28:123-7.
Gözil R, Yener N, Calgüner E, Araç M, Tunç E, Bahcelioğlu M. Morphological characteristics of styloid process evaluated by computerized axial tomography. Ann Anat. 2001;183:527-35.
Strauss M, Zohar Y, Laurian N. Elongated styloid process syndrome: intraoral versus external aproach for styloid surgery. Laryngoscope. 1985; 976-9.
Chuang WC, Short JH, McKinney AM, Anker L, Knoll B, McKinney ZJ. Reversible left hemispheric ischemia secondary to carotid compression in Eagle syndrome: surgical and CT angiographic correlation. Am J Neuroradiology. 2007;28:143-5.
Correll RW, Jensen JL, Taylor JB, Rhyne RR. Mineralization of the stylohyoid–stylomandibular ligament complex. Oral Surg Oral Med Oral Pathology. 1979;48:286–91.
Kasapoğlu F, Erişen L. Eagle sendromu: Bir olgunun pre, per ve postoperatif görüntüleri. Turk Arch Otolaryngology. 2009;47(3):147-50.
Chase DC, Zarmen A, Bigelow WC, McCoy JM. Eagle's syndrome: a comparison of intraoral versus extraoral surgical approaches. Oral Surg Oral Med Oral Pathology. 1986;62(6):625-9.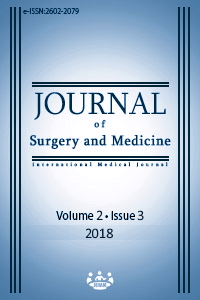 How to Cite
1.
Kersin B, Tekin AM. Bilateral giant styloid process: Case report. J Surg Med [Internet]. 2018 Sep. 1 [cited 2023 Mar. 24];2(3):389-90. Available from: https://jsurgmed.com/article/view/426336
License
Copyright (c) 2018 Burak Kersin, Ahmet Mahmut Tekin
This work is licensed under a Creative Commons Attribution-NonCommercial-NoDerivatives 4.0 International License.
#6284