A case of postmenopausal ovarian hyperandrogenemia diagnosed only by selective catheterization of ovarian vein
Keywords:
Postmenopause, Ovarian Neoplasms, Hyperandrogenism, Leydig cell tumor, Selective venous catheterization
Abstract
Hyperandrogenemia in a postmenopausal woman is usually related to a tumor in either ovaries or adrenal glands. To differentiate between these two endocrine organs is a diagnostic challenge when the tumor size is too small to be detected with the aid of usual imaging modalities. 54 years-old postmenopausal woman with signs of virilization was referred to our institution with serum total testosteron levels of 294 ng/dl. Contrast-enhanced computed tomography (CT) revealed a lesion consistent with the tumor 1 cm in diameter in the adrenal gland and magnetic resonance imaging (MRI) could not confirm this finding. The location of androgen hypersecretion could only be determined after selective venous catheterization and hormonal sampling of both adrenal and ovarian veins. The right ovarian venous total testosterone level was found as > 1009.40 ng / dl. A right-sided ovarian Leydig cell tumor was diagnosed in the specimen of laparoscopic hysterectomy and bilateral salpingo-oopherectomy. This case report underlines the importance to carry on the search with the selective venous catheterisation and hormonal sampling from both the ovarian and the adrenal veins when there is difficulty to demonstrate the true source of androgen hypersecretion in a postmenopausal woman. 

Downloads
Download data is not yet available.
References
Burger HG. Androgen production in women. Fertility and Sterility. 2002;77 Suppl 4:S3-5.
Longcope C. Adrenal and gonadal androgen secretion in normal females. Clinics in endocrinology and metabolism. 1986;15:213-28.
Azziz R, Sanchez LA, Knochenhauer ES, Moran C, Lazenby J, Stephens KC et al. Androgen excess in women: experience with over 1000 consecutive patients. The Journal of clinical endocrinology and metabolism. 2004;89:453-62.
Kaltsas GA, Mukherjee JJ, Kola B, Isidori AM, Hanson JA, Dacie JE et al. Is ovarian and adrenal venous catheterization and sampling helpful in the investigation of hyperandrogenic women? Clinical endocrinology. 2003;59:34-43.
Nishiyama S, Hirota Y, Udagawa Y, Kato R, Hayakawa N, Tukada K. Efficacy of selective venous catheterization in localizing a small androgen-producing tumor in ovary. Medical science monitor : international medical journal of experimental and clinical research. 2008;14:Cs9-12.
Quirk JT, Natarajan N. Ovarian cancer incidence in the United States, 1992-1999. Gynecologic oncology. 2005;97:519-23.
Varras M, Vasilakaki T, Skafida E, Akrivis C. Clinical, ultrasonographic, computed tomography and histopathological manifestations of ovarian steroid cell tumour, not otherwise specified: our experience of a rare case with female virilisation and review of the literature. Gynecological endocrinology : the official journal of the International Society of Gynecological Endocrinology. 2011;27:412-8.
Busquets M, Gonzalez-Bosquet E, Muchart J, Rovira C, Lailla JM. Granulosa cell tumor and endometrial cancer: a case report and review of the literature. European journal of gynaecological oncology. 2010;31:575-8.
DiSaia PJ CW. Germ cell, stromal and other ovarian tumors. In: Clinical Gynecologic Oncology, Mosby-Yearbook, 1997: p.351
Schneider DT, Calaminus G, Harms D, Gobel U. Ovarian sex cord-stromal tumors in children and adolescents. The Journal of reproductive medicine. 2005;50:439-46.
Young RH, Scully RE. Ovarian Sertoli-Leydig cell tumors. A clinicopathological analysis of 207 cases. The American journal of surgical pathology. 1985;9:543-69.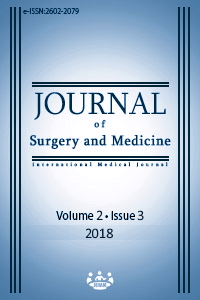 How to Cite
1.
Uğurel V, Aslan MM, Elter K. A case of postmenopausal ovarian hyperandrogenemia diagnosed only by selective catheterization of ovarian vein. J Surg Med [Internet]. 2018 Sep. 1 [cited 2023 Feb. 9];2(3):374-6. Available from: https://jsurgmed.com/article/view/424326
License
Copyright (c) 2018 Vedat Uğurel, Mehmet Musa Aslan, Koray Elter
This work is licensed under a Creative Commons Attribution-NonCommercial-NoDerivatives 4.0 International License.
#6293