Avascular necrosis of lunate bone: Kienbock disease
Keywords:
Kienbock disease, Avascular necrosis, Wrist pain
Abstract
Kienbock disease is a rare disorder involving the lunate, one of the carpal bones, and is therefore not generally included in the differential diagnosis of patients presenting to the emergency department with wrist pain. In this case report, we would like to highlight a case of Kienbock disease in a 28-year-old female patient without any medical or traumatic history. Although it is a very rare disease of the lunate, emergency physicians should consider Kienbock disease in those patients with complaints of pain, swelling and limitation of motion of the wrist. An overlooked diagnosis or misdiagnosis may lead to bony ischemia, necrosis, and ultimately collapse of the bone. 

Downloads
Download data is not yet available.
References
Laframboise MA, Gringmuth R, Greenwood C. Kienbock's disease in a varsity football player: a case report and review of the literature. J Can Chiropr Assoc. 2012;56:275.
Kienböck R. Concerning traumatic malacia of the lunate and its consequences: degeneration and compression fractures. Clin Orthop. 1980;149:4-8.
Omor Y, Nassar I, Ajana A, Moatassimbillah N. Kienböck's disease: a case report. Pan Afr Med J. 2015;22:246.
Schuind F, Eslami S, Ledoux P. Kienböck's disease. Bone Joint J. 2008;90:133-9.
Keith PP, Nuttall D, Trail I. Long-term outcome of nonsurgically managed Kienböck's disease. J Hand Surg Am. 2004;29:63-7.
Dias JJ, Lunn P. Ten questions on Kienböck's disease of the lunate. J Hand Surg. 2010;35:538-43.
Arnaiz J, Piedra T, Cerezal L, et al. Imaging of Kienböck disease. Am J Roentgenol. 2014;203:131-9.
Rizzo M, Urbaniak J. Osteonecrosis, Kelley's textbook of rheumatology, Elsevier Saunders, Philadelphia; 2005. p.1812-28.
Özcanlı H, AB Y. Kienböck hastalığı. Acta Orthop. Traumatol. Turc. 2010;9:35-40.
Luo J, Diao E. Kienböck's disease: an approach to treatment. Hand Clin. 2006;22:465-73.
Karalezli N, Karalezli K, Iltar S, Uz A, Esmer AF, Demirtaş M, ve ark. Anchovy from Wrist Extansors in Resection Artroplasty for Kienböck's Disease Treatment. Gulhane Med J. 2004; 46(2):125-128.
Garcia-Elias M, Vidal A. Kienböck's disease. Curr Orthop Pract. 1997;11:28-35.
Freedman DM, Botte MJ, Gelberman RH. Vascularity of the Carpus. Clin Orthop Relat Res. 2001;383:47-59.
Van den Dungen S, Dury M, Foucher G, Braun FM, Lorea P. Conservative treatment versus scaphotrapeziotrapezoid arthrodesis for Kienbock's disease. Chir Main. 2006;25:141-5.
Innes L, Strauch RJ. Systematic review of the treatment of Kienböck's disease in its early and late stages. J Hand Surg. 2010;35:713-7.
Delaere O, Dury M, Molderez A, Foucher G. Conservative versus operative treatment for Kienböck's disease: a retrospective study. J Hand Surg. 1998;23:33-6.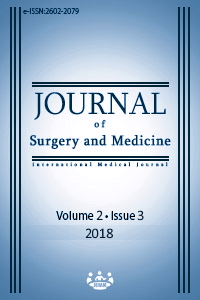 How to Cite
1.
Bedel C, Coşkun G, Türkoğlu S. Avascular necrosis of lunate bone: Kienbock disease. J Surg Med [Internet]. 2018 Sep. 1 [cited 2023 Nov. 29];2(3):387-8. Available from: https://jsurgmed.com/article/view/423536
License
Copyright (c) 2018 Cihan Bedel, Göker Coşkun, Sefa Türkoğlu
This work is licensed under a Creative Commons Attribution-NonCommercial-NoDerivatives 4.0 International License.
#6263