Cytomegalovirus myocarditis with rapid response to intravenous immunoglobulin therapy
Keywords:
Myocarditis, Cytomegalovirus, Intravenous immunoglobulin therapy
Abstract
Myocarditis is an inflammatory disease of the heart muscle. Most cases are caused by viral agents such as enteroviruses and adenoviruses. Cytomegalovirus is one of the more rare causes of viral myocarditis. In this article, case is reported of viral myocarditis diagnosed due to Cytomegalovirus infection and which then responded very rapidly to intravenous immunoglobulin treatment. This case report can be considered to contribute to literature as there are not enough data about intravenous immunoglobulin treatment results in Cytomegalovirus myocarditis.

Downloads
Download data is not yet available.
References
Cohen JI, Corey GR. Cytomegalovirus infection in the normal host. Medicine (Baltimore). 1985;64:100-14.
Campbell PT, Li JS, Wall TC, O'Connor CM, Van Trigt P, Kenney RT, et al. Cytomegalovirus pericarditis: a case series and review of the literature. Am J Med Sci. 1995;309:229-34.
Fernández-Ruiz M, Muñoz-Codoceo C, López-Medrano F, Faré-García R, Carbonell-Porras A, Garfia-Castillo C, et al. Cytomegalovirus Myopericarditis and Hepatitis in an Immunocompetent Adult: Successful Treatment with Oral Valganciclovir. Intern Med. 2008;47:1963-6.
Amarendra N Prasad, Sanjay Chaudhary. Intravenous Immunoglobulin in Children with Acute Myocarditis and/or Early Dilated Cardiomyopathy Indıan Pedıatrıcs Volume 51-july 15, 2014.
Finkel MS, Oddis CV, Jacob TD, SC Watkins, BG Hattler, RL Simmons. Negative inotropic effects of cytokines on the heart mediated by nitric oxide. Science. 1992;257:387-9.
McNamara DM, Holubkov R, Starling RC, Dec GW, Loh E, Torre-Amione G, et al. Controlled trial of intravenous immune globulin in recent-onset dilated cardiomyopathy. Circulation. 2001;103:2254-9.
McNamara DM, Rosenblum WD, Janosko KM, Trost MK, Villaneuva FS, Demetris AJ, et al. Intravenous immune globulin in the therapy of myocarditis and acute cardiomyopathy. Circulation. 1997;95:2476-8.
Partanen J, Nieminen MS, Krogerus L, Lautenschlager I, Geagea A, Aarnio P, et al. Cytomegalovirus myocarditis in transplanted heart verified by endomyocardial biopsy. Clin Cardiol. 1991 Oct;14(10):847-9.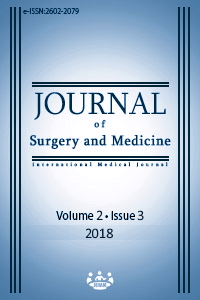 How to Cite
1.
Türe M, Balık H, Bilici M, Akın A, Darakci SM, Yanmaz SY. Cytomegalovirus myocarditis with rapid response to intravenous immunoglobulin therapy. J Surg Med [Internet]. 2018 Sep. 1 [cited 2023 Sep. 25];2(3):347-9. Available from: https://jsurgmed.com/article/view/413987
License
Copyright (c) 2018 Mehmet Türe, Hasan Balık, Meki Bilici, Alper Akın, Savaş Mert Darakci, Sercan Yücel Yanmaz
This work is licensed under a Creative Commons Attribution-NonCommercial-NoDerivatives 4.0 International License.
#6304