Surgically managed gunshot injury of the heart; Bullet in the right coronary artery
Keywords:
Gunshot injury, Cardiac trauma, Surgery
Abstract
Gunshot injuries are one of the penetrating traumas of the heart and that require urgent intervention. Localization of the cardiac injury is important in terms of appropriate treatment approach. For this reason, rapid diagnosis and surgical intervention is life-saving in such patients. In our study, we present a surgical intervention of a patient with lesion on the right coronary artery that doesn't allow blood flow in coronary angiography due to cardiac injury with gunshot injury.

Downloads
Download data is not yet available.
References
Bali HK, Vijayvergia R, Banarjee S, Kumar N. Gunshot Injury of the Heart: An Unusual Cause of Acute Myocardial Infarction.Tex Heart Inst J. 2003;30(2):158-60.
Kumar S, Moorthy N, Kapoor A, Sinha N. Gunshot Wounds Causing Myocardial Infaction, Delayed Ventricular Septal Defect, and Congestive Heart Failure. Tex Heart Inst J 2012;39(1):129-32.
Chun JH, Lee SC, Gwon HC, Lee SH, Hong KP, Seo JD, Lee WR. Left main coronary artery dissection after blunt chest trauma presented as acute anterior myocardial infarction: assessment by intravascular ultrasound: a case report. J Korean Med Sci. 1998;13(3):325-7.
Dawson J, Rodriguez Y, Pham SM, Ferreira A. Traumatic transection of the left anterior descending artery caused by a projectile. Journal of Cardiology Cases. 2012;5(3):140-2.
Kaya A, Caliskan E, Tatlisu MA, Hayiroglu MI, Tekkesin AI, Cakilli Y, et al. A Retained Bullet in Pericardial Sac: Penetrating Gunshot Injury of the Heart. Case Rep Cardiol. 2016;2016:2427681.
Wani ML, Ahangar AG, Wani SN, Irshad I, Ul-Hassan N. Penetrating Cardiac Injury: A Review. Trauma Mon. 2012;17(1):230-2.
Wall M J Jr, Mattox KL, Chen CD, Baldwin JC. Acute Management of Complex Cardiac Injuries. J Trauma. 1997;42(5):905-12.
Galante J, London JA. Left Ventricular Bullet Embolus: A Case Report and Review of the Literature. J Emerg Med. 2010;39(1):25-31.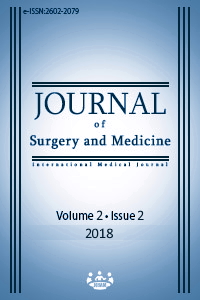 How to Cite
1.
Altınbaş Özgür, Tanyeli Ömer. Surgically managed gunshot injury of the heart; Bullet in the right coronary artery. J Surg Med [Internet]. 2018 May 1 [cited 2023 Jun. 1];2(2):193-4. Available from: https://jsurgmed.com/article/view/407946
License
Copyright (c) 2018 Özgür Altınbaş, Ömer Tanyeli
This work is licensed under a Creative Commons Attribution-NonCommercial-NoDerivatives 4.0 International License.
#6248