Antimicrobial resistance pattern of Klebsiella spp isolated from patients in Tehran, Iran
Keywords:
Klebsiella, Infection, Antibiotic resistance
Abstract
Aim: The majority of clinical specimens infected can be by Klebsiella species. Furthermore the incidence of drug resistant Klebsiella is increasing, therefore drug resistance sensitivity test it seems necessary before prescribing antibiotics. The aim of this research was to determine the pattern of antimicrobial resistance of Klebsiella species from clinical.
Methods: The present research was performed on 300 specimens of Klebsiella collected from hospitalized patients between 2016 and 2017. Identification was carried out according to standard procedure, and drug sensitivity test was determined by Kirby-Bauer method.
Results: The frequency rates of the isolated Klebsiella species were: pneumonia (94%), oxytoca (4%), ozaenae (1%), and rhinoscleromatis (1%). The collected samples in order of frequency were: urine, sputum, vagina, scar, stool, and blood respectively. The percentage rates of resistance were as follows: Ampicillin (97%), amoxycillin (97%), cephalothin (39%), gentamicin (30%), colistin (55%), nalidixic acid (2%), chloramphenicol (26%), kanamycin (17%), tetracycline (28%), nitrofurantoin (44%), ceftazidime (2%), and amikacin (0%).
Conclusion: The lowest resistance rate obtained with amikacin in all tested Klebsiella; which can be recommended as the most effective antibiotic.
Downloads
Download data is not yet available.
References
Ackermann RJ, Monroe PW. Bacteremic urinary tract infection in older people. J Am Geriatr Soc. 1996 Aug;44(8):927-33.
Chen CY, Chen YH, Lu PL, Lin WR, Chen TC, Lin CY. Proteus mirabilis urinary tract infection and bacteremia: risk factors, clinical presentation, and outcomes. J Microbiol Immunol Infect. 2012 Jun;45(3):228-36.
Pouladfar G, Basiratnia M, Anvarinejad M, Abbasi P, Amirmoezi F, Zare S. The antibiotic susceptibility patterns of uropathogens among children with urinary tract infectionin Shiraz. Medicine (Baltimore). 2017 Sep; 96(37):e7834.
Karimian M, Kermani R, Khaleghi M, Kelishadi R, Ataei B, Mostafavi N. Antibiotic susceptibility patterns of isolates from children with urinary tract infection in Isfahan, Iran: Impact on empirical treatment. J Glob Antimicrob Resist. 2017 Jun;9:3-7.
Gomez-Simmonds A, Greenman M, Sullivan SB, Tanner JP, Sowash MG, Whittier S, et al. Population Structure of Klebsiella pneumoniae Causing Bloodstream Infections at a New York City Tertiary Care Hospital: Diversification of Multidrug-Resistant Isolates. J Clin Microbiol. 2015 Jul;53(7):2060-7.
Lin MY, Lyles-Banks RD, Lolans K, Hines DW, Spear JB, Petrak R et al. The importance of long-term acute care hospitals in the regional epidemiology of Klebsiella pneumoniae carbapenemase-producing Enterobacteriaceae. Clin Infect Dis. 2013 Nov;57(9):1246-52.
Azimi L, Rastegar Lari A, Alaghehbandan R, Alinejad F, Mohammadpoor M, Rahbar M. KPC-producer gram negative bacteria among burned infants in Motahari Hospital, Tehran: first report from Iran. Ann Burns Fire Disasters. 2012 Jun 30; 25(2):74-7.
Moayednia R, Shokri D, Mobasherizadeh S, Baradaran A, Fatemi SM, Merrikhi A. Frequency assessment of β-lactamase enzymes in Escherichia coli and Klebsiella isolates in patients with urinary tract infection. J Res Med Sci. 2014 Mar; 19(Suppl 1):S41-5.
Soo-Young Kim, Yeon-Joon Park, Jin-Kyung Yu, Han Sik Kim, Yong Sung Park, Jong-Bok Yoon et al. Prevalence and mechanisms of decreased susceptibility to carbapenems in Klebsiella pneumoniae isolates. Diagn Microbiol Infect Dis. 2007;57:85–91.
Jeong SH, Bae I, Lee JH, Sohn SG, Kang GH, Jeon GJ, et al. Molecular characterization of extended-spectrum Beta-Lactamases produced by clinical isolates of Klebsiella pneumoniae and Escherichia coli from a Korean nationwide survey. J Clin Microbiol 2004;42(7):2902-6.
Khety Z, Mohanta G, Jain S, Dawoodi S. Changing Antimicrobial Resistance Pattern of Isolates from an ICU Over a 3 Year period. J Assoc Physicians India. 2017 Feb;65(2):13-16.
Norihiko Tou, Ryohei Nejima, Yoshifumi Ikeda, Yuichi Hori, Kaoru Araki-Sasaki, Kazunori Miyata et al. Clinical utility of antimicrobial susceptibility measurement plate covering formulated concentrations of various ophthalmic antimicrobial drugs. Clin Ophthalmol. 2016;10:2251–7.
CLSI. National Committee for Clinical Laboratory Standards. Performance standards for antimicrobial susceptibility testing: fifteenth informational supplement. Wayne, PA: Clinical and Laboratory Standards Institute; 2008. M100- S15.
Mohamed ER, Aly SA, Halby HM, Ahmed SH, Zakaria AM, El-Asheer OM. Epidemiological typing of multidrug-resistant Klebsiella pneumoniae, which causes paediatric ventilator-associated pneumonia in Egypt. J Med Microbiol. 2017 May;66(5):628-34.
Bagshaw SM, Laupland KB. Epidemiology of intensive care unit-acquired urinary tract infections. Curr Opin Infect Dis. 2006 Feb;19(1):67-71.
Akkoyun S, Kuloğlu F, Tokuç B. Etiologic agents and risk factors in nosocomial urinary tract infections. Mikrobiyol Bul. 2008 Apr;42(2):245-54.
Fukigai S, Alba J, Kimura S, Iida T, Nishikura N, Ishii Y, Yamaguchi K, Nosocomial outbreak of genetically related IMP-1 Beta-lactamase-producing Klebsiella pneumoniae in a general hospital in Japan. Int J Antimicrob Agents. 2007;29:306–10.
Soltan Dallal MM, Sharifi Yazdi MK, Rajabi Z. Antimicrobial resistance patterns among Klebsiella spp. isolated from nosocomial infection. Payavarde Salamat. 2012;6(4):275-28.
Chan RK, Lye WC, Lee EJ, Kumarasinghe G, Lim HY. Community acquired UTI in Singapore. Ann-Acad Med Singapore. 1992 May;21(3):361-3.
Mansury D, Motamedifar M, Sarvari J, Shirazi B, Khaledi A. Antibiotic susceptibility pattern and identification of extended spectrum β-lactamases (ESBLs) in clinical isolates of Klebsiella pneumoniae from Shiraz, Iran. Iran J Microbiol. 2016 Feb;8(1):55-61.
Shaikh S, Fatima J, Shakil S, Rizvi SM, Kamal MA. Antibiotic resistance and extended spectrum beta-lactamases: Types, epidemiology and treatment. Saudi J Biol Sci. 2015 Jan;22(1):90-101.
Winters HA, Parbhoo RK, Schafer JJ, Goff DA. Extended-spectrum beta-lactamase-producing bacterial infections in adult solid organ transplant recipients. Ann Pharmacother. 2011 Mar;45(3):309-16.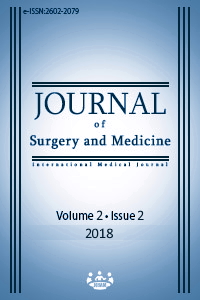 How to Cite
1.
Soltan Dallal MM, Khalifeh-Gholi M, Sharifi Yazdi S, Mehrani F, Hadayatpour A, Sharifi Yazdi MK. Antimicrobial resistance pattern of Klebsiella spp isolated from patients in Tehran, Iran. J Surg Med [Internet]. 2018 May 1 [cited 2023 Sep. 24];2(2):84-6. Available from: https://jsurgmed.com/article/view/404979
License
Copyright (c) 2018 Mohammad Mehdi Soltan Dallal, Mohammad Khalifeh-Gholi, Sara Sharifi Yazdi, Fariborz Mehrani, Azim Hadayatpour, Mohammad Kazem Sharifi Yazdi
This work is licensed under a Creative Commons Attribution-NonCommercial-NoDerivatives 4.0 International License.
#6218