A case of langerhans cell histiocytosis associated with mantle cell lymphoma
Keywords:
Langerhans cell histiocytosis, Mantle cell lymphoma, Lymphoma
Abstract
Langerhans Cell Histiocytosis (LCH), which is caused by neoplastic clonal proliferation of Langerhans cells, may be associated with various malignant neoplasms, especially lymphomas, in rare cases. In literature some studies observed an unexpected number of second malignancies, both prior to and after the diagnosis of MCL. Here, we report a case with concurrent LCH and mantle cell lymphoma (MCL) in a same lymph node. To the best of our knowledge, this is the second reported case of LCH associated with mantle cell lymphoma in a lymph node.

Downloads
Download data is not yet available.
References
Christie LJ, Evans AT, Bray SE, Smith ME, Kernohan NM, Levison DA, et al. Lesions resembling Langerhans cell histiocytosis in association with other lymphoproliferative disorders: a reactive or neoplastic phenomenon?. Hum Pathol. 2006 Jan;37(1):32-9.
Lian C, Lu Y, Shen S. Langerhans cell histiocytosis in adults: a case report and review of the literature. Oncotarget. 2016 Apr 5;7(14):18678-83.
Benharroch D, Guterman G, Levy I, Shaco-Levy R. High content of Langerhans cells in malignant lymphoma-incidence and significance. Virchows Arch. 2010 Jul;457(1):63-7.
Roufosse C, Lespagnard L, Salés F, Bron D, Dargent JL. Langerhans' cell histiocytosis associated with simultaneous lymphocyte predominance Hodgkin's disease and malignant melanoma. Hum Pathol. 1998 Feb;29(2):200-1.
Egeler RM, Neglia JP, Puccetti DM, Brennan CA, Nesbit ME. Association of Langerhans cell histiocytosis with malignant neoplasms. Cancer. 1993 Feb 1;71(3):865-73.
Feldman AL, Berthold F, Arceci RJ, Abramowsky C, Shehata BM, Mann KP, et al. Clonal relationship between precursor T-lymphoblastic leukaemia/lymphoma and Langerhans-cell histiocytosis. Lancet Oncol. 2005 Jun;6(6):435-7.
Moraveji S, Tonk V, Gaur S, Torabi A. Langerhans cell histiocytosis and diffuse large B-cell lymphoma with tetrasomy of PBX1 gene and t[14;19]: two entities in one lymph node. Pathology. 2016 Dec;48(7):728-31.
West DS, Dogan A, Quint PS, Tricker-Klar ML, Porcher JC, Ketterling RP, et al. Clonally related follicular lymphomas and Langerhans cell neoplasms: expanding the spectrum of transdifferentiation. Am J Surg Pathol. 2013 Jul;37(7):978-86.
Greaves WO, Bueso-Ramos C, Fayad L. Classical Hodgkin's lymphoma associated with Langerhans cell histiocytosis: multiagent chemotherapy resulted in histologic resolution of both the classical Hodgkin's lymphoma and Langerhans cell proliferation components. J Clin Oncol. 2011 Feb 1;29(4):e76-8.
Pina-Oviedo S, Medeiros LJ, Li S, Khoury JD, Patel KP, Alayed K, et al. Langerhans cell histiocytosis associated with lymphoma: an incidental finding that is not associated with BRAF or MAP2K1 mutations. Mod Pathol. 2017 May;30(5):734-44.
Das DK, Sheikh ZA, Alansary TA, Amir T, Al-Rabiy FN, Junaid TA. A case of Langerhans' cell histiocytosis associated with Hodgkin's lymphoma: Fine-needle aspiration cytologic and histopathological features. Diagn Cytopathol. 2016 Feb;44(2):128-32.
Zeng K, Wang Z, Ohshima K, Liu Y, Zhang W, Wang L, et al. BRAF V600E mutation correlates with suppressive tumor immune microenvironment and reduced disease-free survival in Langerhans cell histiocytosis. Oncoimmunology. 2016 Jun 14;5(7):e1185582.
Nakamine H, Yamakawa M, Yoshino T, Fukumoto T, Enomoto Y, Matsumura I. Langerhans Cell Histiocytosis and Langerhans Cell Sarcoma: Current Understanding and Differential Diagnosis. J Clin Exp Hematop. 2016;56(2):109-18.
Vose JM. Mantle cell lymphoma: 2015 update on diagnosis, risk-stratification, and clinical management. Am J Hematol. 2015 Aug;90(8):739-45.
Barista I, Cabanillas F, Romaguera JE, Khouri IF, Yang Y, Smith TL, et al. Is there an increased rate of additional malignancies in patients with mantle cell lymphoma? Ann Oncol. 2002 Feb;13(2):318-22.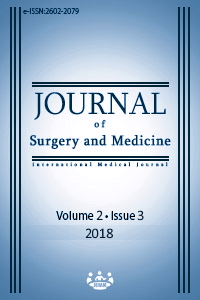 How to Cite
1.
Gül G, Özcan MA, Demirkan F, Özkal S. A case of langerhans cell histiocytosis associated with mantle cell lymphoma. J Surg Med [Internet]. 2018 Sep. 1 [cited 2023 Oct. 4];2(3):361-3. Available from: https://jsurgmed.com/article/view/403513
License
Copyright (c) 2018 Gülen Gül, Mehmet Ali Özcan, Fatih Demirkan, Sermin Özkal
This work is licensed under a Creative Commons Attribution-NonCommercial-NoDerivatives 4.0 International License.
#6250