Kounis syndrome as a result of anaphylactic reaction to diclofenac sodium: A case report
Keywords:
Kounis syndrome, Diclofenac sodium, Hypersensitivity, Anaphylaxis
Abstract
Kounis syndrome refers to acute coronary syndromes of varying degrees (myocardial ischaemia to infarction) induced by mast cell activation as a result of allergic and anaphylactic reactions. Following subclinical, acute or chronic allergic reactions, it has a clinical spectrum ranging from chest pain to ST segment elevated myocardial infarction. The trigger of the allergic reaction can be drugs, food, environmental factors (insect bite, bee sting, pollen, latex contact). We present a case of a patient who developed Kounis syndrome as a result of anaphylactic reaction to Voltaren (Diclofenac sodium) which is one of the drugs widely used in the emergency departments as intramuscular pain killer. 

Downloads
Download data is not yet available.
References
Kounis NG, Zavras GM. Histamine-induced coronary artery spasm: the concept of allergic angina. Br J Clin Pract. 1991;45(2):121-8.
Gazquez V, Dalmau G, Gaig P, Gomez C, Navarro S. Kounis syndrome: Report of 5 cases. J Investig Allergol Clin Immunol. 2010;20(2):162-5.
Kounis NG. Kounis syndrome (allergic angina and allergic myocardial infarction): A natural paradigm? Int J Cardiol 2006;110(1):7-14.
Nikolaidis LA, Kounis NG, Gradman AH. Allergic angina and allergic myocardial infarction: a new twist on an old syndrome. Can J Cardiol. 2002;18(5):508-11.
Tok D, Özcan F, Şentürk B, Gölbaşı Z. Parenteral penisilin kullanımını takiben gelişen akut koroner sendrom olgusu: Kounis sendromu. Arch Turk Soc Cardiol. 2012;40(7):615-9.
Fox DJ, Gray TP, Fath-Ordoubadi F. Myocardial infarction after aspirin treatment. J R Soc Med. 2005;98(1):21-3.
Brown AF, McKinnon D, Chu K. Emergency department anaphylaxis: A review of 142 patients in a single year. J Allergy Clin Immunol. 2001;108(5):861-6.
Hadar A, Holcberg G, Mazor M. Anaphylactic shock after diclofenac sodium(Voltaren)]. Harefuah. 2000 Feb 1;138(3):211-2.
Colak S, Gunes H, Afacan MA, Kandis H, Erdoğan MO,Ayrancı M. Anaphylaxis after intramuscular injection of diclofenak sodium. Am J Emerg Med. 2014 Jan 3. pii: S0735-6757(13)00908-X. doi: 10.1016/j.ajem.2013.12.049.
Tiwari AK, Tomar GS, Ganguly CS, Kapoor MC. Kounis syndrome resulting from anaphylaxis to diclofenac. Indian J Anaesth. 2013 May;57(3):282-4.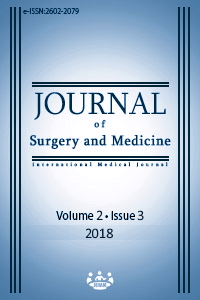 How to Cite
1.
İbrahim A, Çolak Şahin, Erdoğan M Özgür, Afacan MA, Sarıtaş A, Kandiş H. Kounis syndrome as a result of anaphylactic reaction to diclofenac sodium: A case report. J Surg Med [Internet]. 2018 Sep. 1 [cited 2022 Aug. 10];2(3):337-8. Available from: https://jsurgmed.com/article/view/402775
License
Copyright (c) 2018 Abdullah İbrahim, Şahin Çolak, Mehmet Özgür Erdoğan, Mustafa Ahmet Afacan, Ayhan Sarıtaş, Hayati Kandiş
This work is licensed under a Creative Commons Attribution-NonCommercial-NoDerivatives 4.0 International License.
#6265