Use of preputial skin as cutaneous graft in post excision of a verrucous hemangioma of the thumb
Keywords:
Preputial, Foreskin, Skin graft, Verrucous Hemangioma, Circumcision
Abstract
Although the use of preputial skin as cutaneous graft is not new, it was seldom been utilized and reported by surgeon all over the world. The preputial skin graft (PSG) has many advantages when use as a full thickness skin graft to cover a defect over certain importance area. Herein, we reported a case of a rare vascular anomaly of thumb; Verrucous Hemangioma when a surgical excision was indicated, but the skin defect would have been too large to be directly closed, therefore the foreskin was taken as a full-thickness skin graft to cover the cutaneous defect of the thumb. The procedure was taken in a single stage with the ritual circumcision. The graft intake was favourable and provided a good functional repair with satisfactory aesthetic characteristic. Similar cases have not been reported before in the literature or at least in author's origin of country.

Downloads
Download data is not yet available.
References
Nargis T, Pinto M, Bhat S, Shenoy M. Linear verrucous hemangioma of the upper limb: a rare case. DOJ. 2017;23(6):5.
Yildirim S, Akan M, Aköz T, Tanoğlu B. The preputium: an overlooked skin graft donor site. Ann Plast Surg. 2001; 46(6):630-4.
D'Alessio A, Piro E, Brugnoni M, Abati L. Use of preputial skin as cutaneous graft after nevus excision. Int J Pediatr. 2010;951270:1-3.
Dogrul AB, Yorganci K. Preputial Skin Grafts, Skin Grafts – Indication, Application and Current Research, Dr. Marcia Spear (Ed.), InTech. 2011;141-6.
McCuaig CC. Update on classification and diagnosis of vascular malformations. Curr Opin Pediatr. 2017;29(4):448-54.
Mestre T, Amaro C, Freitas I. Verrucous haemangioma: a diagnosis to consider. BMJ Case Rep. 2014;bcr2014204612.
Clairwood MQ, Bruckner AL, Dadras SS. Verrucous hemangioma: a report of two cases and review of the literature. J Cutan Pathol. 2011;38(9):740–6.
Andreassi A, Bilenchi R, Biagioli M, D'Aniello C. Classification and pathophysiology of skin grafts. Clin Dermatol. 2005; 23(4):332-7.
Singh J, Sharma P, Tandon S, Sinha S. Multiple verrucous hemangiomas: A case report with new therapeutic insight. Indian Dermatol Online J. 2017;8:254-6.
Aslan G, Sarifakioglu N, Tuncali D, Terzioglu A, Bingul F. The prepuce and circumcision: Dual application as a graft. Ann Plast Surg. 2004;52:199-203.
Ratner, D., Skin grafting. Semin Cutan Med Surg. 2003;22(4):295-305.
Zaroo MI, Sheikh BA, Wani AH, Darzi MA, Mir M, Dar H, et al. Use of preputial skin for coverage of post-burn contractures of fingers in children. Indian J Plast Surg. 2011;44(1):68-71.
Cohen Y. Circumcision: myth, ritual, operation. Med J Malaysia. 1985;39(3):210-219.
Aköz T, Erdoğan B, Görgü M, Aslan G, Altintaş H. Unusual complications of circumcision. Plast Reconstr Surg. 1998;101(7):1915-1918.
Castellsagué X, Bosch FX, Muñoz N, Meijer CJ, Shah KV, de Sanjose S, et al. Male circumcision, penile human papillomavirus infection, and cervical cancer in female partners. N Engl J Med. 2002;346(15):1105-12.
Pang MG, Kim DS. Extraordinarily high rates of male circumcision in South Korea: history and underlying causes. BJU Int. 2002;89(1):48–54.
Leitch IO. Circumcision: a continuing enigma. Aust Paediatr J. 1970;6(2):59–65.
Malone P, Steinbrecher H. Medical aspects of male circumcision. BMJ. 2007;335(7631):1206-90.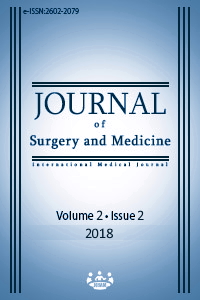 How to Cite
1.
Hamzan M İzzuddin, Basiron N. Use of preputial skin as cutaneous graft in post excision of a verrucous hemangioma of the thumb. J Surg Med [Internet]. 2018 May 1 [cited 2023 Dec. 10];2(2):170-3. Available from: https://jsurgmed.com/article/view/402591
License
Copyright (c) 2018 Muhammad İzzuddin Hamzan, Normala Basiron
This work is licensed under a Creative Commons Attribution-NonCommercial-NoDerivatives 4.0 International License.
#6219