Colonic lymphoma presented as acute abdomen; A case report and review of literature
Keywords:
Hodgkin lymphoma, Acute abdomen, Colon tumor
Abstract
The primary gastrointestinal tract (GIS) lymphomas constitute approximately 1% of all GIS tumors. Primary gastrointestinal involvement in the humeral lymphoma is extremely rare. In this study, we aimed to present a case of colonic lymphoma that grows rapidly in young adult patients and causes acute abdomen. A 20-year-old woman presented with complaints of nausea, vomiting and diarrhea. Ultrasonography revealed mass and free fluid in the right lower quadrant. A 9cm diameter solid mass was observed in the cecum with tomography. As a result of these findings and clinical evaluation, emergency laparotomy was decided. A 10 cm diameter mass terminal ileum and cecum was seen and right hemicolectomy was performed. Because the age of the presented patient is young and the complaints are faint, no diagnosis has been made until the 9cm size is reached. It should be kept in mind that such situations may be met and further testing should be avoided if necessary.
Downloads
Download data is not yet available.
References
Busch E, Rodrigez-Bigas M, Mamounas E, et al. Primary colorectal non-Hodgkin's lymphoma. Ann Surg Oncol. 1994;1:222-28.
Billroth T. Multiple lymphome. Erfolgreiche behandlung mitarsenik. Wien Med Wochenschr. 1871;21:1066.
Orangio RG. Nonepithelial colorectal tumors, in: Fazio WV (ed). Current Therapy in Colon and Rectal Surgery. Mosby Comp, Philadelphia; 2005. p. 409-14.
Stanojević G, Stojanović M, Jovanović M, et al. Primary colorectal lymphomas. Vojnosanit Pregl. 2009;66:295-301.
Cai S, Cannizzo F Jr, Bullard Dunn KM, Gibbs JF, Czuczman M, Rajput A. The role of surgical intervention in non- Hodgkin's lymphoma of the colon and rectum. Am J Surg. 2007;193:409-12.
Çalışkan YK. Ten years ago, what was the main etiology of intestinal obstructions? Historical perspective: A retrospective cohort study. J Surg Med. 2017;1(2):21-3.
Kilic A, Hasbahceci M, Alimoglu O, Basak F, Sisik A, Canbak T. Colonic cancers fistulised to other segments of the gastrointestinal tract. Case series and review of literature. Arch Clin Exp Med. 2016;1(1):8-10.
Shepherd NA, Hall PA, Coates PJ, Levison DA. Primary malignant lymphoma of the colon and rectum. A histopathological and immunohistochemical analysis of 45 cases with clinicopathological correlations. Histopathology. 1988;12:235-52.
Amer MH, el-Akkad S. Gastrointestinal lymphoma in adults: clinical features and management of 300 cases. Gastroenterology. 1994;106:846-58.
Lee HJ, Han JK, Kim TK, et al. Peripheral T-cell lymphoma of the colon: double-contrast bariumenema examination finding in six patients. Radiology. 2001;218:751-56.
Gonzalez QH, Heslin MJ, Dávila-Cervantes A, et al. Primary colonic lymphoma. Am Surg. 2008;74:214-6.
Campo E, Gaulard P, Zucca E, et al. Report of the European task force on lymphomas: workshop on peripheral T-cell lymphomas. Ann Oncol. 1998;9:835-43.
Chan JK. Peripheral T-cell and NK-cell neoplasms: an integrated approach to diagnosis. Mod Pathol. 1999;12:177-99.
Wang MH, Wong JM, Lien HC, et al. Colonoscopic manifestations of primary colorectal lymphoma.Endoscopy. 2001;33: 605-09.
Hwang WS, Yao JC, Cheng SS, Tseng HH. Primary colorectal lymphoma in Taiwan. Cancer. 1992;70:575-80.
Meyers PA, Potter VP, Wollner N, Exelby P. Bowel perforation during initial treatment for childhood non-Hodgkin's lymphoma. Cancer. 1985;56:259-61.
McDermott EW, Cassidy N, Heffernan SJ. Perforation through undiagnosed small bowel involvement in primary thyroid lymphoma during chemotherapy. Cancer. 1992;69:572-3.
Ara C, Coban S, Kayaalp C, Yilmaz S, Kirimlioglu V. Spontaneous intestinal perforation due to non-Hodgkin's lymphoma: evaluation of eight cases. Dig Dis Sci. 2007;52:1752-6.
Stanojevic GZ, Nestorovic MD, Brankovic BR, et al. Primary colorectal lymphoma: An overview.World J Gastrointest Oncol. 2011Jan15;3(1):14-8.
Kim YH, Lee JH, Yang SK, et al. Primary colon lymphoma in Korea: a KASID (Korean Association for the Study of Intestinal Diseases) study. Dig Dis Sci. 2005;50:2243-7.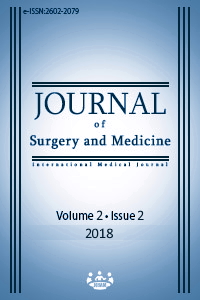 How to Cite
1.
Kudaş İlyas, Şişik A. Colonic lymphoma presented as acute abdomen; A case report and review of literature. J Surg Med [Internet]. 2018 May 1 [cited 2023 Sep. 25];2(2):157-9. Available from: https://jsurgmed.com/article/view/401832
License
Copyright (c) 2018 İlyas Kudaş, Abdullah Şişik
This work is licensed under a Creative Commons Attribution-NonCommercial-NoDerivatives 4.0 International License.
#6213