Subarachnoid hemorrhage complicated with cerebral venous thrombosis in pregnancy: A case report
Keywords:
Pregnancy, Cerebral venous thrombosis, Subarachnoid hemorrhage
Abstract
The conditions most commonly associated with cerebral venous thrombosis are the ones characterized by hormonal changes, which include pregnancy, puerperium, and oral contraceptive use. The classical signs and symptoms of cerebral venous thrombosis include headache, papilledema, convulsions, focal deficits, coma, and death. Cerebral venous thrombosis particularly affects superior sagittal or lateral sinus, but also sinuses to which cortical deep veins open. Cerebral venous thrombosis can cause serious neurological syndromes, but thanks to the introduction and widespread use of cerebral angiography, computerized brain tomography, and cranial magnetic resonance imaging, it can be diagnosed in a timely manner. In this case report we report a 22-year-old woman with unknown pregnancy status who was subsequently diagnosed to have pregnancy and cerebral venous thrombosis and subarachnoid hemorrhage after presenting to emergency room with severe headache followed by altered consciousness.

Downloads
Download data is not yet available.
References
Renowden S. Cerebral venous sinus thrombosis. European Radiology. 2004 Feb;14(2):215-26.
Allroggen H, Abbott RJ. Cerebral venous sinus thrombosis. Postgrad Med J. 2000;76:12–5.
Ferro JM, Canhão P, Bousser MG, Barinagarrementeria F. Cerebral Vein and Dural Sinus Thrombosis in Elderly Patients. Stroke. 2005;36:1927–32.
Agostoni E, Aliprandi A, Longoni M. Cerebral venous sinus thrombosis. Expert Rev Neurother. 2009;9(4):553-64.
Stam J. Thrombosis of the cerebral veins and sinuses. N Engl J Med. 2005;352(17):1791-8.
Estanol B, Rodriguez A, Conte G, Aleman JM, Loyo M, Pizzuto J. Intracranial venous thrombosis in young women. Stroke. 1979;10:680.
Kimber J. Cerebral venous sinus thrombosis. Q J Med. 2002;95:137–42.
Rao KCVG, Knipp HC, Wagner EJ. CT tidings in cerebral sinus and venous thrombosis. Radiology. 1981;140:391.
Thron A, Wessel K, Linden D, Schroth G, Dichgans J. Superior sagittal sinus thrombosis: Neuroradiological evaluation and clinical findings. J Neurol. 1986;233:283.
Levine S, Twyman R, Gilman S. The role of anticoagulation in cevernous sinus thrombosis. Neurology. 1985;35:215.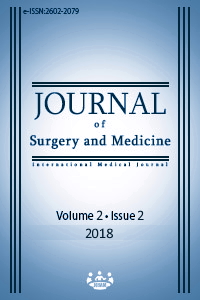 How to Cite
1.
Erdem Sultanoğlu T, Sultanoğlu H. Subarachnoid hemorrhage complicated with cerebral venous thrombosis in pregnancy: A case report. J Surg Med [Internet]. 2018 May 1 [cited 2023 Dec. 11];2(2):160-1. Available from: https://jsurgmed.com/article/view/388639
License
Copyright (c) 2018 Tuba Erdem Sultanoğlu, Hasan Sultanoğlu
This work is licensed under a Creative Commons Attribution-NonCommercial-NoDerivatives 4.0 International License.
#6222