Simulation-based clinical learning for final year medical students about Focused Assessment Sonography for Trauma
Keywords:
Simulation, FAST, Education, Emergency medicine, Bedside ultrasound
Abstract
Background/Aim: Point-of-care ultrasound is a focused exam. It is a method that can be easily repeated by clinicians, especially as it aims for answering specific questions. The current study aimed to evaluate how successfully the students could learn Focused Assessment with Sonography for Trauma (FAST) and the permanence of the education after the simulation-based training. Methods: This study was conducted with final year medical students in Acibadem Mehmet Ali Aydinlar University Hospital Emergency Department and Acibadem University Center of Advanced Simulation and Education. The FAST course was taught by emergency physician specialists. After 2 h of theoretical training, a 3-h hands-on small group practical session was held face-to-face in which the students performed FAST scans with a CAE Vimedix high-fidelity simulator. After ultrasound training, the participants were separated into three groups of 20 each. One group was considered a control group in which they did not perform FAST on any real patient during the emergency medicine rotation (Group A). Group B performed FAST on 20 real patients, and Group C performed the technique on 40 real patients in the emergency department. A re-evaluation exam was done six months later. Results: This study included 60 participants. At the end of the first evaluation, the mean scores of Groups A (Control Group), B, and C were 6.05 (1.72), 6.05 (1.27), and 5.55 (13.2), respectively. The second evaluation results were 2.51 (0.51) with P < 0.001) and 8.84 (0.73) with a P < 0.001, and 9.71 (0.27) with P < 0.001, respectively. Conclusion: The long-term memory retention of the training presented in the simulation alone may be controversial. In our study, the take-home point is that for 2 h of theoretical lectures and 3 h of simulation training to be permanently retained, practicing the technique with at least 20 patients is needed.
Downloads
Download data is not yet available.
References
Di Serafino M, Vallone G. The role of point of care ultrasound in radiology department: update and prospective. A statement of Italian college ultrasound. Radiol Med. 2021 Apr;126(4):636-41. doi: 10.1007/s11547-020-01301-z. Epub 2020 Nov 4. PMID: 33146845.
Arnold MJ, Jonas CE, Carter RE. Point-of-Care Ultrasonography. Am Fam Physician. 2020 Mar 1;101(5):275-85. PMID: 32109031.
Elbaih, Adel Hamed; Hassan, Abdelrahman Gamal. Approach of focused assessment with sonography in trauma in primary survey. Medicine. 2021;10(3):1069-74.
Østergaard ML, Ewertsen C, Konge L, Albrecht-Beste E, Bachmann Nielsen M. Simulation-Based Abdominal Ultrasound Training - A Systematic Review. Ultraschall Med. 2016 Jun;37(3):253-61. English. doi: 10.1055/s-0042-100452. Epub 2016 Feb 16. PMID: 26882483.
Heskin L, Simms C, Holland J, Traynor O, Galvin R. A Systematic Review of the Educational Effectiveness of Simulation Used in Open Surgery. Simul Healthc. 2019 Feb;14(1):51-8. doi: 10.1097/SIH.0000000000000349. PMID: 30601469.
Shaukat NM, Copeli N, Desai P. The Focused Assessment With Sonography For Trauma (FAST) Examination And Pelvic Trauma: Indications And Limitations. Emerg Med Pract. 2016 Mar;18(3):1-20, 24; quiz 20-1. Epub 2016 Mar 1. PMID: 26881977.
Sidhu HS, Olubaniyi BO, Bhatnagar G, Shuen V, Dubbins P. Role of simulation-based education in ultrasound practice training. J Ultrasound Med. 2012 May;31(5):785-91. doi: 10.7863/jum.2012.31.5.785. PMID: 22535726.
Gogalniceanu P, Sheena Y, Kashef E, Purkayastha S, Darzi A, Paraskeva P. Is basic emergency ultrasound training feasible as part of standard undergraduate medical education? J Surg Educ. 2010 May-Jun;67(3):152-6. doi: 10.1016/j.jsurg.2010.02.008. PMID: 20630425.
Monti J. Revolution or Evolution? A Proposal for the Integration of Point-of-Care Ultrasound Into Physician Assistant Clinical Practice. J Physician Assist Educ. 2017 Mar;28(1):27-32. doi: 10.1097/JPA.0000000000000101. PMID: 28114159.
Vitale S, Orlando JI, Iarussi E, Larrabide I. Improving realism in patient-specific abdominal ultrasound simulation using CycleGANs. Int J Comput Assist Radiol Surg. 2020 Feb;15(2):183-92. doi: 10.1007/s11548-019-02046-5. Epub 2019 Aug 7. PMID: 31392671.
Cawthorn TR, Nickel C, O'Reilly M, Kafka H, Tam JW, Jackson LC, et al. Development and evaluation of methodologies for teaching focused cardiac ultrasound skills to medical students. J Am Soc Echocardiogr. 2014 Mar;27(3):302-9. doi: 10.1016/j.echo.2013.12.006. Epub 2014 Jan 13. PMID: 24433979.
Adhikari S, Raio C, Morrison D, Tsung J, Leech S et al. Do emergency ultrasound fellowship programs impact emergency medicine residents' ultrasound education? J Ultrasound Med. 2014 Jun;33(6):999-1004. doi: 10.7863/ultra.33.6.999. PMID: 24866606.
Bahner DP, Jasne A, Boore S, Mueller A, Cortez E. The ultrasound challenge: a novel approach to medical student ultrasound education. J Ultrasound Med. 2012 Dec;31(12):2013-6. doi: 10.7863/jum.2012.31.12.2013. PMID: 23197555.
Dudea SM. Ultrasonography as an educational tool for students - any progress? Med Ultrason. 2016 Dec 5;18(4):417-8. doi: 10.11152/mu-870. PMID: 27981271.
Sirli R, Sporea I. Education in Ultrasonography - when to start and when to stop. Med Ultrason. 2020 Sep 5;22(3):263-4. doi: 10.11152/mu-2796. PMID: 32898201.
Tarique U, Tang B, Singh M, Kulasegaram KM, Ailon J. Ultrasound Curricula in Undergraduate Medical Education: A Scoping Review. J Ultrasound Med. 2018 Jan;37(1):69-82. doi: 10.1002/jum.14333. Epub 2017 Jul 27. PMID: 28748549.
Ultrasound Guidelines: Emergency, Point-of-Care and Clinical Ultrasound Guidelines in Medicine. Ann Emerg Med. 2017 May;69(5):e27-e54. doi: 10.1016/j.annemergmed.2016.08.457. PMID: 28442101.
Palma JK. Successful strategies for integrating bedside ultrasound into undergraduate medical education. Mil Med. 2015 Apr;180(4 Suppl):153-7. doi: 10.7205/MILMED-D-14-00573. PMID: 25850144.
Krause C, Krause R, Krause R, Gomez N, Jafry Z, Dinh VA. Effectiveness of a 1-Hour Extended Focused Assessment With Sonography in Trauma Session in the Medical Student Surgery Clerkship. J Surg Educ. 2017 Nov-Dec;74(6):968-74. doi: 10.1016/j.jsurg.2017.03.007. Epub 2017 May 4. PMID: 28479071.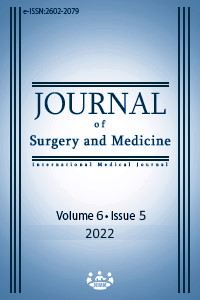 How to Cite
1.
Gun C, Aldinc H. Simulation-based clinical learning for final year medical students about Focused Assessment Sonography for Trauma. J Surg Med [Internet]. 2022 May 1 [cited 2023 Dec. 1];6(5):561-6. Available from: https://jsurgmed.com/article/view/1112865
License
Copyright (c) 2022 Cem Gun, Hasan Aldinc
This work is licensed under a Creative Commons Attribution-NonCommercial-NoDerivatives 4.0 International License.
#7245