Thoracic surgery with erector spinae plane block in a patient with Duchenne muscular dystrophy
ESPB in a DMD patient
Keywords:
Erector spinae plane block, Duchenne muscular dystrophy, Regional anesthesia, Ultrasound, Dexmedetomidine, Postoperative analgesia
Abstract
The management of general anesthesia is very difficult in patients with Duchenne muscular dystrophy (DMD) due to the potential for difficult airway problems, malignant hyperthermia, and cardiorespiratory complications. Therefore, peripheral nerve and plane blocks may be a good choice in DMD patients. In this case, we aimed to show the anesthetic efficiency of erector spinae plane (ESP) block in an 18-year-old male patient with DMD scheduled for video-assisted thoracoscopy surgery (VATS) exploration due to prolonged air leak. On surgery day, ultrasound (US)-guided one-sided ESP block (ESPB) was performed under sedation. Decortication surgery was performed in 3 hours. The patient's intraoperative hemodynamic parameters were stable, and no pain or complications were recorded. The patients' visual analog scale (VAS) scores were recorded at postoperative hour 0, 2, 6, and 12 as 0, 0, 2, and 2, respectively. In conclusion, safe and effective anesthesia can be provided by ESPB with US guidance in thoracic surgery.
Downloads
Download data is not yet available.
References
Mota S, Germanova L, Cortesão J, Paiva T. Anaesthetic Management in a Duchennne Muscle Dystrophy Patient for Treatment of Recurrent Pneumothorax. Rev Port Cir Cardiotorac Vasc. 2017;24:200.
Froyshteter AB, Bhalla T, Tobias JD, Cambier GS, Mckee CT. Pectoralis blocks for insertion of an implantable cardioverter defibrillator in two patients with Duchenne muscular dystrophy. Saudi J Anaesth. 2018;12:324-7. DOI: https://doi.org/10.4103/sja.SJA_624_17
Bang SU, Kim YS, Kwon WJ, Lee SM, Kim SHJ. Peripheral nerve blocks as the sole anesthetic technique in a patient with severe Duchenne muscular dystrophy. J Anesth. 2016;30:320-3. DOI: https://doi.org/10.1007/s00540-015-2127-4
So M, Sugiura T, Yoshizawa S, Sobue K. Two Cases of Duchenne Muscular Dystrophy That Showed Different Reactions to Nerve Stimulation During Peripheral Nerve Block: A Case Report. A&A Case Rep. 2017;9:52-3. DOI: https://doi.org/10.1213/XAA.0000000000000524
Tulgar S, Aydin ME, Ahiskalioglu A, De Cassai A, Gurkan Y. Anesthetic Techniques: Focus on Lumbar Erector Spinae Plane Block. Local Reg Anesth. 2020;13:121-33. DOI: https://doi.org/10.2147/LRA.S233274
Zhang TJ, Zhang JJ, Qu ZY, Zhang HY, Qiu Y, Hua Z. Bilateral Erector Spinae Plane Blocks for Open Posterior Lumbar Surgery. J Pain Res. 2020;13:709-17. DOI: https://doi.org/10.2147/JPR.S248171
Kot P, Rodriguez P, Granell M, Cano B, Rovira L, Morales J, Broseta A, Andrés J. The erector spinae plane block: a narrative review. Korean J Anesthesiol. 2019;72(3):209-20. DOI: https://doi.org/10.4097/kja.d.19.00012
Andrea I, Nicola R, Matteo G, Elisa N, Lavinia D, Valentina C, Lorenzo D. Peri-operative complications of video-assisted thoracoscopic surgery (VATS). International Journal of Surgery. 2008;6(1):78-81. DOI: https://doi.org/10.1016/j.ijsu.2008.12.014
Demiröz ŞM, Fındık G, Baldemir R, Alagöz A. Non-intubated video-assisted thoracoscopic bullectomy by paravetebral block and sedation. Turk Gogus Kalp Damar Cerrahisi Derg. 2021;29(1):133-4. DOI: https://doi.org/10.5606/tgkdc.dergisi.2021.19367
Vandepitte C, Gautier P, Bellen P, Murata H, Salviz EA, Hadzic A. Use of ultrasound- guided intercostal nerve block as a sole anaesthetic technique in a high- risk patient with Duchenne muscular dystrophy. Acta Anaesthesiol Bel. 2013;64:91–4.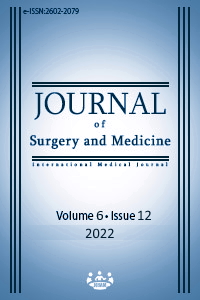 How to Cite
1.
Şahin AT, Alparslan M, Aydin G, Akçaboy ZN, Günal N. Thoracic surgery with erector spinae plane block in a patient with Duchenne muscular dystrophy: ESPB in a DMD patient. J Surg Med [Internet]. 2022 Dec. 24 [cited 2023 Sep. 25];6(12):1007-9. Available from: https://jsurgmed.com/article/view/1092328
License
Copyright (c) 2022 Ahmet Tuğrul Şahin , Murat Alparslan , Gülçin Aydin , Zeynep Nur Akçaboy , Nesimi Günal
This work is licensed under a Creative Commons Attribution-NonCommercial-NoDerivatives 4.0 International License.
#7654