Coronavirus-19 pandemic and its impact on elective neurosurgical operations
Keywords:
COVID-19, Pandemic, Neurosurgery, Elective surgery
Abstract
Background/Aim: The Coronavirus-19 (COVID-19) pandemic disrupted all planned, elective surgical procedures and appointment-based health services due to the decreased capacity of hospitals, healthcare professionals' focus on fighting the pandemic and efforts to protect patients, society and healthcare workers from the pandemic. The purpose of this study was to ascertain the perspective of patients on elective surgery, who applied to neurosurgery outpatient clinics at two different centers as clean and non-clean hospitals. Methods: This cross-sectional prospective study was performed between March 2021 and July 2021, during the COVID-19 pandemic. 160 patients who were offered elective surgery for various indications in neurosurgery outpatient clinics were enrolled in the study. To this end, a questionnaire was administered to patients that included information about their demographics, pandemic processes and their anxiety levels during this process. Age, level of education, COVID -19 infection and vaccination status were all questioned in the survey. Univariate and multivariate analysis were used to determine the factors that might influence a patient's decision towards surgery. Results: In the univariate analysis of the factors, educational status, pandemic-induced anxiety and whether the hospital is a pandemic hospital or not were identified as statistically significant effective factors in patients' decision to accept surgery (P<0.05). Conclusion: We observed that the acceptance rate of patients for elective neurosurgical operations decreased during the pandemic period, but this situation was less felt in clean hospitals. We think that separating hospitals into two parts of clean and non-clean hospital is a beneficial health policy for the continuation of elective treatment procedures.
Downloads
Download data is not yet available.
References
Dhama K, Sharun K, Tiwari R, Dadar M, Malik YS, Singh KP, et al. COVID-19, an emerging coronavirus infection: advances and prospects in designing and developing vaccines, immunotherapeutics, and therapeutics. Hum Vaccin Immunother. 2020 Jun 2;16(6):1232-8. doi: 10.1080/21645515.2020.1735227.
Li H, Liu Z, Ge J. Scientific research progress of COVID-19/SARS-CoV-2 in the first five months. J Cell Mol Med. 2020 Jun;24(12):6558-70. doi: 10.1111/jcmm.15364.
Zheng MH, Boni L, Fingerhut A. Minimally Invasive Surgery and the Novel Coronavirus Outbreak: Lessons Learned in China and Italy. Ann Surg. 2020 Jul;272(1):e5-e6. doi: 10.1097/SLA.0000000000003924.
Welsh Surgical Research Initiative (WSRI) Collaborative. Surgery during the COVID-19 pandemic: operating room suggestions from an international Delphi process. Br J Surg. 2020 Oct;107(11):1450-8. doi: 10.1002/bjs.11747.
Kazan Kizilkurt O, Dilbaz N, Noyan CO. Psychological Impact of COVID-19 Pandemic on General Population in Turkey: Risk Factors. Asia Pac J Public Health. 2020 Nov;32(8):519. doi: 10.1177/1010539520964276.
COVIDSurg Collaborative. Elective surgery cancellations due to the COVID-19 pandemic: global predictive modelling to inform surgical recovery plans. Br J Surg. 2020 Oct;107(11):1440-9. doi: 10.1002/bjs.11746.
Diaz A, Sarac BA, Schoenbrunner AR, Janis JE, Pawlik TM. Elective surgery in the time of COVID-19. Am J Surg. 2020 Jun;219(6):900-2. doi: 10.1016/j.amjsurg.2020.04.014.
Moverman MA, Puzzitiello RN, Pagani NR, Barnes CL, Jawa A, Menendez ME. Public Perceptions of Resuming Elective Surgery During the COVID-19 Pandemic. J Arthroplasty. 2021 Feb;36(2):397-402.e2. doi: 10.1016/j.arth.2020.07.037..
Paprottka FJ, Rolfes SB, Richter DF, Kaye KO. COVID-19 Pandemic: Evaluation of Socio-Economic Impact on Aesthetic Plastic Surgery Providers. Aesthetic Plast Surg. 2021 Aug;45(4):1877. doi: 10.1007/s00266-021-02130-9.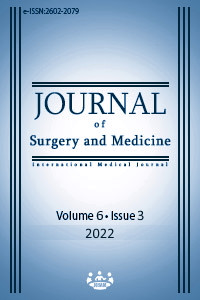 How to Cite
1.
Küçükyıldız HC, Şimşek SK, Söylemez B, Güneş G, Koç F, Özüm Ünal. Coronavirus-19 pandemic and its impact on elective neurosurgical operations. J Surg Med [Internet]. 2022 Mar. 1 [cited 2023 Jun. 7];6(3):282-4. Available from: https://jsurgmed.com/article/view/1080889
License
Copyright (c) 2022 Halil Can Küçükyıldız, Salih Kürşat Şimşek, Burçak Söylemez, Giray Güneş, Fatih Koç, Ünal Özüm
This work is licensed under a Creative Commons Attribution-NonCommercial-NoDerivatives 4.0 International License.
#7194