Evaluation of chronic hepatitis B patients receiving lamivudine: Single center experience
Keywords:
HBV DNA, Chronic hepatitis B, Lamivudine, Seroconversion, Seroclearance, Pandemic
Abstract
Background/Aim: Lamivudine (LAM), which has been used for the treatment of Chronic Hepatitis (CHB) infection for many years, is now provided for short-time use to immunosuppressive patients due to resistance. We aimed to evaluate the current state and pandemic period routine follow-ups in patients who still used LAM today due to treatment or prophylaxis in terms of virologic or serologic treatment response. Methods: In this retrospective cohort study, we included 33 patients who received LAM treatment or prophylaxis due to CHB. Evaluations included patients' serologic results for Hepatitis B, platelet counts, comprehensive metabolic panel, HBV DNA levels, ultrasonographic (USG) evaluation of the liver, and the number and duration of outpatient visits between 01.01.2020 and 31.12.2021. Results: Of all the patients, 51.5% (n=17) were males, and the average age was 57.3 (12.3) years. The median LAM treatment duration was found 10 (2.58) years. The ratio of receiving LAM due to immunosuppressive therapy was 27.27% (n=9). Except for HBV DNA-negative patients or patients with no accessed results, the virologic response rate of patients was found 60.7% (n=20). Within the study period, while Anti-Hbe seroconversion was found 3.2% (n=1), Anti-Hbs seroconversion was found 6.5% (n=2). One patient whose virologic response was not obtained, received the treatment without any alterations in the regimens. While the number of outpatient follow-ups in the study period was found 1.94 (0.24) on average, the duration between follow-ups was found 13.82 (12.8) months. Conclusion: It is pleasing to obtain virologic response and Anti-HBs, Anti-HBe seroconversion in patients with low resistance profile who receive the LAM treatment. While watchful waiting is recommended for patients receiving long-term LAM treatment, our retrospective analysis showed that planned outpatient follow-ups for every three months was done in longer intervals. The treatment is not altered in one patient whose virologic response was not obtained because of inadequate number of follow-ups within the study period. Since monitoring without having prolonged follow-up durations due to the pandemic is of importance in terms of preventing complications, we believe that there is a need for further studies on this issue.
Downloads
Download data is not yet available.
References
WHO. Global hepatitis report 2017. https://www.who.int/news-room/fact-sheets/detail/hepatitis-b. Accessed 10 Dec 2021
Tanrikulu FP, Acik DY, Aygun B, Bankir M, Ozdemir M, Suyani E. The compliance of our practice for hepatitis B virus screening with the current guidelines in patients undergoing chemotherapy for hematological malignancies. J Surg Med. 2021;5(11):1095-8.
Tozun N, Ozdogan O, Cakaloglu Y, Idilman R, Karasu Z, Akarca U, et al. Seroprevalence of hepatitis B and C virus infections and risk factors in Turkey: a fieldwork TURHEP study. Clin Microbiol Infect. 2015;21(1):1020-6. doi: 10.1016/j.cmi.2015.06.028.
Fasano M, Lampertico P, Marzano A, Di Marco V, Niro GA, Brancaccio G, et al. HBV DNA suppression and HBsAg clearance in HBeAg negative chronic hepatitis B patients on lamivudine therapy for over 5 years. J Hepatol. 2012 Jun;56(6):1254-8. doi: 10.1016/j.jhep.2012.01.022.
Tong S, Revill P. Overview of hepatitis B viral replication and genetic variability. J Hepatol. 2016 Apr;64(1 Suppl):4-16. doi: 10.1016/j.jhep.2016.01.027.
Centers for Disease Control and Prevention. What to Know About Liver Disease and COVID-19. [İnternet].Atlanta: CDC (https://www.cdc.gov/coronavirus/2019-ncov/need-extra-precautions/liver-disease.html). Accessed 16.01.2022.
European Association for the Study of the Liver. European Association for the Study of the Liver. Clinical Practice Guidelines on the management of hepatitis B virus infection. J Hepatol. 2017 Aug;67(2):370-398. doi: 10.1016/j.jhep.2017.03.021.
Akhan S, Aynıoğlu A, Çağatay A, Gönen İ, Günal Ö, Kaynar T, et al. Management of Chronic Hepatitis B Virus Infection: A Consensus Report of the Study Group for Viral Hepatitis of the Turkish Society of Clinical Microbiology and Infectious Diseases. Klimik Journal. 2014;27(Special issue 1):2-18. doi: 10.5152/kd.2014.26.
Lingala S, Lau DT, Koh C, Auh S, Ghany MG, Hoofnagle JH. Long-term lamivudine therapy in chronic hepatitis B. Aliment Pharmacol Ther. 2016 Aug;44(4):380-9. doi: 10.1111/apt.13707.
Hadziyannis SJ. Treatment paradigms on hepatitis B e antigen-negative chronic hepatitis B patients. Expert Opin Investig Drugs. 2007 Jun;16(6):777-86. doi: 10.1517/13543784.16.6.777. PMID: 17501691.
Göksel F, Adaş YG. Management of a radiation oncology clinic in a clean oncology hospital during the COVID-19 outbreak. J Surg Med. 2020;4(11):925-9.
İskender G. Effect of the COVID-19 Pandemıc on Chronic Viral Hepatitis Services. The Journal of Kesit Academy. 2020;6(25):685-93.
Toyoda H, Yasuda S, Kiriyama S, Tanikawa M, Hisanaga Y, Kanamori A, et al. Impact of COVID-19 pandemic on surveillance of hepatocellular carcinoma: a study in patients with chronic hepatitis C after sustained virologic response. Gastro Hep. 2020 Aug 4:10.1002/ygh2.418. doi: 10.1002/ygh2.418.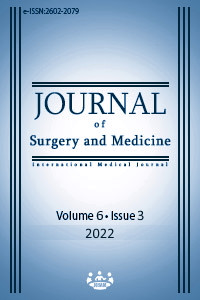 How to Cite
1.
Yapar D, Akdoğan Özlem. Evaluation of chronic hepatitis B patients receiving lamivudine: Single center experience. J Surg Med [Internet]. 2022 Mar. 1 [cited 2023 Dec. 1];6(3):246-9. Available from: https://jsurgmed.com/article/view/1076437
License
Copyright (c) 2022 Derya Yapar, Özlem Akdoğan
This work is licensed under a Creative Commons Attribution-NonCommercial-NoDerivatives 4.0 International License.
#7200