Gastric cancer during COVID-19 pandemic: What changed?
Keywords:
Gastric cancer, COVID-19, Pandemic
Abstract
Background/Aim: There is no doubt that oncology patients are among the most affected groups by the pandemic. The aim of this study is the evaluation of the effects of COVID-19 pandemic on patients with gastric cancer. Methods: We carried out a retrospective cohort study in a non-clean hospital from March 1, 2020, when the pandemic became widespread in Turkey, to August 1, 2021. Patients diagnosed with gastric cancer were compared with patients in the pre-pandemic period. The cancer stages, operation types and results of the patients were compared between the groups. Results: A total of 181 patients were included in the study. While a decrease was observed in stage 1 (P=0.01) and stage 2 (P=0.09) tumors during the pandemic period, an increase was observed in the number of stage 4A (P=0.002) and stage 4B (P=0.001) tumors on admission. Patients who received neoadjuvant chemotherapy during the pandemic were significantly less when compared with the pre-pandemic group (P=0.04). Conclusions: When the necessary precautions are taken, surgical oncology can be safely performed even in a non-clean hospital. With the spread of similar study results, patients' anxiety-based COVID-19 fear will be overcome.
Downloads
Download data is not yet available.
References
Apostolou K, Vogli S, Frountzas M, Syllaios A, Tolia M, Papanikolaou IS, et al. Upper Gastrointestinal Cancer Management in the COVID-19 Era: Risk of Infection, Adapted Role of Endoscopy, and Potential Treatment Algorithm Alterations. J Gastrointest Cancer. 2021 Jun 1;52(2):407–13.
Centers for Disease Control and Prevention (CDC). Interim Guidance for Healthcare Facilities: Preparing for Community Transmission of COVID-19 in the United States. 2020;2019:1–5.
COVID-19: Elective Case Triage Guidelines for Surgical Care [Internet]. [cited 2022 Jan 14]. Available from: https://www.facs.org/covid-19/clinical-guidance/elective-case
COVID-19 Resources - Society of Surgical Oncology [Internet]. [cited 2022 Jan 14]. Available from: https://www.surgonc.org/resources/covid-19-resources/
Rawla P, Barsouk A. Epidemiology of gastric cancer: global trends, risk factors and prevention. Przegla̜d Gastroenterol. 2019;14(1):26.
Maconi G, Manes G, Porro GB. Role of symptoms in diagnosis and outcome of gastric cancer. World J Gastroenterol. 2008 Feb 28;14(8):1149.
Stephens MR, Lewis WG, White S, Blackshaw GRJC, Edwards P, Barry JD, et al. Prognostic significance of alarm symptoms in patients with gastric cancer. Br J Surg. 2005 Jun 16;92(7):840–6.
Bowrey DJ, Griffin SM, Wayman J, Karat D, Hayes N, Raimes SA. Use of alarm symptoms to select dyspeptics for endoscopy causes patients with curable esophagogastric cancer to be overlooked. Surg Endosc. 2006 Nov;20(11):1725–8.
Bollschweiler E, Boettcher K, Hoelscher AH, Siewert JR, Sasako M, Kinoshita T, et al. Is the prognosis for Japanese and German patients with gastric cancer really different? Cancer. 1993;71(10):2918–25.
Kim J-P, Lee J-H, Kim S-J, Yu H-J, Yang H-K. Clinicopathologic characteristics and prognostic factors in 10 783 patients with gastric cancer. Gastric Cancer. 1998 Mar 1;1(2):125–33.
Akoh JA, Macintyre IMC. Improving survival in gastric cancer: Review of 5‐year survival rates in English language publications from 1970. Vol. 79, British Journal of Surgery. 1992. p. 293–9.
Wanebo HJ, Kennedy BJ, Chmiel J, Steele G, Winchester D, Osteen R. Cancer of the stomach. A patient care study by the American College of Surgeons. Ann Surg. 1993;218(5):583–92.
Gouzi JL, Huguier M, Fagniez PL, Launois B, Flamant Y, Lacaine F, et al. Total versus subtotal gastrectomy for adenocarcinoma of the gastric antrum. A French prospective controlled study. Ann Surg. 1989;209(2):162–6.
Huang XZ, Yang YC, Chen Y, Wu CC, Lin RF, Wang ZN, et al. Preoperative anemia or low hemoglobin predicts poor prognosis in gastric cancer patients: A meta-analysis. Dis Markers. 2019;2019.
Fligor SC, Wang S, Allar BG, Tsikis ST, Ore AS, Whitlock AE, et al. Gastrointestinal Malignancies and the COVID-19 Pandemic: Evidence-Based Triage to Surgery. J Gastrointest Surg. 2020 Oct 1;24(10):2357–73.
Brenkman HJF, Visser E, van Rossum PSN, Siesling S, van Hillegersberg R, Ruurda JP. Association Between Waiting Time from Diagnosis to Treatment and Survival in Patients with Curable Gastric Cancer: A Population-Based Study in the Netherlands. Ann Surg Oncol. 2017 Jul 1;24(7):1761.
Bartlett DL, Howe JR, Chang G, Crago A, Hogg M, Karakousis G, et al. Management of Cancer Surgery Cases During the COVID-19 Pandemic: Considerations. Ann Surg Oncol. 2020 Jun 1;27(6):1.
Polkowski WP, Sędłak K, Rawicz-Pruszyński K. Treatment of Gastric Cancer Patients During COVID-19 Pandemic: The West is More Vulnerable. Cancer Manag Res. 2020;12:6467.
Shim JH, Song KY, Jeon HM, Park CH, Jacks LM, Gonen M, et al. Is Gastric Cancer Different in Korea and the United States? Impact of Tumor Location on Prognosis. Ann Surg Oncol. 2014 217. 2014 Mar 6;21(7):2332–9.
Nekkanti SS, Vasudevan Nair S, Parmar V, Saklani A, Shrikhande S, Sudhakar Shetty N, et al. Mandatory preoperative COVID-19 testing for cancer patients—Is it justified? J Surg Oncol. 2020 Dec 1;122(7):1288–92.
The role of CT in screening elective pre-operative patients: 14 May 2020 | The Royal College of Radiologists [Internet]. [cited 2022 Feb 24]. Available from: https://www.rcr.ac.uk/posts/role-ct-screening-elective-pre-operative-patients-14-may-2020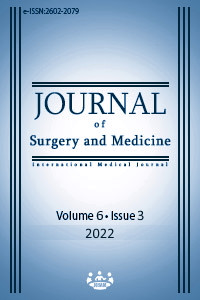 How to Cite
1.
Özdemir Y, Baykan AR. Gastric cancer during COVID-19 pandemic: What changed?. J Surg Med [Internet]. 2022 Mar. 1 [cited 2023 Sep. 25];6(3):250-3. Available from: https://jsurgmed.com/article/view/1072900
License
Copyright (c) 2022 Yılmaz Özdemir, Ahmed Ramiz Baykan
This work is licensed under a Creative Commons Attribution-NonCommercial-NoDerivatives 4.0 International License.
#7199