Risk factors determining bile leakage after multiple liver hydatid cyst surgery
Keywords:
Liver, Hydatid cyst, Bile leak
Abstract
Background/Aim: Biliary leaks are the main source of morbidity after liver hydatid cyst surgery. Many identified factors have been examined in predicting biliary leaks. The aim of this study was to determine the postoperative bile leakage rate and predictive factors affecting bile leakage in multiple liver hydatid cysts. Method: In our retrospective cohort study, the data of 130 patients who underwent multiple liver hydatid surgery in our clinic between January 2007 and November 2013 were analyzed. Results: In the 130 patients with multiple cysts, 323 hydatid cysts were detected. The number of cysts was 2 in 65.4% of the patients, and 3 or more in 34.6% of the patients. The postoperative bile leakage rate was 19.2%. According to the univariate analyses, during the preoperative period, the presence of jaundice, fever, leukocytosis, eosinophilia, aspartate aminotransferase, alanine aminotransferase, gamma glutamyl transferase, alkaline phosphatase, and direct bilirubin increase, the largest cyst being located in the perihilar region, the mean diameter of the cyst, the diameter of the largest cyst, biliary tract dilatation on the preoperative images, and infection were associated with increased postoperative bile leakage. In the multivariate analyses, eosinophilia and biliary tract dilatation on the preoperative images were found to be independent risk factors for postoperative bile leakage. Conclusion: In this study, the most determining factors for bile leakage after multiple liver hydatid cyst surgery were a high eosinophil rate and the presence of dilatation in the biliary tract on the preoperative radiological images.
Downloads
Download data is not yet available.
References
Wen H, Vuitton L, Tuxun T, et al. Echinococcosis: Advances in the 21st Century. Clin Microbiol Rev. 2019;32(2).
Keong B, Wilkie B, Sutherland T, Fox A. Hepatic cystic echinococcosis in Australia: an update on diagnosis and management. ANZ J Surg. 2018;88:26-31.
WHO. Echinococcosis, Epidemiology 2019. Available from: URL: https:// www.who.int/echinococcosis/epidemiology/en
Gupta N, Javed A, Puri S, Jain S, Singh S, Agarwal AK. Hepatic Hydatid: PAIR, Drain or Resect? J Gastrointestinal Surg. 2011;9 Aug 2011
Giorgio A, deStefano G, Esposito V, et al. Long-term results of percutaneous treatment of hydatid liver cysts: a single center 17 years experience. Infection. 2008;36:256-61.
Saylam B, Coşkun F, Demiriz B, Vural V, Comçali B, Tez M. A new and simple score for predicting cystobiliary fistula in patients with hepatic hydatid cysts. Surgery. 2013;153:699-704.
Kayaalp C, Bzeizi K, Demirbag AE, Akoglu M. Biliary complications after hydatid liver surgery: incidence and risk factors. J Gastrointest Surg. 2002;6:706-12.
Surmelioglu A, Ozer İ, Reyhan E, Dalgic T, Ozdemir Y, Ulas M, et al. Risk Factors for Development of Biliary Complications after Surgery for Solitary Liver Hydatid Cyst. Am Surg. 2017;1:83(1):30-5.
Demirci S, Eraslan S, Anadol E. Comparison of the results of different surgical techniques in the management of hydatid cyst of the liver. World J Surg. 1989;13:88–90.
Safioleas M, Misiakos E, Manti C, Katsikas D, Skalkeas G. Diagnostic evaluation and surgical management of hydatid disease of the liver. World J Surg. 1994;18:859–65.
Kayaalp C, Aydın C, Olmez A, Isik S, Yılmaz S. Leakage tests reduce the frequency of biliary fistulas following hydatid liver cyst surgery. Clinics. 2011;66(3):421-4.
Dziri C, Haouet K, Fingerhut A, Zaouche A. Management of Cystic Echinococcosis Complications and Dissemination: Where is the Evidence? World J Surg. 2009;33:1266–73.
Zeybek N, Dede H, Balci D, Coskun AK, Ozerhan IH, Peker S, et al. Biliary fistula after treatment for hydatid disease of the liver: When to intervene. World J Gastroenterol. 2013;19:355-61.
Kornaros SE, Aboul-Nour TA. Frank intrabiliary rupture of hydatid hepatic cyst: diagnosis and treatment. J Am Coll Surg. 1996;183:466-70.
Alper A, Ariogul O, Emre A, Uras A, Okten A. Choledochoduodenostomy for intrabiliary rupture of hydatid cysts of liver. Br J Surg. 1987;74:243-5.
Demircan O, Baymus M, Seydaoglu G, Akinoglu A, Sakman G. Occult cystobiliary communication presenting as postoperative biliary leakage after hydatid liver surgery: Are there significant preoperative clinical predictors? Can J Surg. June 2006;49:177-84.
Atahan K, Kupeli H, Deniz M, Gür S, Çökmez A, Tarcan E. Can occult cystobiliary fistulas in hepatic hydatid disease be predicted before surgery? Int J Med Sci. 2011;8:315-20.
Ozturk G, Aydınlı B, Yıldırgan MI, Basoglu M, Atamanalp SS, Polat KY, et al. Posttraumatic free intraperitoneal rupture of liver cystic echinococcosis: a case series and review of literature. Am J Surg. 2007;194:313-6.
Bedirli A, Sakrak O, Sozuer ME, Kerek M, Ince O. Surgical management of spontaneous ıntrabiliary rupture of hydatid liver cysts. Surg Today. 2002;32:594-7.
Dziri C, Paquet JC, Hay JM, Fingerhut A, Msika S, Zeitoun G, et al. Omentoplasty in the prevention of deep abdominal complications after surgery for hydatid disease of the liver: a multicenter, prospective, randomized trial. J Am Coll Surg. 1999:188:281–9.
Kayaalp C, Bostancı B, Yol S, Akoglu M. Distribution of hydatid cysts into liver with reference to cystobiliary communications and cavity-related complications. The American Journal of Surgery. 2003;185:175-9.
Couinaud C. Le foie. Etudes anatomiques et chirurgicales. Masson, Paris, 1957.
Kayaalp C, Sengul N, Akoglu M. Importance of cyst content in hydatid liver surgery. Arch Surg. 2002;137:159-63.
Kılıç M, Yoldaş O, Koç M, Keskek M, Karakose N, Ertan T, et al. Can biliary-cyst communication be predicted before surgery for hepatic hydatid disease: does it matter? Am J Surg. 2008;196:732.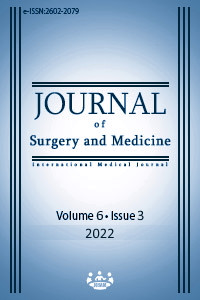 How to Cite
1.
Özdemir Y, Ozer İlter, Sürmelioğlu A, Dalgıç T, Aksoy E, Çaparlar MA, Ulaş M, Özoğul YB, Bostancı EB, Akoğlu M. Risk factors determining bile leakage after multiple liver hydatid cyst surgery. J Surg Med [Internet]. 2022 Mar. 1 [cited 2023 Dec. 2];6(3):306-12. Available from: https://jsurgmed.com/article/view/1072054
License
Copyright (c) 2022 Yılmaz Özdemir, İlter Ozer, Ali Sürmelioğlu, Tahsin Dalgıç, Erol Aksoy, Mehmet Ali Çaparlar, Murat Ulaş, Yusuf Bayram Özoğul, Erdal Birol Bostancı, Musa Akoğlu
This work is licensed under a Creative Commons Attribution-NonCommercial-NoDerivatives 4.0 International License.
#7190