Successful treatment of an adolescent patient with acute subclavian vein occlusion using the Cleaner thrombectomy device
Subclavian vein DVT in adolescent patient and treatment with the Cleaner device
Keywords:
Upper extremity, Deep venous thrombosis, Juvenile, Cleaner device
Abstract
Paget-Schroetter Syndrome is a rare condition characterized by the thrombosis of the axillary and/or subclavian vein due to repetitive activity of the upper extremity. This effect results in exertion-induced deep venous thrombosis (DVT) of the upper extremity. In the literature, it has been reported more frequently among the adult population. We aimed to introduce a 15-year-old female patient who suffered an acute DVT of the left upper extremity, and her successful treatment using the Cleaner thrombectomy device.
Downloads
Download data is not yet available.
References
Kumar R, Harsh K, Saini S, O'Brien SH, Stanek J, Warren P, et al. Treatment-Related Outcomes in Paget–Schroetter Syndrome—A Cross-Sectional Investigation. J Pediatr. 2019;207:226-32. DOI: https://doi.org/10.1016/j.jpeds.2018.11.018
Spencer TR, Lagace RE, Waterman G. Effort thrombosis (Paget-Schroetter syndrome) in a 16-year-old male. Am J Case Rep. 2014;15:333–6. DOI: https://doi.org/10.12659/AJCR.890726
Young K, Tunstall O, Mumford A. Subclavian vein thrombosis in an otherwise healthy 9-year-old boy. BMJ case rep. 2014. doi: 10.1136/bcr-2013. DOI: https://doi.org/10.1136/bcr-2013-202413
Radulescu V. Management of venous thrombosis in the pediatric patient. Pediatric Health Med Ther. 2015;6:111-9. DOI: https://doi.org/10.2147/PHMT.S65697
Betensky M, Bittles MA, Colombani P, Goldenberg NA. How We Manage Pediatric Deep Venous Thrombosis. Semin Intervent Radiol. 2017;34:35–49. DOI: https://doi.org/10.1055/s-0036-1597762
Mahmoud O, Vikatmaa P, Räsänen J, Peltola E, Sihvo E, Vikatmaa L, et al. Catheter-Directed Thrombolysis Versus Pharmacomechanical Thrombectomy for Upper Extremity Deep Venous Thrombosis: A Cost-Effectiveness Analysis. Ann Vasc Surg. 2018;51:246–53. DOI: https://doi.org/10.1016/j.avsg.2018.01.104
Goldenberg NA, Branchford B, Wang M, Ray C, Durham JD, Manco-Johnson MJ. Percutaneous mechanical and pharmacomechanical thrombolysis for occlusive deep vein thrombosis of the proximal limb in adolescent subjects: Findings from an institution-based prospective inception cohort study of pediatric venous thromboembolism. J Vasc Interv Radiol. 2011;22:121–32. DOI: https://doi.org/10.1016/j.jvir.2010.10.013
Fatih E, Yanık B, Çağlar B, Serin S, Bülbül E. A rare cause of upper extremity deep venous thrombosis: Paget Schroetter syndrome. J Surg Med. 2021;5:1230-2. DOI: https://doi.org/10.28982/josam.919650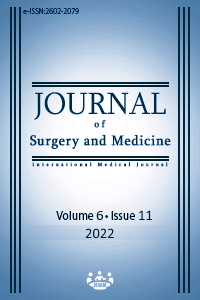 How to Cite
1.
İştar H, Sevük U. Successful treatment of an adolescent patient with acute subclavian vein occlusion using the Cleaner thrombectomy device: Subclavian vein DVT in adolescent patient and treatment with the Cleaner device. J Surg Med [Internet]. 2022 Nov. 8 [cited 2023 Dec. 2];6(11):926-8. Available from: https://jsurgmed.com/article/view/1071638
License
Copyright (c) 2022 Hande İştar , Utkan Sevük
This work is licensed under a Creative Commons Attribution-NonCommercial-NoDerivatives 4.0 International License.
#7560