Posterior ocular parameters following extraocular muscle surgery: an optical coherence tomography study
Keywords:
Choroidal thickness, EDI-OCT, Retinal thickness, Recession surgery, Strabismus
Abstract
Background/Aim: Muscle trauma, vascular injury, and compensatory vasoconstriction during strabismus surgery may cause changes in the choroidal circulation in the early postoperative period. This study aims to evaluate the effect of extraocular muscle surgery on posterior ocular parameters, including central subfield thickness (CST), average retinal thickness (ART), choroidal thickness (CT), and macular volume (MV). Methods: This prospective cohort study included 26 eyes of 26 strabismic patients who underwent single medial or lateral rectus recession surgery using a fornix-based conjunctival incision. All participants underwent detailed ophthalmologic evaluation, including axial length (AL) and spherical equivalent (SE), uncorrected (UCVA), and best-corrected visual acuity (BCVA). Retinal and choroidal images were obtained using spectral-domain optical coherence tomography (OCT). All measurements were performed preoperatively and repeated 1 week and 1 month after surgery. Results: All patients received satisfactory results in terms of deviation. None of the patients showed changes in AL, SE, UCVA, and BCVA. No significant differences were noted in CST and MV values (P=0.472 and P=0.182, respectively). Although subfoveal CT and ART showed statistically significant decreases 1 week after surgery (P=0.012 and P=0.046, respectively), no significant differences in these values were observed 1 month after surgery (P>0.05). No significant differences exist in the measurements between the preoperative, postoperative first week, and first month in nasal and temporal CT (P>0.05). Conclusion: Extraocular muscle surgery performed with the fornix-based conjunctival incision is a safe procedure for posterior ocular parameters, including CST, ART, CT, and MV.
Downloads
Download data is not yet available.
References
Ziaei H, Katibeh M, Mohammadi S, Mirzaei M, Moein HR, Kheiri B, et al. The impact of congenital strabismus surgery on quality of life in children. J Ophthalmic Vis Res. 2016;11(2):188–92. doi: 10.4103/2008-322X.183918.
McBain HB, MacKenzie KA, Hancox J, Ezra DG, Adams GG, Newman SP; Medscape. Does strabismus surgery improve quality and mood, and what factors influence this? Eye (Lond). 2016;30(5):656–67. doi: 10.1038/eye.2016.70.
Gunton KB. Impact of strabismus surgery on health-related quality of life in adults. Curr Opin Ophthalmol. 2014;25(5):406–10. doi: 10.1097/ICU.0000000000000087.
Robaei D, Rose KA, Kifley A, Cosstick M, Ip JM, Mitchell P. Factors associated with childhood strabismus: findings from a population-based study. Ophthalmology. 2006;113(7):1146–53. doi: 10.1016/j.ophtha.2006.02.019.
Nickla DL, Wallman J. The multifunctional choroid. Prog Retin Eye Res. 2010;29(2):144–68. doi: 10.1016/j.preteyeres.2009.12.002.
Wallman J, Wildsoet C, Xu A, Gottlieb MD, Nickla DL, Marran L, et al. Moving the retina: choroidal modulation of refractive state. Vision Res. 1995;35(1):37–50. doi: 10.1016/0042-6989(94)e0049-q.
Nickla DL, Wildsoet C, Wallman J. Visual influences on diurnal rhythms in ocular length and choroidal thickness in chick eyes. Exp Eye Res. 1998;66(2):163–81. doi: 10.1006/exer.1997.0420.
Cheung CMG, Lee WK, Koizumi H, Dansingani K, Lai TYY, Freund KB. Pachychoroid disease. Eye (Lond). 2019;33(1):14–33. doi: 10.1038/s41433-018-0158-4.
Yun C, Han JY, Cho S, Hwang SY, Kim SW, Oh J. Ocular perfusion pressure and choroidal thickness in central serous chorioretinopathy and pigment epitheliopathy. Retina. 2019;39(1):143–9. doi: 10.1097/IAE.0000000000001916.
Spaide RF, Koizumi H, Pozzoni MC. Enhanced depth imaging spectral-domain optical coherence tomography. Am J Ophthalmol. 2008;146(4):496–500. doi: 10.1016/j.ajo.2008.05.032.
Yetkin AA, Simsek A. Evaluation of choroidal thickness before and after strabismus surgery in paediatric patients by spectral-domain optical coherence tomography. Niger J Clin Pract. 2020;23(9):1243–7. doi: 10.4103/njcp.njcp_500_19.
Kasem MA, Sabry D. Detection of macular changes by optical coherence tomography after inferior oblique muscle surgery J AAPOS. 2011;15(4):334–7. doi: 10.1016/j.jaapos.2011.07.003.
Inan K, Niyaz L. The effect of strabismus surgery on choroidal thickness. Eur J Ophthalmol. 2018;28(3):268–71. doi: 10.5301/ejo.5001025.
Ersan I, Oltulu R, Altunkaya O, Satirtav G, Arikan S, Donbaloglu M, et al. Relationship of inferior oblique overaction to macular and subfoveal choroidal thickness. J AAPOS. 2015;19(1):21–3. doi: 10.1016/j.jaapos.2014.09.016.
Niyaz L, Yucel OE, Ariturk N, Terzi O. Choroidal thickness in strabismus and amblyopia cases. Strabismus. 2017;25(2):56–9. doi: 10.1080/09273972.2017.1318152.
Aygit ED, Yilmaz I, Ozkaya A, Alkin Z, Gokyigit B, Yazici AT, et al. Choroidal thickness of children's eyes with anisometropic and strabismic amblyopia. J AAPOS. 2015;19(3):237–41. doi: 10.1016/j.jaapos.2015.03.013.
Liu CH, Ong SJ, Huang CY, Wu WC, Kao LY, Yang ML. Macular thickness, foveal volume, and choroidal thickness in amblyopic eyes and their relationships to the treatment outcome. J Ophthalmol. 2018;2018:1967621. doi: 10.1155/2018/1967621.
Atalay HT, Aribas YK, Ucgul AY, Ozmen MC. Subfoveal choroidal thickness change following strabismus surgery. Kocatepe Medical Journal. 2019;20(1):183–7. doi: 10.18229/kocatepetip.575058.
Steiner M, Esteban-Ortega MDM, Muñoz-Fernández S. Choroidal and retinal thickness in systemic autoimmune and inflammatory diseases: a review. Surv Ophthalmol. 2019;64(6):757–69. doi: 10.1016/j.survophthal.2019.04.007.
Mikhail M, Verran R, Farrokhyar F, Sabri K. Choice of conjunctival incisions for horizontal rectus muscle surgery--a survey of American Association for Pediatric Ophthalmology and Strabismus members. J AAPOS. 2013;17(2):184–7. doi: 10.1016/j.jaapos.2012.11.015.
Margolis R, Spaide RF. A pilot study of enhanced depth imaging optical coherence tomography of the choroid in normal eyes. Am J Ophthalmol. 2009;147(5):811–5. doi: 10.1016/j.ajo.2008.12.008.
Manjunath V, Taha M, Fujimoto JG, Duker JS. Choroidal thickness in normal eyes measured using Cirrus HD optical coherence tomography. Am J Ophthalmol. 2010;150(3):325–329.e1. doi: 10.1016/j.ajo.2010.04.018.
Zhou JQ, Fu J, Li JP, Wang XZ, Wang WY, Zhao BW, et al. Retinal vascular diameter changes assessed with a computer-assisted software after strabismus surgery. Int J Ophthalmol. 2020;13(4):620–4. doi: 10.18240/ijo.2020.04.14.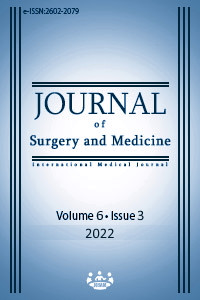 How to Cite
1.
Uzun A, Keleş Şahin A. Posterior ocular parameters following extraocular muscle surgery: an optical coherence tomography study. J Surg Med [Internet]. 2022 Mar. 1 [cited 2023 Jun. 6];6(3):364-8. Available from: https://jsurgmed.com/article/view/1058713
License
Copyright (c) 2022 Aslıhan Uzun, Asena Keleş Şahin
This work is licensed under a Creative Commons Attribution-NonCommercial-NoDerivatives 4.0 International License.
#7172