The prognostic nutritional index is associated with mortality of patients in intensive care unit
Keywords:
Prognostic nutritional index, Intensive care, Mortality
Abstract
Background/Aim: It has been reported that the prognostic nutritional index (PNI) is ), an immunonutritional index, associated with poor prognosis, especially in cardiovascular and malignant diseases. However, the clinical significance of PNI in intensive care (ICU) patients remains unclear. In this study, we aimed to measure the predictive value of the PNI in predicting mortality in patients hospitalized in the ICU. Methods: A total of 80 patients hospitalized in the internal medicine ICU of our hospital between January 2021 and September 2021 were included in this observational cohort study. The patients' demographic characteristics, comorbidities, laboratory parameters, need for and duration of mechanical ventilation, length of stay in ICU, and mortality rates were retrospectively analyzed. The patients were divided into two groups according to their survival; the first group comprised of survivors while the second group comprised of those who died in the ICU. The two groups were compared in terms of all variables. Results: The mean age of all subjects included in the study was 63 (18.2) years and 50% (n=40) were female and 50% (n=40) were male. When patients are grouped as survivors and non-survivors, the mean age and sex distribution were similar (P=0.23, P=0.27, respectively). The median follow-up period of the patients was 5 (IQR 3-11) days and the mortality rate was 38.7% (n=31). Those in the non-survivor group had higher APACHE II and SOFA scores (P=0.02, P<0.001, respectively), and a lower PNI level (P=0.01). In the multivariate regression analysis, PNI value [OR: 1.210 (95%CI: 1.048-1.396) P=0.009] was the negative independent risk factor and SOFA score [OR: 1.697 (95%CI: 1.201-2.398) P=0.03] was a positive independent risk factor. Conclusion: Despite our small cohort, we believe our findings corroborate our hypothesis that as a simple and inexpensive test, PNI is a useful biomarker to assess mortality risk in ICU patients.
Downloads
Download data is not yet available.
References
Keele L, Harris S, Grieve R. Does transfer to intensive care units reduce mortality? A comparison of an instrumental variables design to risk adjustment. Med Care. 2019;57(11):73-9. doi: 10.1097/MLR.0000000000001093.
Atlas A, Buyukfirat E, Ethemoglu KB, Karahan MA, Altay N. Factors affecting mortality in trauma patients hospitalized in the intensive care unit. J Surg Med. 2020;4(11):930-33. doi: 10.28982/josam.812409.
Zhang XM, Zhang WW, Yu XZ, Dou QL, Cheng AS. Comparing the performance of SOFA, TPA combined with SOFA and APACHE-II for predicting ICU mortality in critically ill surgical patients: A secondary analysis. Clin Nutr. 2020;39(9):2902-9. doi: 10.1016/j.clnu.2019.12.026.
Sun K, Chen S, Xu J, Li G, He Y. The prognostic significance of the prognostic nutritional index in cancer: a systematic review and meta-analysis. J Cancer Res Clin Oncol. 2014;140(9):1537-49. doi: 10.1007/s00432-014-1714-3.
Li S, Zhang J, Zheng H, Wang X, Liu Z, Sun T. Prognostic role of serum albumin, total lymphocyte count, and mini nutritional assessment on outcomes after geriatric hip fracture surgery: a meta-analysis and systematic review. J Arthroplasty. 2019;34(6):1287-96. doi: 10.1016/j.arth.2019.02.003.
Tojek K, Banaś W, Czerniak B, Kowalczyk G, Szukay B, Korzycka-Wilińska W, et al. Total blood lymphocyte count as a prognostic factor among unselected inpatients. Adv Med Sci. 2020;65(1):141-8. doi: 10.1016/ j.advms.2020.01.001.
Yap FH, Joynt GM, Buckley TA, Wong EL. Association of serum albumin concentration and mortality risk in critically ill patients. Anaesth Intensive Care. 2002;30(2):202-7. doi: 10.1177/0310057X0203000213.
Vincent JL, Russell JA, Jacob M, Martin G, Guidet B, Wernerman J, et al. Albumin administration in the acutely ill: what is new and where next? Crit Care. 2014;18(4):231. doi: 10.1186/cc13991.
Sertdemir AL, İcli A, Aribas A, Tatar S, Akilli NB, Alsancak Y, et al. Prognostic nutritional index and the risk of acute kidney injury in patients with acute coronary syndrome. Rev Assoc Med Bras (1992). 2021;67(8):1124-9. doi: 10.1590/1806-9282.20210460.
Yıldırım A, Kucukosmanoglu M, Koyunsever NY, Cekici Y, Belibagli MC, Kılıc S. Combined effects of nutritional status on long-term mortality in patients with non-ST segment elevation myocardial infarction undergoing percutaneous coronary intervention. Rev Assoc Med Bras (1992). 2021;67(2):235-42. doi: 10.1590/1806-9282.67.02.20200610.
Li D, Yuan X, Liu J, Li C, Li W. Prognostic value of prognostic nutritional index in lung cancer: a meta-analysis. J Thorac Dis. 2018;10(9):5298-307. doi: 10.21037/ jtd.2018.08.51.
Zhou W, Cao Q, Qi W, Xu Y, Liu W, Xiang J, et al. Prognostic nutritional index predicts short-term postoperative outcomes after bowel resection for Crohn's disease. Nutr Clin Pract. 2017;32(1):92-7. doi: 10.1177/0884533616661844.
Vincent JL, Bruzzi de Carvalho F. Severity of illness. Semin Respir Crit Care Med. 2010;31(1):31-8. doi: 10.1055/ s-0029-1246287.
Sahinturk H, Kandemir E, Ensarioglu M, Yesiler FI, Gedik E, Zeyneloglu P. Critically ill COVID-19 patients with acute injury: A single-center cohort study. J Surg Med. 2021;5(11):1107-12. doi: 10.28982/josam.993577.
de Grooth HJ, Geenen IL, Girbes AR, Vincent JL, Parienti JJ, Oudemans-van Straaten HM. SOFA and mortality endpoints in randomized controlled trials: a systematic review and meta-regression analysis. Crit Care. 2017;21(1):38. doi: 10.1186/ s13054-017-1609-1.
Fuchs PA, Czech IJ, Krzych Ł J. Mortality prediction using SOFA score in critically ill surgical and non-surgical patients: which parameter is the most valuable? Medicina (Kaunas). 2020;56(6). doi: 10.3390/ medicina56060273.
Eckart A, Struja T, Kutz A, Baumgartner A, Baumgartner T, Zurfluh S, et al. Relationship of nutritional status, inflammation, and serum albumin levels during acute illness: a prospective study. Am J Med. 2020;133(6):713-22. doi: 10.1016/j.amjmed.2019.10.031.
McClave SA, Taylor BE, Martindale RG, Warren MM, Johnson DR, Braunschweig C, et al. Guidelines for the provision and assessment of nutrition support therapy in the adult critically ill patient: Society of Critical Care Medicine (SCCM) and American Society for Parenteral and Enteral Nutrition (A.S.P.E.N.). J Parenter Enteral Nutr. 2016;40(2):159-211. doi: 10.1177/0148607115621863.
Sheinenzon A, Shehadeh M, Michelis R, Shaoul E, Ronen O. Serum albumin levels and inflammation. Int J Biol Macromol. 2021;184:857-62. doi: 10.1016/ j.ijbiomac.2021.06.140.
McCullough KC, Summerfield A. Basic concepts of immune response and defense development. ILAR J. 2005;46(3):230-40. doi: 10.1093/ ilar.46.3.230.
Huang Z, Fu Z, Huang W, Huang K. Prognostic value of neutrophil-to-lymphocyte ratio in sepsis: A meta-analysis. Am J Emerg Med. 2020;38(3):641-7. doi: 10.1016/ j.ajem.2019.10.023.
Djordjevic D, Rondovic G, Surbatovic M, Stanojevic I, Udovicic I, Andjelic T, et al. Neutrophil-to-lymphocyte ratio, monocyte-to-lymphocyte ratio, platelet-to-lymphocyte ratio, and mean platelet volume-to-platelet count ratio as biomarkers in critically ill and injured patients: Which ratio to choose to predict outcome and nature of bacteremia? Mediators Inflamm. 2018;2018:3758068. doi: 10.1155/2018/3758068.
Buzby GP, Mullen JL, Matthews DC, Hobbs CL, Rosato EF. Prognostic nutritional index in gastrointestinal surgery. Am J Surg. 1980;139(1):160-7. doi: 10.1016/0002-9610(80)90246-9.
Wada H, Dohi T, Miyauchi K, Jun S, Endo H, Doi S, et al. Relationship between the prognostic nutritional index and long-term clinical outcomes in patients with stable coronary artery disease. J Cardiol. 2018;72(2):155-61. doi: 10.1016/j.jjcc.2018.01.012.
Keskin M, İpek G, Aldağ M, Altay S, Hayıroğlu M, Börklü EB, et al. Effect of nutritional status on mortality in patients undergoing coronary artery bypass grafting. Nutrition. 2018;48:82-6. doi: 10.1016/ j.nut.2017.10.024.
Hayashi J, Uchida T, Ri S, Hamasaki A, Kuroda Y, Yamashita A, et al. Clinical significance of the prognostic nutritional index in patients undergoing cardiovascular surgery. Gen Thorac Cardiovasc Surg. 2020;68(8):774-9. doi: 10.1007/s11748-020-01300-x.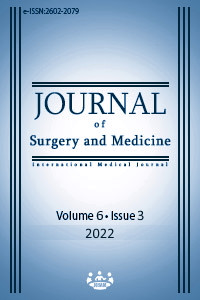 How to Cite
1.
Kayhan S, Şimşek M, Gülsoy Kırnap N. The prognostic nutritional index is associated with mortality of patients in intensive care unit. J Surg Med [Internet]. 2022 Mar. 1 [cited 2023 Nov. 29];6(3):313-6. Available from: https://jsurgmed.com/article/view/1055862
License
Copyright (c) 2022 Sanem Kayhan, Meltem Şimşek, Nazlı Gülsoy Kırnap
This work is licensed under a Creative Commons Attribution-NonCommercial-NoDerivatives 4.0 International License.
#7178