Patient anxiety levels in orthopedic outpatient clinics at hospitals with different patient population densities
Keywords:
Anxiety, Outpatient clinics, Patient density, Orthopedics
Abstract
Background/Aim: Prolonged wait times for examination and delayed hospital appointment times can negatively affect patients, and increased anxiety in orthopedic outpatient clinic patients can disrupt diagnosis and treatment and increase psychological tension in both patients and healthcare professionals. The aim of our study is to compare the anxiety levels of patients at institutions with different patient population densities. Methods: This cross-sectional survey study included 189 patients who voluntarily completed the Beck Anxiety Scale while registering for treatment of non-traumatic conditions at the orthopedics and traumatology outpatient clinics of two tertiary health care hospitals. Patients were grouped by hospital attended. The study assessed patients' age, education level, estimated monthly income levels, and anxiety levels. Results: 99 patients from the public hospitals and 90 from the private hospitals participated in the survey. A significant positive correlation existed between educational status and income level (P<0.001). No significant difference in income level existed between the two groups (P=0.063), but the education level of patients in the private hospital group was significantly higher than in the public hospital group (P<0.001). The anxiety levels of the patients in the private hospital group was significantly higher (P=0.043); this difference was correlated to education level rather than income level. Patients with higher education levels demonstrated significantly higher anxiety levels (P<0.001). Conclusion: The study concluded that the anxiety levels of patients who applied to the orthopedic outpatient clinics were independent of facility patient density and related primarily to patient attributes. Prospective studies are needed examining the relationship between patient anxiety levels and waiting time and patient anxiety levels and orthopedic disease.
Downloads
Download data is not yet available.
References
Vincent HK, Horodyski M, Vincent KR, Brisbane ST, Sadasivan KK. Psychological Distress After Orthopedic Trauma: Prevalence in Patients and Implications for Rehabilitation. PM&R. 2015;7:978–89.
Wolfensberger A, Vuistiner P, Konzelmann M, Plomb-Holmes C, Léger B, Luthi F. Clinician and Patient-reported Outcomes Are Associated With Psychological Factors in Patients With Chronic Shoulder Pain. Clin Orthop Relat Res. 2016;474:2030–9.
Alizadehkhaiyat O, Fisher AC, Kemp GJ, Frostick SP. Pain, Functional Disability, and Psychologic Status in Tennis Elbow: The Clinical Journal of Pain. 2007;23:482–9.
Bagheri F, Ebrahimzadeh MH, Moradi A, Bidgoli HF. Factors Associated with Pain, Disability and Quality of Life in Patients Suffering from Frozen Shoulder. Arch Bone Jt Surg. 2016;4:243–7.
O'Donnell ML, Creamer M, Pattison P, Atkin C. Psychiatric morbidity following injury. Am J Psychiatry. 2004;161:507–14.
Sharma A, Cm GD. Study of depressive and anxiety symptoms in patients with orthopedic trauma. Indian Journal of Orthopaedics Surgery 2016;2(4):393-5.
Chlapecka A, Kagstrom A, Cermakova P. Educational attainment inequalities in depressive symptoms in more than 100,000 individuals in Europe. Eur Psychiatry. 2020;63:e97.
Bjelland I, Krokstad S, Mykletun A, Dahl AA, Tell GS, Tambs K. Does a higher educational level protect against anxiety and depression? The HUNT study. Soc Sci Med. 2008;66:1334–45.
Demir B, Gürsu S, Yildirim T, Er T. Evaluation of anxiety levels in patients with chronic orthopedic diseases. Acta Orthop Traumatol Turc. 2012;46:420–4.
Ridley M, Rao G, Schilbach F, Patel V. Poverty, depression, and anxiety: Causal evidence and mechanisms. Science. 2020;370:eaay0214.
Haberal B, Altintaş E, Beyaz S. Assessment of anxiety and depression levels in parents of children presenting to the orthopedics outpatient clinic with the complaint of in-toeing. J Surg Med. 2020;4(11):920-4.
Duramaz A, Koluman A, Duramaz A, Kural C. The relationship between impulsivity and anxiety and recurrent metacarpal fractures due to punch injury. International Orthopaedics (SICOT). 2020. doi:10.1007/s00264-020-04794-5.
Teunis T, Bot AGJ, Thornton ER, Ring D. Catastrophic Thinking Is Associated With Finger Stiffness After Distal Radius Fracture Surgery. Journal of Orthopaedic Trauma. 2015;29:e414–20.
Skeppholm M, Fransson R, Hammar M, Olerud C. The association between preoperative mental distress and patient-reported outcome measures in patients treated surgically for cervical radiculopathy. Spine J. 2017;17:790–8.
Ali A, Lindstrand A, Sundberg M, Flivik G. Preoperative Anxiety and Depression Correlate With Dissatisfaction After Total Knee Arthroplasty: A Prospective Longitudinal Cohort Study of 186 Patients, With 4-Year Follow-Up. J Arthroplasty. 2017;32:767–70.
Pinto PR, McIntyre T, Ferrero R, Almeida A, Araújo-Soares V. Predictors of acute postsurgical pain and anxiety following primary total hip and knee arthroplasty. J Pain. 2013;14:502–15.
Vranceanu AM, Beks RB, Guitton TG, Janssen SJ, Ring D. How do Orthopaedic Surgeons Address Psychological Aspects of Illness? Arch Bone Jt Surg. 2017;5:2–9.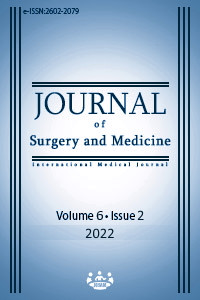 How to Cite
1.
Turan K, Tunçez M, Muratoğlu OG, Ergün T, Çabuk H. Patient anxiety levels in orthopedic outpatient clinics at hospitals with different patient population densities. J Surg Med [Internet]. 2022 Feb. 1 [cited 2023 Oct. 4];6(2):154-7. Available from: https://jsurgmed.com/article/view/1051222
License
Copyright (c) 2022 Kaya Turan, Mahmut Tunçez, Osman Görkem Muratoğlu, Tuğrul Ergün, Haluk Çabuk
This work is licensed under a Creative Commons Attribution-NonCommercial-NoDerivatives 4.0 International License.
#7148