The effect of preoperative prognostic nutritional index on outcome in glioblastoma multiforme patients
Keywords:
Glioblastoma Multiforme, Prognostic Nutritional Index, IDH, ATRX, Overall Survival
Abstract
Background/Aim: Glioblastoma multiforme (GBM) is the most common primary malignant brain tumor subtype with a poor prognosis despite various treatments. Some prognostic markers on survival (such as age, Eastern Cooperative Oncology Group Performance Score (ECOG-PS), isocitrated hydrogenase (IDH) status, alpha thalassemia/mental retardation syndrome X-linked (ATRX) mutation status, possibility of extensive surgery) have been defined. Prognostic Nutritional Index (PNI) has been evaluated in various cancers (such as lung, esophagus, and pancreas), and patients with a low PNI score have been associated with a poor prognosis for overall survival (OS). Our study aimed to examine the effectiveness of molecular and demographic characteristics and preoperative PNI score that may affect OS in GBM patients. Methods: In this retrospective cohort study, GBM diagnosed patients who were 18 years old or older, were included in the study. We measured their pretreatment PNI score and performed multivariate Cox regression analyses of OS in GBM patients. Results: A total of 107 patients were included in the study. Median age was 58 (range, 32-83) years. 72 patients (67.3%) were male and 35 patients (32.7%) were female. The mean preoperative PNI level was calculated as 50.5. The median overall-survival (mOS) was 19.7 months and the median time to progression (mTTP) was 8.1 months. There was no statistically significant result on overall survival in the univariate analysis of patients with PNI>50.5 (P=0.121). In multivariate analysis, being 70 years or older (P=0.012), IDH-1 wild and ATRX mutant patients (P=0.016), IDH-1 mutant and ATRX wild patients (P=0.037), and TTP 12 months and older (P<0.001) were considered as independent risk factors on overall survival. Conclusions: In our study, the effect of preoperative PNI score on survival could not be demonstrated. Further studies are needed to elucidate the potential impact of PNI on outcomes in patients with GBM.
Downloads
Download data is not yet available.
References
Stupp R, Mason WP, van den Bent MJ, Weller M, Fisher B, Taphoorn MJ, et al. Radiotherapy plus concomitant and adjuvant temozolomide for glioblastoma. N Engl J Med. 2005 Mar 10;352(10):987-96.
Stupp R, Hegi ME, Mason WP, van den Bent MJ, Taphoorn MJ, Janzer RC, et al. Effects of radiotherapy with concomitant and adjuvant temozolomide versus radiotherapy alone on survival in glioblastoma in a randomised phase III study: 5-year analysis of the EORTC-NCIC trial. Lancet Oncol. 2009 May;10(5):459-66.
Reni M, Mazza E, Zanon S, Gatta G, Vecht CJ. Central nervous system gliomas. Crit Rev Oncol Hematol. 2017 May;113:213-34.
Ohgaki H, Burger P, Kleihues P. Definition of primary and secondary glioblastoma--response. Clin Cancer Res. 2014 Apr 1;20(7):2013.
Liu XY, Gerges N, Korshunov A, Sabha N, Khuong-Quang DA, Fontebasso AM, et al. Frequent ATRX mutations and loss of expression in adult diffuse astrocytic tumors carrying IDH1/IDH2 and TP53 mutations. Acta Neuropathol. 2012 Nov;124(5):615-25.
Ostrom QT, Gittleman H, Xu J, Kromer C, Wolinsky Y, Kruchko C, et al. CBTRUS statistical report: primary brain and other central nervous system tumors diagnosed in the United States in 2009–2013. Neuro Oncol 2016;18(suppl_5): v1–75.
Louis DN, Perry A, Reifenberger G, von Deimling A, Figarella-Branger D, Cavenee WK, et al. The 2016 World Health Organization Classification of Tumors of the Central Nervous System: a summary. Acta Neuropathol. 2016 Jun;131(6):803-20.
Mason M, Maurice C, McNamara MG, Tieu MT, Lwin Z, Millar BA, et al. Neutrophil-lymphocyte ratio dynamics during concurrent chemo-radiotherapy for glioblastoma is an independent predictor for overall survival. J Neurooncol. 2017 May;132(3):463-71.
Kang M, Chang CT, Sung HH, Jeon HG, Jeong BC, Seo SI, et al. Prognostic Significance of Pre- to Postoperative Dynamics of the Prognostic Nutritional Index for Patients with Renal Cell Carcinoma Who Underwent Radical Nephrectomy. Ann Surg Oncol. 2017 Dec;24(13):4067-75.
Xu WZ, Li F, Xu ZK, Chen X, Sun B, Cao JW, et al. Preoperative albumin-to-globulin ratio and prognostic nutrition index predict prognosis for glioblastoma. Onco Targets Ther. 2017 Feb 8;10:725-33.
Zhou XW, Dong H, Yang Y, Luo JW, Wang X, Liu YH, et al. Significance of the prognostic nutritional index in patients with glioblastoma: A retrospective study. Clin Neurol Neurosurg. 2016 Dec;151:86-91.
Wang PF, Liu N, Song HW, Yao K, Jiang T, Li SW, et al. IDH-1R132H mutation status in diffuse glioma patients: implications for classification. Oncotarget. 2016 May 24;7(21):31393-400.
van den Bent MJ, Weller M, Wen PY, Kros JM, Aldape K, Chang S. A clinical perspective on the 2016 WHO brain tumor classification and routine molecular diagnostics. Neuro Oncol. 2017 May 1;19(5):614-24.
Rigamonti A, Imbesi F, Silvani A, Lamperti E, Agostoni E, Porcu L, et al. Prognostic nutritional index as a prognostic marker in glioblastoma: Data from a cohort of 282 Italian patients. J Neurol Sci. 2019 May 15;400:175-9.
Onodera T, Goseki N, Kosaki G. Prognostic nutritional index in gastrointestinal surgery of malnourished cancer patients. Nihon Geka Gakkai Zasshi. 1984 Sep;85(9):1001-5.
Hu Y, Shen J, Liu R, Feng Z, Zhang C, Ling L, et al. Prognostic value of pretreatment prognostic nutritional index in non-small cell lung cancer: A systematic review and meta-analysis. Int J Biol Markers. 2018 Nov;33(4):372-8.
Xue Y, Zhou X, Xue L, Zhou R, Luo J. The role of pretreatment prognostic nutritional index in esophageal cancer: A meta-analysis. J Cell Physiol. 2019 Nov;234(11):19655-662.
Li S, Tian G, Chen Z, Zhuang Y, Li G. Prognostic Role of the Prognostic Nutritional Index in Pancreatic Cancer: A Meta-analysis. Nutr Cancer. 2019;71(2):207-13.
Ding JD, Yao K, Wang PF, Yan CX. Clinical significance of prognostic nutritional index in patients with glioblastomas. Medicine (Baltimore). 2018 Nov;97(48):e13218.
He ZQ, Ke C, Al-Nahari F, Duan H, Guo CC, Wang Y, et al. Low preoperative prognostic nutritional index predicts poor survival in patients with newly diagnosed high-grade gliomas. J Neurooncol. 2017 Apr;132(2):239-47.
Cheng HB, Yue W, Xie C, Zhang RY, Hu SS, Wang Z. IDH1 mutation is associated with improved overall survival in patients with glioblastoma: a meta-analysis. Tumour Biol. 2013 Dec;34(6):3555-9.
Heaphy CM, de Wilde RF, Jiao Y, Klein AP, Edil BH, Shi C, et al. Altered telomeres in tumors with ATRX and DAXX mutations. Science. 2011 Jul 22;333(6041):425.
Cai HQ, Wang PF, Zhang HP, Cheng ZJ, Li SW, He J, et al. Phosphorylated Hsp27 is mutually exclusive with ATRX loss and the IDH1R132Hmutation and may predict better prognosis among glioblastomas without the IDH1 mutation and ATRX loss. J Clin Pathol. 2018 Aug;71(8):702-7.
Leeper HE, Caron AA, Decker PA, Jenkins RB, Lachance DH, Giannini C. IDH mutation, 1p19q codeletion and ATRX loss in WHO grade II gliomas. Oncotarget. 2015 Oct 6;6(30):30295-305.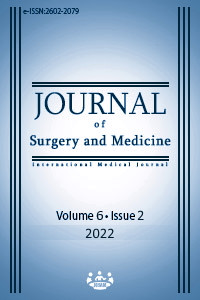 How to Cite
1.
Oyman A, Işık S, Eröz S, Özçelik M, Cil I, Alan O, Başak M. The effect of preoperative prognostic nutritional index on outcome in glioblastoma multiforme patients. J Surg Med [Internet]. 2022 Feb. 1 [cited 2023 Dec. 11];6(2):177-80. Available from: https://jsurgmed.com/article/view/1049310
License
Copyright (c) 2022 Abdilkerim Oyman, Selver Işık, Seda Eröz, Melike Özçelik, Ibrahim Cil, Ozkan Alan, Mustafa Başak
This work is licensed under a Creative Commons Attribution-NonCommercial-NoDerivatives 4.0 International License.
#7145