Is hypnosis an effective alternative to medical therapy for hyperemesis gravidarum?
Keywords:
Feeding, Hyperemesis, Hypnosis, Hospitalization, Pregnancy
Abstract
Background/Aim: Not only because of the deterioration of the general condition of pregnant women, but also considering the extra burden of long hospitalizations, in patients with hyperemesis alternative treatments become even more important. The aim of this study was to determine whether medical hypnosis is an effective and tolerated treatment for nausea and vomiting of pregnancy thus can be a good alternative to medical therapy for pregnant women with severe hyperemesis that would require hospitalization. Methods: A cross sectional study was conducted with 40 pregnant women who were hospitalized for hyperemesis gravidarum between 6-20 weeks of pregnancy. The PUQE test was performed in a face-to-face interview to determine nausea and vomiting severity. All patients were given the same medical treatment and hypnosis was performed with alternate patients after stabilization, by the same trained hypnotist. After the day of hypnosis all patients were again given the PUQE test. The groups were compared according to PUQE test results, the length of hospital stay and the time of first enteral feeding. Results: The groups were similar in terms of socio-demographic characteristics. The median PUQE scores were lower and the median hospitalization time was significantly shorter in the hypnosis group (P<0.001; P=0.010). The hypnosis group switched to oral nutrition earlier than the control group and this was statistically significant (P=0.034). Conclusion: Hypnotherapy should be regarded as the treatment of choice in hyperemesis gravidarum, not only by increasing women's emotional well-being during pregnancy but also reducing unnecessary and prolonged hospitalizations.
Downloads
Download data is not yet available.
References
Einarson TR, Piwko C, Koren G. Prevalence of nausea and vomiting of pregnancy in the USA: a meta-analysis. J Popul Ther Clin Pharmacol. 2013;20:163-70.
Yilmaz E, Yilmaz Z, Cakmak B, et al. Nausea and Vomiting in Early Pregnancy of Adolescents: Relationship with Depressive Symptoms. J Pediatr Adolesc Gynecol. 2016;29(1):65-8.
McCarthy FP, Lutomski JE, Greene RA. Hyperemesis gravidarum: current perspectives. Int J Women Health 2014;6:719-25.
McParlin C, O'Donnell A, Robson SC, et al. Treatments for Hyperemesis Gravidarum and Nausea and Vomiting in Pregnancy: a Systematic Review. JAMA. 2016;316(13):1392-401.
Emami-Sahebi A, Elyasi F, Yazdani-Charati J, Shahhosseini Z. Psychological interventions for nausea and vomiting of pregnancy: A systematic review. Taiwan J Obstet Gynecol. 2018;57(5):644-9.
Williamson A. What is hypnosis and how might it work? Palliat Care. 2019;12:1178224219826581.
Koren G, Boskovic R, Hard M, Maltepe C, Navioz Y, Einarson A. Motherisk-PUQE scoring system for nausea and vomiting of pregnancy. Am J Obstet Gynecol. 2002;186(5 Suppl Understanding):S228-31.
Simon E, Schwartz MD. Medical Hypnosis for Hyperemesis Gravidarum. BIRTH. 1999;26:4:248-54.
Häuser W, Hagl M, Schmierer A, Hansen E. The efficacy, safety and applications of medical hypnosis—a systematic review of meta-analyses. Dtsch Arztebl Int. 2016;113:289–96.
Slater E. Hypnosis. Br Med J. 1949;2(4633):914. doi: 10.1136/bmj.2.4633.914-a.
Madrid A, Giovannoli R, Wolfe M. Treating persistent nausea of pregnancy with hypnosis: four cases. Am J Clin Hypn. 2011;54(2):107-15.
Newman V, Fullerton JT, Anderson PO. Clinical advances in the management of severe nausea and vomiting during pregnancy. J Obstet Gynecol Neonatal Nurs. 1993;22(6):483-90.
Bacak SJ, Callaghan WM, Dietz PM, Crouse C. Pregnancy-associated hospitalizations in the United States, 1999-2000. American journal of obstetrics and gynecology. 2005;192:592-7.
Piwko C, Koren G, Babashov V, Vicente C, Einarson TR. Economic burden of nausea and vomiting of pregnancy in the USA. Journal of population therapeutics and clinical pharmacology. 2013;20:e149-60.
Torem MS. Hypnotherapeutic techniques in the treatment of hyperemesis gravidarum. Am J Clin Hypn. 1994;37(1):1-11.
Fuchs K, Paldi E, Abramovici H, Peretzi BA. Treatment of hyperemesis gravidarum by hypnosis. The International Journal of Clinical and Experimental Hypnosis. 1980;XXVIII(4):313-23.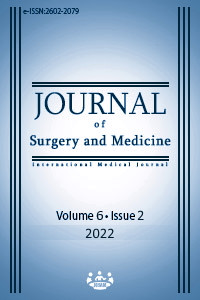 How to Cite
1.
Soysal Çağanay, Yilmaz E. Is hypnosis an effective alternative to medical therapy for hyperemesis gravidarum?. J Surg Med [Internet]. 2022 Feb. 1 [cited 2023 Sep. 24];6(2):144-8. Available from: https://jsurgmed.com/article/view/1037924
License
Copyright (c) 2022 Çağanay Soysal, Elif Yilmaz
This work is licensed under a Creative Commons Attribution-NonCommercial-NoDerivatives 4.0 International License.
#7151