The effect of Covid-19 pandemic on gastric cancer surgery
Keywords:
Gastric cancer, Surgery, COVID-19
Abstract
Background/Aim: The global spread of the COVID-19 pandemic has led to difficulties in the prevention of other diseases and especially in the maintenance of cancer treatment, along with the attempts to control the pandemic. The present study aims to investigate the clinical, oncological, and financial effects of COVID-19 on patients undergoing radical gastric cancer surgery. Methods: This retrospective cohort study included 46 patients and the clinical, epidemiological, radiological, and laboratory data of these patients were analyzed. Inclusion criteria were patients who were diagnosed with gastric cancer, who underwent radical surgical resection in pre-COVID-19 and during COVID-19 periods. Appropriate surgical options were used by taking precautions against viral transmission. Results: Of the study patients, 56.5% were males, the median age was 69 (42–83) years, and the median length of stay was 9 (7–34) days. The rate of thoracic computed tomography (CT) taken was statistically significantly higher in during-COVID-19 period (P=0.008). The length of the surgery was statistically significantly longer and the estimated blood loss (cc) was lower in during-COVID-19 period (P<0.001, P=0.043, respectively). From a financial point of view, the cost was statistically significantly higher during-COVID-19 period (P=0.038). Conclusion: The use of thoracic CT in the surgical management of gastric cancer patients was increased, the surgery was prolonged, and the estimated blood loss was reduced along with the pandemic. In addition, the cost of patient treatment increased due to increasing amount of the routine examination and surgical materials used.
Downloads
Download data is not yet available.
References
Yusefi A, BagheriLankarani K, Bastani P, RadinManesh M, Kavosi Z. Risk factors for gastric cancer: a systematic review. Asian pac j cancer prev. 2018;19(3):591–03.
Jindal V, Sahu KK, Gaikazian S, Siddiqui AD, Jaiyesimi I. Cancer treatment during COVID-19 pandemic. Med Oncol. 2020;37(7):58.
Liang W, Guan W, Chen R, Wang W, Li J, Xu K, et al. Cancer patients in SARS-CoV-2 infection: a nationwide analysis in China. Lancet Oncol. 2020;21(3):335-7.
Rosa F, Alfieri S. Possible impact of COVID-19 on gastric cancer surgery in Italy. Minerva Chir. 2020;75(5):380-1.
Clavien PA, Barkun J, de Oliveira ML, Vauthey JN, Dindo D, Schulick RD, et al. The Clavien-Dindo classification of surgical complications: five-year experience. Ann Surg. 2009;250(2):187-96.
Li Y, Qin JJ, Wang Z, Yu Y, Wen YY, Chen XK, et al. Surgical treatment for esophageal cancer during the outbreak of COVID-19. ZhonghuaZhong Liu ZaZhi. 2020;42(4): 296-300
Kang WZ, Zhong YX, Ma FH, Liu H, Ma S, Li Y, et al. Treatment strategies for gastric cancer during the COVID-19 pandemic. World J Clin Cases. 2020;8(21):5099-03.
Ma FH, Hu HT, Tian YT. Surgical treatment strategy for digestive system malignancies during the outbreak of novel coronavirus pneumonia. ZhonghuaZhong Liu ZaZhi. 2020;42(3):180-3.
Liu Y, Zhang KC, Huang XH, Xi HQ, Gao YH, Liang WQ et al.Timing of surgery after neoadjuvant chemotherapy for gastric cancer: Impact on outcomes. World J Gastroenterol. 2018;24(2):257-65.
Morais S, Antunes L, Rodrigues J, Fontes F, Bento MJ, Lunet N. The impact of the COVID-19 pandemic on the short-term survival of patients with cancer in Northern Portugal. Int J Cancer. 2021;149(2):287-96.
Chen YH, Peng JS. Treatment strategy for gastrointestinal tumor under the outbreak of novel coronavirus pneumonia in China. Zhonghua Wei Chang WaiKeZaZhi. 2020;23(2):1-4.
Tuech JJ, Gangloff A, Di Fiore F, Michel P, Brigand C, Slim K, et al.Strategy for the practice of digestive and oncological surgery during Covid-19 epidemic. J ViscSurg. 2020;153(3):7-12
Aznab M. Evaluation of COVID 19 infection in 279 cancer patients treated during a 90-day period in 2020 pandemic. Int J ClinOncol. 2020;25(9):1581-6.
Carmona-Bayonas A, Jiménez-Fonseca P, VirizuelaEchaburu J, Antonio M, Font C, Biosca M, et al. Prediction of serious complications in patients with seemingly stable febrile neutropenia: validation of the Clinical Index of Stable Febrile Neutropenia in a prospective cohort of patients from the FINITE study. J Clin Oncol. 2015;33(5):465-71.
Polkowski WP, Sędłak K, Rawicz-Pruszyński K. Treatment of Gastric Cancer Patients During COVID-19 Pandemic: The West is More Vulnerable. Cancer Manag Res. 2020;12:6467-76.
Pigozzi E, Tregnago D, Costa L, Insolda J, Turati E, Rimondini M, et al. Psychological impact of Covid-19 pandemic on oncological patients: a survey in Northern Italy. PLoS One. 2021;16(3): e0248714.
Li YX, He CZ, Liu YC, Zhao PY, Xu XL, Wang YF, et al. The impact of COVID-19 on gastric cancer surgery: a single-center retrospective study. BMC Surg. 2020;20(1):222.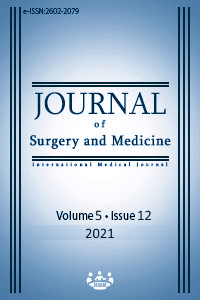 How to Cite
1.
İflazoğlu N, Yalkın Ömer. The effect of Covid-19 pandemic on gastric cancer surgery. J Surg Med [Internet]. 2021 Dec. 1 [cited 2023 Sep. 26];5(12):1210-3. Available from: https://jsurgmed.com/article/view/1033128
License
Copyright (c) 2021 Nidal İflazoğlu, Ömer Yalkın
This work is licensed under a Creative Commons Attribution-NonCommercial-NoDerivatives 4.0 International License.
#7105