Cranial air embolism after transthoracic lung biopsy: A case report of a rare complication
Keywords:
Lung biopsy, CT, Air embolism
Abstract
Cerebral air embolism is a rare and fatal complication of computed tomography-guided transthoracic lung biopsy. Lesions with pulmonary vein involvement—especially cavitary lesions—require particular care during procedures performed with a guided needle. Only 2 ml of an air embolism reaching the cerebral arteries is fatal, and a 1-ml cardiac air embolism can be fatal. Hyperbaric oxygen therapy should be started immediately to reduce mortality and ensure recovery among patients who develop unconsciousness and extremity paralysis during or after the procedure including when diagnosed with cranial CT imaging. Hyperbaric oxygen therapy has been reported to reduce mortality by up to 7% and reduces neurological deficits after 48 hours—even in delayed cases. Thus, transthoracic lung biopsy is important for the diagnosis of peripheral lung masses. Here, we present a rare complication after this procedure. Our goal here was to contribute to early diagnosis and treatment by creating awareness.
Downloads
Download data is not yet available.
References
Yun Su Hwang, MD, In Hwan Lim, MD, Hyun Goo Kang, MD, Jin Sung Cheong, MD Cerebral Air Embolism Following Thyroid Biopsy. J Neurocrit Care. 2016 June 30;9(1):45-9. doi: 10.18700/jnc.2016.9.1.45
Murphy BP, Harford FJ, Cramer FS. Cerebral air embolism resulting from invasive medical procedures. treatment with hyperbaric oxygen. Ann Surg. 1985 Feb;201(2):242-5. doi: 10.1097/00000658-198502000-00019
Richardson CM, Pointon KS, Manhire AR, Macfarlane JT. Percutaneous lung biopsies: a survey of UK practice based on 5444 biopsies. BJR. 2002 Sep;75(897):731-5. doi: 10.1259/bjr.75.897.750731
Tomiyama N, Yasuhara Y, Nakajima Y, Adachi S, Arai Y, Kusumoto M, et al. CT-guided needle biopsy of lung lesions: a survey of severe complication based on 9783 biopsies in Japan. Eur J Radiol. 2006 Jul;59(1):60-4. doi: 10.1016/j.ejrad.2006.02.001
Hare SS, Gupta A, Goncalves AT, Souza CA, Matzinger F, Seely JM. Systemic arterial air embolism after percutaneous lung bi¬opsy. Clinical radiology. 2011Jul;66(7):589-96 doi: 10.1016/j.crad.2011.03.005
Muth CM, Shank ES. Gas embolism. N Engl J Med. 2000 Feb;342:476-82. doi: 10.1056/NEJM200002173420706
Ohashi S, Endoh H, Honda T, Komura N, Satoh K. Cerebral air embolism complicating percutaneous thin-needle biopsy of the lung: complete neurological recovery after hyperbaric oxygen therapy. J Anesth. 2001;15(4):233-6. doi: 10.1007/s005400170008
Ghafoori M, Varedi P. Systemic air embolism after percutaneous transthorasic needle biopsy of the lung. Emerg Radiol. 2008 Sep;15(5):353-6. doi: 10.1007/s10140-007-0685-y
Pandurangadu AV, Paul JA, Barawi M, Irvin CB. A case report of cerebral air embolism after esophagogastroduodenoscopy: diagnosis and management in the emergency department. J Emerg Med. 2012 Dec;43(6):976-9. doi: 10.1016/j.jemermed.2010.11.031
Lattin G Jr, O'Brien W Sr, McCrary B, Kearney P, Gover D. Massive systemic air embolism treated with hyperbaric oxygen therapy following CT-guided transthoracic needle biopsy of a pulmonary nodule. J Vasc Interv Radiol. 2006 Aug;17(8):1355-8. doi: 10.1097/01.RVI.0000231949.35479.89.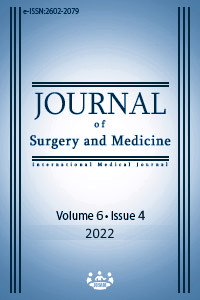 How to Cite
1.
Bulut HT, Soysaldı H, Çoraplı M. Cranial air embolism after transthoracic lung biopsy: A case report of a rare complication. J Surg Med [Internet]. 2022 Apr. 1 [cited 2023 Sep. 24];6(4):521-3. Available from: https://jsurgmed.com/article/view/1032071
License
Copyright (c) 2022 Hacı Taner Bulut, Hasan Soysaldı, Mahmut Çoraplı
This work is licensed under a Creative Commons Attribution-NonCommercial-NoDerivatives 4.0 International License.
#7221