The healing effects of Ganoderma lucidum on intestinal ischemia-reperfusion damage in rats
Keywords:
Antioxidative, Anti-inflammatory, Immunomodulator, Intestinal ischemia-reperfusion, Ganoderma lucidum
Abstract
Background/Aim: Intestinal ischemia-reperfusion (I/R) injury causes serious clinical problems and carries high morbidity and mortality risks. Ganoderma lucidum (GL) is known as an anti-inflammatory immunomodulator and antioxidant. This study aimed to investigate the curative effects of GL on intestinal I/R injury in rats. Methods: Twenty-four Wistar-Albino male rats were randomly divided into three groups. After 30/90 minutes of I/R, intestinal and hepatic tissue examples were histologically examined. Biochemical analysis, serum, intestinal and hepatic tissue malondialdehyde (MDA), glutathione peroxidase (GSH-Px), and superoxide dismutase (SOD) levels were measured. Results: The I/R group had significantly elevated leukocyte, thrombocyte, serum, and intestinal and hepatic tissue MDA levels compared to the sham group (P < 0.05). Serum, intestinal tissue, and liver tissue SOD levels were significantly lower in the I/R group than in the control group (P < 0.05). In addition, GSH-Px levels measured in serum and liver tissue were lower in the I/R group. However, the use of GL prevented these decreases due to I/R damage. Prior administration of GL considerably alleviated histopathologic changes due to I/R injury in the intestinal and liver tissue samples. Conclusions: Our experimental study showed that I/R injury led to significant oxidative stress by inducing free oxygen radicals in intestinal and hepatic tissues. Serum and tissue MDA, SOD, and GSH-Px levels were considerably useful laboratory parameters in identifying oxidative stress. The protective effects of GL on intestinal I/R injury were promising considering these parameters.
Downloads
Download data is not yet available.
References
Djoric P, Zeleskov-Djoric J, Stanisavljevic DM, Markovic ZD, Zivkovic V, Vuletic M, et al. Distal Venous Arterialization and Reperfusion Injury: Focus on Oxidative Status. European Surgical Research. 2012;48(4):200-7. doi: 10.1159/000338619.
Liu J, Pan G, Liang T, Huang P. HGF/c-Met signaling mediated mesenchymal stem cell-induced liver recovery in intestinal ischemia reperfusion model. International journal of medical sciences. 2014;11(6):626.
Kim JW, Kim HI, Kim JH, Kwon OC, Son ES, Lee CS, et al. Effects of Ganodermanondiol, a New Melanogenesis Inhibitor from the Medicinal Mushroom Ganoderma lucidum. International journal of molecular sciences. 2016;17(11). Epub 2016/11/02. doi: 10.3390/ijms17111798. PubMed PMID: 27801787; PubMed Central PMCID: PMCPMC5133799.
Zhou ZY, Tang YP, Xiang J, Wua P, Jin HM, Wang Z, et al. Neuroprotective effects of water-soluble Ganoderma lucidum polysaccharides on cerebral ischemic injury in rats. Journal of ethnopharmacology. 2010;131(1):154-64. Epub 2010/07/06. doi: 10.1016/j.jep.2010.06.023. PubMed PMID: 20600765.
Zhong D, Wang H, Liu M, Li X, Huang M, Zhou H, et al. Ganoderma lucidum polysaccharide peptide prevents renal ischemia reperfusion injury via counteracting oxidative stress. Scientific reports. 2015;5:16910. Epub 2015/11/26. doi: 10.1038/srep16910. PubMed PMID: 26603550; PubMed Central PMCID: PMCPMC4658483.
Lasukova TV, Maslov LN, Arbuzov AG, Burkova VN, Inisheva LI. Cardioprotective Activity of Ganoderma lucidum Extract during Total Ischemia and Reperfusion of Isolated Heart. Bulletin of experimental biology and medicine. 2015;158(6):739-41. Epub 2015/04/22. doi: 10.1007/s10517-015-2851-7. PubMed PMID: 25896590.
Gao JJ, Min BS, Ahn EM, Nakamura N, Lee HK, Hattori M. New triterpene aldehydes, lucialdehydes A-C, from Ganoderma lucidum and their cytotoxicity against murine and human tumor cells. Chemical & pharmaceutical bulletin. 2002;50(6):837-40. Epub 2002/06/05. doi: 10.1248/cpb.50.837. PubMed PMID: 12045343.
Zhu M, Chang Q, Wong LK, Chong FS, Li RC. Triterpene antioxidants from Ganoderma lucidum. Phytotherapy research : PTR. 1999;13(6):529-31. Epub 1999/09/10. doi: 10.1002/(sici)1099-1573(199909)13:6<529::aid-ptr481>3.0.co;2-x. PubMed PMID: 10479768.
Gao Y, Zhou S. Chemopreventive and tumoricidal properties of ling zhi mushroom Ganoderma lucidum (W. Curt.: Fr.) Lloyd (Aphyllophoromycetideae). Part II. Mechanism considerations. International Journal of Medicinal Mushrooms. 2004;6(3).
Chiu CJ, McArdle AH, Brown R, Scott HJ, Gurd FN. Intestinal mucosal lesion in low-flow states. I. A morphological, hemodynamic, and metabolic reappraisal. Archives of surgery (Chicago, Ill: 1960). 1970;101(4):478-83. Epub 1970/10/01. doi: 10.1001/archsurg.1970.01340280030009. PubMed PMID: 5457245.
Viñas JL, Sola A, Genescà M, Alfaro V, Pí F, Hotter G. NO and NOS isoforms in the development of apoptosis in renal ischemia/reperfusion. Free radical biology & medicine. 2006;40(6):992-1003. Epub 2006/03/17. doi: 10.1016/j.freeradbiomed.2005.10.046. PubMed PMID: 16540395.
Zimmerman BJ, Granger DN. Reperfusion injury. The Surgical clinics of North America. 1992;72(1):65-83. Epub 1992/02/01. doi: 10.1016/s0039-6109(16)45628-8. PubMed PMID: 1731390.
Yamamoto S, Tanabe M, Wakabayashi G, Shimazu M, Matsumoto K, Kitajima M. The role of tumor necrosis factor-alpha and interleukin-1beta in ischemia-reperfusion injury of the rat small intestine. The Journal of surgical research. 2001;99(1):134-41. Epub 2001/06/26. doi: 10.1006/jsre.2001.6106. PubMed PMID: 11421615.
Ceulemans LJ, Verbeke L, Decuypere JP, Farré R, De Hertogh G, Lenaerts K, et al. Farnesoid X Receptor Activation Attenuates Intestinal Ischemia Reperfusion Injury in Rats. PloS one. 2017;12(1):e0169331. Epub 2017/01/07. doi: 10.1371/journal.pone.0169331. PubMed PMID: 28060943; PubMed Central PMCID: PMCPMC5218501.
Schoots IG, Levi M, Roossink EP, Bijlsma PB, van Gulik TM. Local intravascular coagulation and fibrin deposition on intestinal ischemia-reperfusion in rats. Surgery. 2003;133(4):411-9.
Zheng DS, Chen LS. Triterpenoids from Ganoderma lucidum inhibit the activation of EBV antigens as telomerase inhibitors. Experimental and therapeutic medicine. 2017;14(4):3273-8. Epub 2017/09/16. doi: 10.3892/etm.2017.4883. PubMed PMID: 28912878; PubMed Central PMCID: PMCPMC5585879.
Zhu XL, Chen AF, Lin ZB. Ganoderma lucidum polysaccharides enhance the function of immunological effector cells in immunosuppressed mice. Journal of ethnopharmacology. 2007;111(2):219-26. Epub 2006/12/22. doi: 10.1016/j.jep.2006.11.013. PubMed PMID: 17182202.
Tahir M, Arshid S, Heimbecker AM, Castro MS, Souza Montero EF, Fontes B, et al. Evaluation of the effects of ischemic preconditioning on the hematological parameters of rats subjected to intestinal ischemia and reperfusion. Clinics (Sao Paulo, Brazil). 2015;70(1):61-8. Epub 2015/02/13. doi: 10.6061/clinics/2015(01)11. PubMed PMID: 25672431; PubMed Central PMCID: PMCPMC4321002.
Lapchak PH, Kannan L, Ioannou A, Rani P, Karian P, Dalle Lucca JJ, et al. Platelets orchestrate remote tissue damage after mesenteric ischemia-reperfusion. American journal of physiology Gastrointestinal and liver physiology. 2012;302(8): G888-97. Epub 2012/02/04. doi: 10.1152/ajpgi.00499.2011. PubMed PMID: 22301111.
Zhonghui Z, Xiaowei Z, Fang F. Ganoderma lucidum polysaccharides supplementation attenuates exercise-induced oxidative stress in skeletal muscle of mice. Saudi journal of biological sciences. 2014;21(2):119-23. Epub 2014/03/07. doi: 10.1016/j.sjbs.2013.04.004. PubMed PMID: 24600303; PubMed Central PMCID: PMCPMC3942859.
Rock P, Yao Z. Ischemia reperfusion injury, preconditioning, and critical illness. Current Opinion in Anesthesiology. 2002;15(2):139-46. PubMed PMID: 00001503-200204000-00001.
Bala M, Kashuk J, Moore EE, Kluger Y, Biffl W, Gomes CA, et al. Acute mesenteric ischemia: guidelines of the World Society of Emergency Surgery. World journal of emergency surgery: WJES. 2017;12:38. Epub 2017/08/11. doi: 10.1186/s13017-017-0150-5. PubMed PMID: 28794797; PubMed Central PMCID: PMCPMC5545843.
Chen LH, Lin ZB, Li WD. Ganoderma lucidum polysaccharides reduce methotrexate-induced small intestinal damage in mice via induction of epithelial cell proliferation and migration. Acta pharmacologica Sinica. 2011;32(12):1505-12. Epub 2011/10/25. doi: 10.1038/aps.2011.126. PubMed PMID: 22019957; PubMed Central PMCID: PMCPMC4010208.
Lin WC, Lin WL. Ameliorative effect of Ganoderma lucidum on carbon tetrachloride-induced liver fibrosis in rats. World journal of gastroenterology. 2006;12(2):265-70. Epub 2006/02/17. doi: 10.3748/wjg.v12.i2.265. PubMed PMID: 16482628; PubMed Central PMCID: PMCPMC4066037.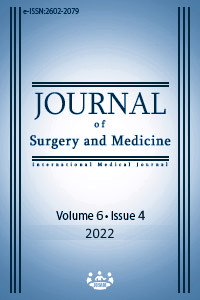 How to Cite
1.
Gömeç M, Külah B, Ercan U, Şahin S. The healing effects of Ganoderma lucidum on intestinal ischemia-reperfusion damage in rats. J Surg Med [Internet]. 2022 Apr. 1 [cited 2023 Jun. 6];6(4):476-82. Available from: https://jsurgmed.com/article/view/1029203
License
Copyright (c) 2022 Muhammed Gömeç, Bahadır Külah, Uğur Ercan, Sevinç Şahin
This work is licensed under a Creative Commons Attribution-NonCommercial-NoDerivatives 4.0 International License.
#7217