Moyamoya disease in a pediatric case: A case report
Keywords:
Moya Moya, Magnetic Resonance Imaging, Lacunar Infarct
Abstract
Moyamoya disease is extremely rare. In children, it is one of the rare causes of ischemic stroke. We present a 4-year-old female patient diagnosed with Magnetic Resonance Imaging (MRI) and Magnetic Resonance Angiography (MRA). In the case with chronic lacunar infarct in the white matter on magnetic resonance imaging, a cigarette smoke image characterized by diffuse collateral vascular networks was observed in MRA imaging. Since it is rare, we think that MRI and MRA imaging is safe and contributes to the diagnosis of the disease in children with mental and motor development retardation.
Downloads
Download data is not yet available.
References
Vernet O, Montes JL, O'Gorman AM, Baruchel S, Farmer JP. Encephaloduroarterio-synangiosis in a child with sickle cell anemia and moyamoya disease. Pediatr Neurol. 1996 Apr;14(3):226-30. doi: 10.1016/0887-8994(96)00045-8.
Soriani S, Scarpa P, Voghenzi A, De Carlo L, Cilio R. Moyamoya disease in childhood: a familial case report. Childs Nerv Syst. 1993 Jul;9(4):215-9. doi: 10.1007/BF00303572.
Scott RM, Smith ER. Moyamoya disease and moyamoya syndrome. N Engl J Med. 2009 Mar 19;360(12):1226-37. doi: 10.1056/NEJMra0804622.
Jea A, Smith ER, Robertson R, Scott RM. Moyamoya syndrome associated with Down syndrome: outcome after surgical revascularization. Pediatrics. 2005 Nov;116(5):e694-701. doi: 10.1542/peds.2005-0568.
Kitahara T, Ariga N, Yamaura A, Makino H, Maki Y. Familial occurrence of moya-moya disease: report of three Japanese families. J Neurol Neurosurg Psychiatry. 1979 Mar;42(3):208-14. doi: 10.1136/jnnp.42.3.208.
Roach ES, Golomb MR, Adams R, Biller J, Daniels S, Deveber G, et al. Management of stroke in infants and children: a scientific statement from a Special Writing Group of the American Heart Association Stroke Council and the Council on Cardiovascular Disease in the Young. Stroke. 2008 Sep;39(9):2644-91. doi: 10.1161/STROKEAHA.108.189696.
Yamamoto M, Aoyagi M, Tajima S, Wachi H, Fukai N, Matsushima Y, et al. Increase in elastin gene expression and protein synthesis in arterial smooth muscle cells derived from patients with Moyamoya disease. Stroke. 1997 Sep;28(9):1733-8. doi: 10.1161/01.str.28.9.1733.
Inoue TK, Ikezaki K, Sasazuki T, Matsushima T, Fukui M. Linkage analysis of moyamoya disease on chromosome 6. J Child Neurol. 2000 Mar;15(3):179-82. doi: 10.1177/088307380001500307.
ATLAS, Scott W. MR Angiography: Techniques and Clinical Applications RI of the Brain and Spine, Lippincott Williams and Wilkins, Philadelphia, Pa, USA, 3rd edition, 2002.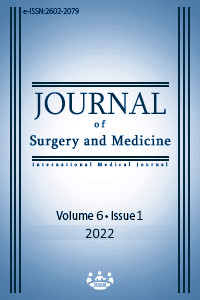 How to Cite
1.
Bulut HT, Çoraplı M. Moyamoya disease in a pediatric case: A case report. J Surg Med [Internet]. 2022 Jan. 1 [cited 2023 Dec. 2];6(1):75-6. Available from: https://jsurgmed.com/article/view/1022512
License
Copyright (c) 2022 Hacı Taner Bulut, Mahmut Çoraplı
This work is licensed under a Creative Commons Attribution-NonCommercial-NoDerivatives 4.0 International License.
#7133