Oromandibular dystonia seen during pramipexole treatment: A rare case
Keywords:
Oromandibular dystonia, Pramipexole, Dopamine agonist, Restless leg syndrome
Abstract
Dystonia is an abnormal, often repetitive, bending/twisting behavioral disorder characterized by continuous or intermittent muscle contraction. Oromandibular dystonia (OMD) is a type of dystonia involving chewing, mouth circumference, tongue, and platysma muscles. OMD is divided into different clinical types, including jaw opening OMD, jaw closing OMD, and mixed type OMD. OMD may either be primary or secondary to other diseases. The average patient age is between 50 and 60 years, and several studies have shown that it is more common among women. Dystonia may occur either as idiopathic (primary) or resulting from neurodegenerative diseases and other secondary dystonia. OMD can cause difficulty in speaking, chewing, and swallowing and produce pain during these movements. Therefore, OMD can lead to deterioration in an individual's daily life and social relationships. Although dopaminergic drugs can be used in the treatment of dystonia, the aim of the study was to report that these drugs may also be a factor in further development of dystonia and to attract the attention of clinicians to this anomaly.
Downloads
Download data is not yet available.
References
Slaim L, Cohen M, Klap P, Vidailhet M, Perrin A, Brasnu D, et al. Oromandibular dystonia: demographics and clinical data from 240 patients. J Mov Disord. 2018;11:78.
Albanese A, Bhatia K, Bressman SB, DeLong MR, Fahn S, Fung VS, et al. Phenomenology and classification of dystonia: a consensus update. Mov Disord. 2013;28:863-73.
Lee KH. Oromandibular dystonia. Oral Surg Oral Med Oral Pathol Oral Radiol Endod. 2007;104:491-6.
Epidemiological Study of Dystonia in Europe (ESDE) Collaborative Group. A prevalence study of primary dystonia in eight European countries. J Neurol. 2000;247:787-92.
Papapetropoulos S, Singer C. Eating dysfunction associated with oromandibular dystonia: clinical characteristics and treatment considerations. Head & Face Medicine. 2006;2:47.
Pandey S, Jain S. Pramipexole-associated fixed limb dystonia in Parkinson's disease. Parkinsonism Relat Disord. 2016;31:159-60.
Feyder M, Bonito Oliva A, Fisone G. L-DOPA-induced dyskinesia and abnormal signaling in striatal medium spiny neurons: focus on dopamine D1 receptor-mediated transmission. Front Behav Neurosci. 2011;5:71.
Fiorentini C, Busi C, Gorruso E, Gotti C, Spano P, Missale C. Reciprocal regulation of dopamine D1 and D3 receptor function and trafficking by heterodimerization. Mol Pharmacol. 2008;74:59-69.
Quinn N. Disproportionate antecollis in multiple system atrophy. Lancet. 1989;1:844.
Doherty KM, van de Warrenburg BP, Peralta MC, Silveira-Moriyama L, Azulay J-P, Gershanik OS, et al. Postural deformities in Parkinson's disease. Lancet Neurol. 2011;10:538-49.
Iijima M, Osawa M, Uchiyama S, Kitagawa K. Pramipexole-induced antecollis in patients with Parkinson's disease: Two cases and literature review. eNeurologicalSci. 2015;1:21-3.
Pfeiffer RF, LeDoux MS. Levodopa-induced lateral jaw deviation dystonia. Parkinsonism Relat Disord. 2015;21:808.
Weiner WJ, Nausieda PA. Meige's syndrome during long-term dopaminergic therapy in Parkinson's disease. Arch Neurol. 1982;39:451-2.
Tan EK, Chan LL, Wong MC. Levodopa-induced oromandibular dystonia in progressive supranuclear palsy. Clin Neurol Neurosurg. 2003;105:132-4.
Kidron D, Melamed E. Forms of dystonia in patients with Parkinson's disease. Neurology. 1987;37:1009-11.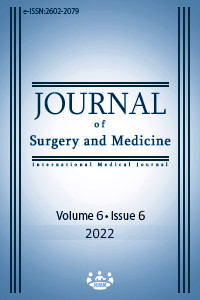 How to Cite
1.
Kara F, Göl MF, Varlıbaş A. Oromandibular dystonia seen during pramipexole treatment: A rare case. J Surg Med [Internet]. 2022 Jun. 30 [cited 2023 Dec. 11];6(6):633-5. Available from: https://jsurgmed.com/article/view/1015675
License
Copyright (c) 2022 Fatma Kara, Mehmet Fatih Göl, Ayhan Varlıbaş
This work is licensed under a Creative Commons Attribution-NonCommercial-NoDerivatives 4.0 International License.
#7252