The relationship of antibodies detected in the Western Blot test with clinical and immunological stages in HIV-infected patients
Keywords:
Western Blot, ELISA, HIV/AIDS
Abstract
Background/Aim: The laboratory diagnosis of human immunodeficiency virus (HIV) infection is based on detection of anti-HIV antibodies in an initial ELISA (enzyme-linked immunosorbent assay) test and its confirmation with the Western Blot (WB) procedure. Even though the specificity of WB is high for the detection of antibodies against various viral proteins, there are important differences in the timing of the appearance of antibody bands and intensities in different stages of HIV infection. The aim of this study was to evaluate antibodies detected in WB testing and the relationship to clinical and immunological stages in HIV-infected patients. Methods: Newly diagnosed 78 patients with HIV/AIDS (Acquired Immunodeficiency Syndrome) in our outpatient department between April 2009 and September 2012 were included in the study as a retrospective cohort. Age, gender, complaints, clinical signs, CD4+ T lymphocyte counts and HIV RNA level at diagnosis were collected retrospectively from medical records. WB band patterns obtained from the reference laboratory of the Istanbul Public Health Center were examined retrospectively. Results: Of the 78 HIV/AIDS cases, 68 (87.2%) were male. Mean age was 38.87(13.09) years (range, 17-83 years). Median CD4+ T lymphocyte count at diagnosis was 410.2 /mm³ (range, 3-1114). Mean HIV RNA level at diagnosis was 592.894 copies/ml. Rare band profiles were seen in 29.4% (23/78). According to World Health Organization (WHO) clinical staging, 59 (75.6%) patients were at stage I, 4 at stage II, 10 at stage III and 5 at stage IV. Gp120, gp160 and gp41, known as envelope glycoproteins in WB band antibodies, were seen in all patients. There was determined to be a decrease in the p17, p51, p55 and p39 bands in WB tests of the advanced grade (Grade IV) of HIV infection. Conclusions: Reduction of p17, p51, p55, p39 antibodies in advanced stages were related with the progression of HIV infection. This shows that WB test is an important parameter not only in the diagnosis of HIV infection, but also in the follow-up of clinical progression in the absence of these antibodies.
Downloads
Download data is not yet available.
References
Ministry of Health Directorate of Public Health. HIV/AIDS Diagnosis Treatment Guide - 2019. Ministry of Health Publications. https://hsgm.saglik.gov.tr/depo/birimler/Bulasici-hastaliklar-db/hastaliklar/HIV-ADS/Tani-Tedavi_Rehberi/HIV_AIDS_Tani_Tedavi_Rehberi_Yeni.pdf. Access Date: September 16,2021
United Nations Programme on HIV/AIDS. UNAIDS DATA 2019. Documents (2019) Available from: https://www.unaids.org/en/resources/documents/2019/2019-UNAIDS-data. Access Date: August 26, 2021
Dyck EV, Meheus AZ, Piot P. Human Immunodeficiency Virus. In: Laboratory Diagnosis of Sexually Transmitted Diseases. World Health Organization, Geneva 1999: 85-98.
Panel on Opportunistic Infections in HIV-Infected Adults and Adolescents. Guidelines for the prevention and treatment of opportunistic infections in HIV-infected adults and adolescents: Recommendations from the Centers for Disease Control and Prevention, the National Institutes of Health, and the HIV Medicine Association of the Infectious Diseases Society of America. https://clinicalinfo.hiv.gov/en/guidelines/adult-and-adolescent-opportunistic-infection/whats-new-guidelines (Access Date: April 26, 2020).
Brooks JT, Kaplan JE, Holmes KK, Benson C, Pau A, Masur H. HIV-associated opportunistic infections--going, going, but not gone: the continued need for prevention and treatment guidelines. Clin Infect Dis. 2009 Mar 1;48(5):609-11. doi: 10.1086/596756.
Antinori A, Coenen T, Costagiola D, Dedes N, Ellefson M, Gatell J, et al. European Late Presenter Consensus Working Group. Late presentation of HIV infection: a consensus definition. HIV Med. 2011 Jan;12(1):61-4. doi: 10.1111/j.1468-1293.2010.00857.x.
Antiretroviral Therapy for HIV Infection in Infants and Children: Towards Universal Access: Recommendations for a Public Health Approach: 2010 Revision. Geneva: World Health Organization; 2010. PMID: 23741772.
Sudha T, Lakshmi V, Teja VD. Western blot profile in HIV infection. Indian J Dermatol Venereol Leprol. 2006 Sep-Oct;72(5):357-60. doi: 10.4103/0378-6323.27752.
From the Centers for Disease Control. Interpretation and Use of the Western Blot Assay for Serodiagnosis of Human Immunodeficiency Virus Type 1 Infections. 1989 Jul 21;38(Suppl7):1-7.
Biggar RJ, Melbye M, Ebbesen P, Alexander S, Nielsen JO, Sarin P, et al. Variation in human T lymphotropic virus III (HTLV-III) antibodies in homosexual men: decline before onset of illness related to acquired immune deficiency syndrome (AIDS). Br Med J (Clin Res Ed). 1985 Oct 12;291(6501):997-8. doi: 10.1136/bmj.291.6501.997.
Lange JM, Coutinho RA, Krone WJ, Verdonck LF, Danner SA, van der Noordaa J et al. Distinct IgG recognition patterns during progression of subclinical and clinical infection with lymphadenopathy associated virus/human T lymphotropic virus. Br Med J (Clin Res Ed). 1986 Jan 25;292(6515):228-30. doi: 10.1136/bmj.292.6515.228.
Sivakumar MR, Sanath Kumar J, Viswanath R, Thatchinamoorthy G, Mini Jacob, Samuel NM. Western blot pattern in HIV positive individuals in Namakkal, South India. The Internet Journal of Infectious Diseases. 2008 Volume 6 Number 2.
Chattopadhya D, Aggarwal RK, Kumari S. Profile of antigen-specific antibody response detectable by western blot in relation to diagnostic criteria for human immunodeficiency virus type-1 (HIV-1) infection. Clin Diagn Virol. 1996 Oct;7(1):35-42. doi: 10.1016/s0928-0197(96)00251-6.
Garland FC, Garland CF, Gorham ED, Brodine SK. Western blot banding patterns of HIV rapid progressors in the U.S. Navy Seropositive Cohort: implications for vaccine development. Navy Retroviral Working Group. Ann Epidemiol. 1996 Jul;6(4):341-7. doi: 10.1016/s1047-2797(96)00053-1.
Huang J, Wang M, Huang C, Liang B, Jiang J, Ning C, et al. Western Blot-Based Logistic Regression Model for the Identification of Recent HIV-1 Infection: A Promising HIV-1 Surveillance Approach for Resource-Limited Regions. Biomed Res Int. 2018 Jan 14;2018:4390318. doi: 10.1155/2018/4390318.
Fiorentini S, Marini E, Caracciolo S, Caruso A. Functions of the HIV-1 matrix protein p17. New Microbiol. 2006 Jan;29(1):1-10.
Fiorentini S, Giagulli C, Caccuri F, Magiera AK, Caruso A. HIV-1 matrix protein p17: a candidate antigen for therapeutic vaccines against AIDS. Pharmacol Ther. 2010 Dec;128(3):433-44.
Srikanth P, George Babu P, Sridharan G, John TJ, Mathai D. Immunoblot reactivity in relation to Human Immunodeficiency Virus disease progression. Indian Journal of Medical Microbiology, 1998 Jan;16(3):118-20.
Fiebig EW, Wright DJ, Rawal BD, Garrett PE, Schumacher RT, Peddada L, et al. Dynamics of HIV viremia and antibody seroconversion in plasma donors: implication for diagnosis and staging of primary infection. AIDS 2003, 17: 1871-9.
Hecht FM, Holte S, Busch MP. Absence of p31 band identifies persons with recent HIV seroconversion. Abstract presented at XIVth International AIDS Conference. Barcelona, Spain, 7–12 July 2002 [Abstract TuPeC4885].
Duri K, Müller F, Gumbo FZ, Kurewa NE, Rusakaniko S, Chirenje MZ, et al. Human Immunodeficiency Virus (HIV) types Western blot (WB) band profiles as potential surrogate markers of HIV disease progression and predictors of vertical transmission in a cohort of infected but antiretroviral therapy naïve pregnant women in Harare, Zimbabwe. BMC Infect Dis. 2011 Jan 6;11:7. doi: 10.1186/1471-2334-11-7.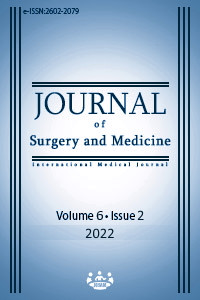 How to Cite
1.
Korkusuz R, Şenoğlu S, Işık ME, Işıksaçan N, Karaosmanoglu H, Altuntaş Aydın Özlem. The relationship of antibodies detected in the Western Blot test with clinical and immunological stages in HIV-infected patients. J Surg Med [Internet]. 2022 Feb. 1 [cited 2023 Oct. 4];6(2):173-6. Available from: https://jsurgmed.com/article/view/1005915
License
Copyright (c) 2022 Ramazan Korkusuz, Sevtap Şenoğlu, Mehmet Emirhan Işık, Nilgün Işıksaçan, Hayat Karaosmanoglu, Özlem Altuntaş Aydın
This work is licensed under a Creative Commons Attribution-NonCommercial-NoDerivatives 4.0 International License.
#7144