Advanced vasospasm in carotid stenting using the distal filter-type embolic protection device: A case report
Keywords:
Carotid stenosis, Carotid stenting, Vasospasm, Distal filter, Embolic protection device
Abstract
There are difficulties in the use of embolic protection devices (EPD) for carotid artery stenting (CAS), and various side effects can be observed. We presented a patient who underwent CAS with a distal filter-type (DF) EPD for symptomatic right internal carotid artery (ICA) stenosis and showed advanced vasospasm. A 68-year-old male patient was hospitalized with a pre-diagnosis of transient ischemic attack (TIA) in the form of left-sided weakness. Computed tomography angiography revealed 90% stenosis in the right ICA. On the 5th day, he underwent an angiography, which showed a plaque causing 90% stenosis. A 5F Spider FX (Medtronic Corp.; Minneapolis, MN, USA) was placed in the cervical ICA. At this time, mild vasospasm was observed in the cervical ICA, but the flow was normal. After pre-dilatation, a Protégé 8-6x40 stent was placed in the stenotic segment. Due to the 50% residual stenosis, a post-dilatation was performed. After post-dilatation, advanced vasospasm developed distal to the stent and the flow was completely obstructed. Vasospasm significantly regressed within a few minutes with intra-arterial nitrate administration. There was no change in the neurological examination of the patient during and after the procedure. Although vasospasm is usually a self-limiting complication that resolves without clinical symptoms, it may cause a TIA or an infarct. In CAS procedures, the possibility of a vasospasm should be kept in mind and if it occurs, the irritant should be removed. If there is no improvement, an intra-arterial vasodilator should be administered.
Downloads
Download data is not yet available.
References
Ederle J, Dobson J, Featherstone RL, Bonati LH, van der Worp HB, de Borst GJ, et al. Carotid artery stenting compared with endarterectomy in patients with symptomatic carotid stenosis (International Carotid Stenting Study): an interim analysis of a randomised controlled trial. Lancet (London, England). 2010;375(9719):985-97.
Kernan WN, Ovbiagele B, Black HR, Bravata DM, Chimowitz MI, Ezekowitz MD, et al. Guidelines for the prevention of stroke in patients with stroke and transient ischemic attack: a guideline for healthcare professionals from the American Heart Association/American Stroke Association. Stroke. 2014;45(7):2160-236.
Barbato JE, Dillavou E, Horowitz MB, Jovin TG, Kanal E, David S, et al. A randomized trial of carotid artery stenting with and without cerebral protection. J Vasc Surg. 2008;47(4):760-5.
Vos JA. Evidence overview: benefit of cerebral protection devices during carotid artery stenting. The Journal of cardiovascular surgery. 2017;58(2):170-7.
Doig D, Turner EL, Dobson J, Featherstone RL, Lo RT, Gaines PA, et al. Predictors of Stroke, Myocardial Infarction or Death within 30 Days of Carotid Artery Stenting: Results from the International Carotid Stenting Study. European journal of vascular and endovascular surgery the official journal of the European Society for Vascular Surgery. 2016;51(3):327-34.
Tatli E, Buturak A, Grunduz Y, Dogan E, Alkan M, Sayin M, et al. Comparison of anti-embolic protection with proximal balloon occlusion and filter devices during carotid artery stenting: clinical and procedural outcomes. Postepy w kardiologii interwencyjnej = Advances in interventional cardiology. 2013;9(3):221-7.
Kwon BJ, Han MH, Kang H-S, Jung C. Protection Filter-Related Events in Extracranial Carotid Artery Stenting: A Single-Center Experience. Journal of Endovascular Therapy. 2006;13(6):711-22.
Clemens MS, Daniel AH, Adel MM. Iatrogenic vasospasm in carotid artery stent angioplasty with distal protection devices. Neurosurgical Focus FOC. 2008;24(2):E12.
Reimers B, Schlüter M, Castriota F, Tübler T, Corvaja N, Cernetti C, et al. Routine use of cerebral protection during carotid artery stenting: results of a multicenter registry of 753 patients. The American Journal of Medicine. 2004;116(4):217-22.
Wang Q, Liu C, Yan B, Fan X, Zhang M, Li Y, et al. Correlation of Extracranial Internal Carotid Artery Tortuosity Index and Intraprocedural Complications during Carotid Artery Stenting. European Neurology. 2012;68(2):65-72.
Ishihara H, Ishihara S, Niimi J, Neki H, Kakehi Y, Uemiya N, et al. Risk factors and prevention of guiding catheter-induced vasospasm in neuroendovascular treatment. Neurologia medico-chirurgica. 2015;55(3):261-5.
Vijayvergiya R, Otaal PS, Bagga S, Modi M. Symptomatic carotid vasospasm caused by a distal-protection device during stent angioplasty of the right internal carotid artery. Tex Heart Inst J. 2010;37(2):226-9.
Cardaioli P, Giordan M, Panfili M, Chioin R. Complication with an embolic protection device during carotid angioplasty. Catheterization and cardiovascular interventions: official journal of the Society for Cardiac Angiography & Interventions. 2004;62(2):234-6.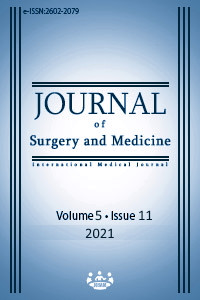 How to Cite
1.
Yabalak A, Yılmaz M. Advanced vasospasm in carotid stenting using the distal filter-type embolic protection device: A case report. J Surg Med [Internet]. 2021 Nov. 1 [cited 2023 Sep. 24];5(11):1154-6. Available from: https://jsurgmed.com/article/view/1000878
License
Copyright (c) 2021 Ahmet Yabalak, Murat Yılmaz
This work is licensed under a Creative Commons Attribution-NonCommercial-NoDerivatives 4.0 International License.
#7090